The issue of overweight passengers on planes remains a sensitive subject as people on both sides of the argument continue to hash it out. Should heavier individuals have to pay more, or should airlines make roomier seats?
While the battle continues, one filmmaker decided to focus on the individuals at the center of the situation. London-based activist and artist Stacy Bias created "Flying While Fat," an animated short film that she hopes will spark a conversation about the acceptance of plus-size travelers.
"Fat people are disparaged and mocked regularly in the media and in popular culture, and the airplane is one of the places where that hostility hits a climax," Bias told TODAY. "So we talk about fat people regularly but we rarely talk with them, and this project is a counterbalance, the other side of a one-sided story."
The six-minute film features the actual voices of some of the people Bias interviewed, detailing the nightmare experiences they've gone through on planes because of their size. "Other passengers look at you and you get 'The Expression' — being gazed at by everyone on the plane who's like hoping and praying you're not coming to sit next to them," says one woman.
RELATED: What's it like being a 'fat person' on a plane? Moving essay reveals mental anguish
Others recall being publicly chastised in front of the whole plane. "This woman, she was so petite, but she was still complaining about having to sit next to me…loudly," reveals another flier.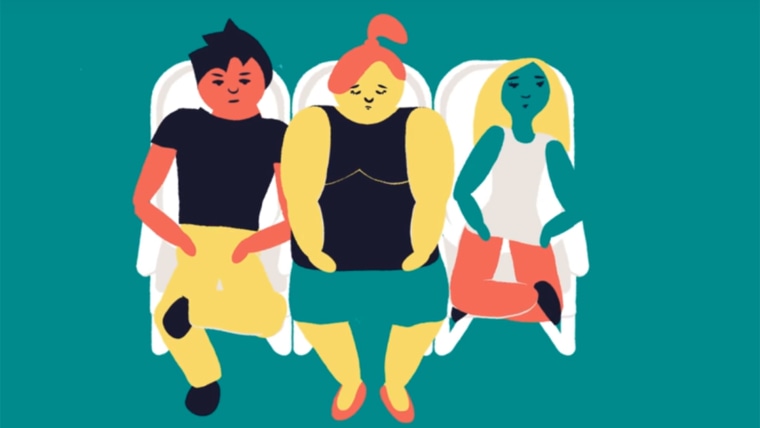 Some people share how they've been physically hurt by fellow passengers. "I had a guy once slam the arm down in between us, which is really painful," says one woman. "Somebody slamming something into the side of your body hurts!" She wasn't alone in her experience, either. Another person says, "He kept pushing the arm down which was like pushing into my belly and my thigh."
RELATED: Here are the top 10 places in the US to visit in 2017
The filmmaker herself, though not in the video, admitted she's gone through several tough experiences. "The worst was the time a group of approximately eight rowdy men harassed me through the airport and they happened to be seated in a circle around me on the plane," said Bias. "One of the flight crew caught what was happening and moved me to another section of the plane. But I was moved from the extra legroom seating, which I had paid for, back into coach without the offer of a refund."
It was this kind of experience that sparked Bias' interest in creating a film. When she decided to move overseas, she knew she would be traveling a lot and began documenting her flying experiences largely to manage her own nervousness.
RELATED: 8 things your flight attendant wishes you knew
"I threw the information up on my blog and that post suddenly had a great deal of traffic," she said. "I started getting comments and then emails from other folks with similar concerns. I started a Facebook group so they could talk to each other and provide resources and support." It is from that group, which quickly grew to 4,000 members, that Bias found participants for her film.
Now she hopes publicity around her film will help drive a larger conversation. "While airlines continue to shrink space to maximize profitability, the physical and social pressure increases for passengers whose bodies fall outside subjective medians," she said. "Airplanes are hostile spaces for fat people and while material changes to airplanes will be a long battle, we can start changing the culture on the planes immediately from one of hostility to one of tolerance and mutual respect."