One of the perks of air travel is the opportunity to be waited on by the in-flight crew. Sure, you can complain about the fact that you have to pay for some food and beverage service now, but the flight attendants have to deal with disorderly passengers and spend hours on their feet and days away from home, all with a smile. That's why TODAY reached out to a few of them to find out what they'd like to say to passengers and perhaps how to get on their good side.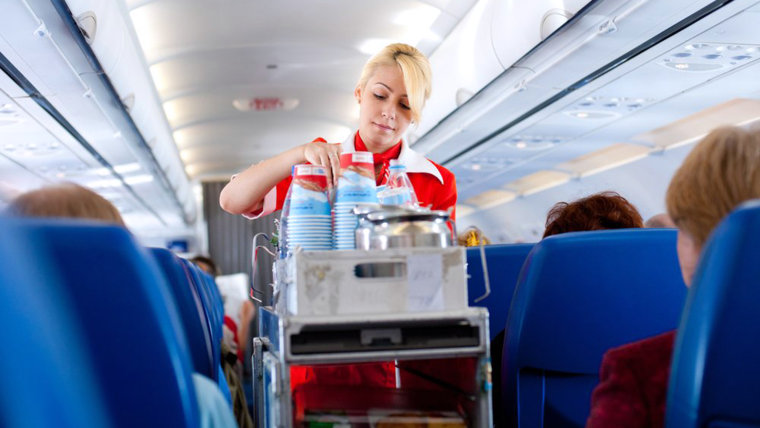 Here are eight things flight attendants wish you knew.
1. Ditch the stroller
"Traveling parents: wear a baby carrier so you can be hands-free," said Hawaiian Airlines flight attendant Joyce Foley. "And don't be afraid to ask where the baby-changing table is located." Not only does this piece of advice make for getting on and off the plane easier, it also prevents your seat from becoming an impromptu bathroom.
2. Bring your own meal on board
"We are pleased to offer complimentary meals on all of our flights to and from Hawaii, and understand many guests have various food allergies and dietary restrictions," added fellow Hawaiian Airlines flight attendant Liz Stoudt. "While we do our best to accommodate everyone's preferences, guests who have dietary restrictions are also welcome to bring their own meals on board."
3. Share your space
"The space in the overhead bins are shared, meaning other travelers are able to place items in the bin on top of your seat," said flight attendant Kaipo Kauka. "Don't hesitate to ask a flight attendant for help in storing your carry-on should space be tight." A bonus tip: never sit directly behind the bulkhead if you have luggage to store. Be at least one row back because those storage areas are the most crowded, Daniel Solomon, CEO of Minute Suites, revealed.
RELATED: New York mom thanks Southwest flight attendant for calming her fussy baby
4. Don't call them stewardesses
"Aviation terminology has evolved over the years," said Stoudt. "So, we encourage the use of terms like 'flight attendant' versus 'stewardess' and 'flight deck' instead of 'cockpit.'"
5. The seat belt sign is on for a reason
"While we are all eager for that leg stretch upon arrival," Kauka noted, "standing up the moment the fasten seat belt sign goes off does not get you off the plane any quicker. When seated in the aft (rear) section of the aircraft, it's best to relax until you see that the passengers in the forward rows are moving. Then get up, gather your items and enjoy your trip."
6. Drinking your own booze on a plane is more than annoying — it's illegal
"Many travelers are unaware that bringing alcohol for consumption on board is a Federal Air Regulation violation," said Stoudt. "We'd like to ask that they instead enjoy the selection of drinks on board." Yes, you can bring the mini bottles of alcohol on a plane and even hand-carry a large bottle on if purchased at duty-free, but you cannot consume it for a reason. Flight attendants are basically on bartender duty and need to keep your alcohol consumption in check.
7. Flight attendants aren't garbage men
"The aircraft is a flight attendant's office and we always want to keep it clean," noted Stout. Though flight attendants are trained to handle all sorts of dangerous and gross objects left behind after a flight, they'd rather not if at all possible. That's exactly why they walk through the cabin frequently to collect your personal garbage, so there's not a mess left behind. "We are more than happy to collect your trash during the flight," added Stout.
8. No one wants to hear your music
There are all sorts of ways passengers can annoy each other, like the time a girl's ponytail covered another passenger's seatback display. But, one of the biggest nuisances to fellow fliers and cabin crew is loud noises coming from personal devices. "Use headphones when watching anything on a mobile device so not to disturb other guests," requested Kauka.