After several years of planning and construction, Disney World officially opens a much larger and updated Fantasyland on Thursday.
The multi-phased project more than doubled the attraction's size to 21 acres, and company officials hope the changes will excite even the most ardent Disneyphile.

"This is the largest expansion of the most popular land in the most popular theme park that we have, so excellence was the only option," said Jim MacPhee, senior vice president at Walt Disney World Parks. "We first began talking about this project five years ago, so it's been a labor of love for some time. We had over 1,300 construction workers here for about three years. Almost 1,000 cast members were involved in one way or another, between Imagineers and teams from food and beverage, merchandise, attractions, horticulture, management and highly skilled maintenance positions."

"Theme parks are a very expensive business, and parks have to keep spending money to upgrade and keep pace with each other." said Robert Niles, editor of Theme Park Insider.
Disney would not discuss the cost of the expansion, but Dennis Speigel, president of International Theme Park Services Inc., estimates the price tag "is exceeding $600 million."
Slideshow: Disney around the world
In July, when the first phase of the expansion was unveiled, visitors were met with a second Dumbo the Flying Elephant ride. A beloved rite-of-passage attraction, Dumbo was once notorious for its excruciatingly long wait time. Now, thanks to side-by-side spinners, the line hums along.
Then again, much of the old-style switchback queue has been replaced by a cushy lounge where families hang out in air-conditioned bliss. Kids can run around in a circus-themed interactive play zone complete with slides, tunnels, and climbable cargo nets, while their parents watch from a comfy sitting area. A pager lets each family know when it's time to proceed to the ride itself.
"One of the top boxes we wanted to check was improving the guest experience," said Chris Beatty, creative director of the expansion, who led a team of 300 Imagineers from the design and development arm of Disney Parks. "We looked at ways we could make the line move faster and provide a better waiting experience. We think this is really important, and you're going to see us do more things like this."
The Dec. 6 grand opening will reveal a second phase of the expansion and a new Enchanted Forest. The lushly wooded landscape, complete with waterfalls and birdsong, provides a fairytale backdrop for brand new attractions and experiences themed to some of Disney's most beloved films.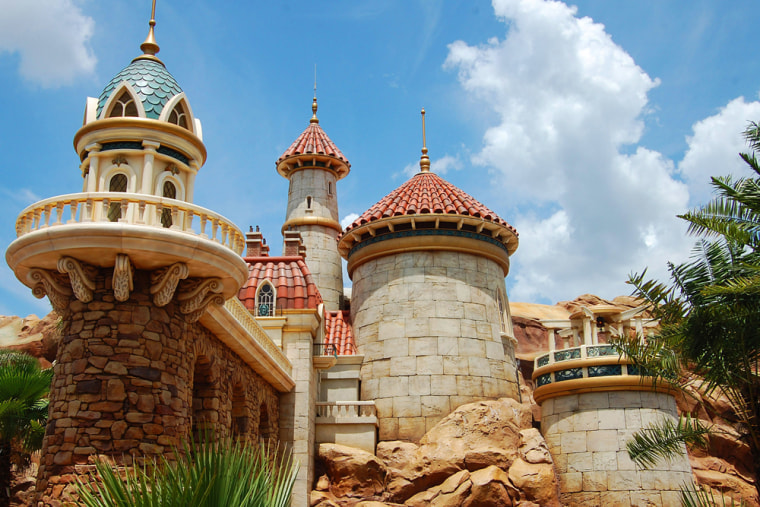 There are two new "Little Mermaid"-inspired attractions: Under the Sea, a musical under-the-surface tour starring 183 of the film's characters, including a life-sized, audio-animatronic figure of the villain Ursula; and Ariel's Grotto, where children can get one-on-one time and a photo opp with the scarlet-haired mermaid.
The rest of the forest belongs to "Beauty and the Beast." In Belle's village square, guests can snack on pork shanks and down mugs of LeFou's Brew (non-alcoholic) at Gaston's Tavern, and then pose for photos with the ponytail-sporting, bicep-flexing hunk. Next door, a new line of exclusive merchandise is for sale at Bonjour! Village Gifts.
More than 12,000 books fill the library of Maurice's cottage, where Enchanted Tales with Belle takes place. Animatronic versions of Madame Wardrobe and Lumière emcee a charming show in which guests assume the roles of the film's characters and interact directly with Belle.
Six sad-faced gargoyles line the stone bridge leading to the Beast's Castle, which appears, through the illusion of forced perspective, as if it sits a mile up a rocky mountain. Crossing the castle's threshold, guests are guided through the film's story arc by a rich tapestry of details.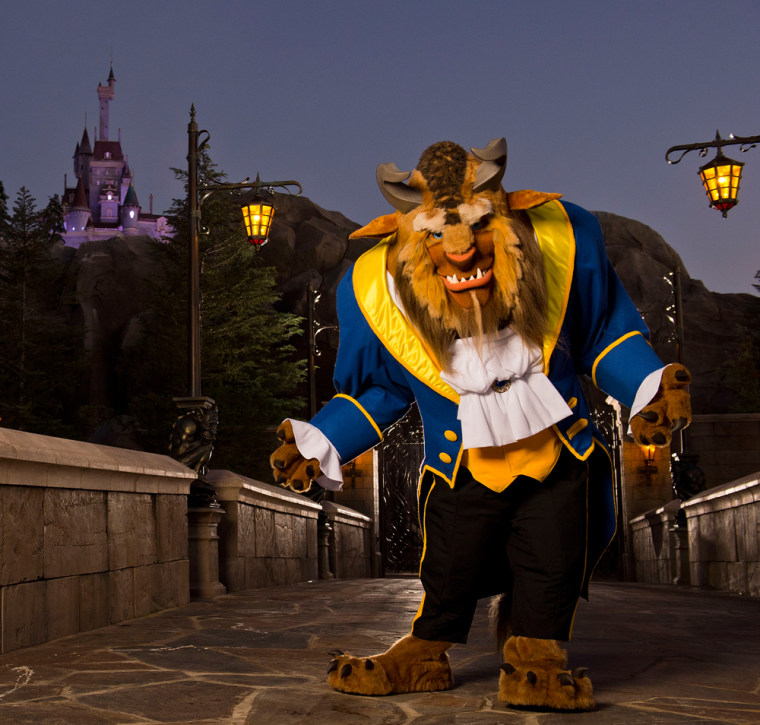 The experience culminates in Be Our Guest Restaurant, which boasts a ballroom with 20-foot-high coffered ceilings and impressive chandeliers -- the largest holding 84 candles and 100 jewels. The restaurant can seat 540 park visitors for a quick-service lunch. In the evening, the staff turns out a more traditional, sit-down service for up to 350 diners who book in advance.
Seven floor-to-ceiling arched windows, each 18 feet tall, look out on a wintry French countryside where a light snow appears to be falling.
"We have an amazing group of special-effect designers," said Beatty. "They are illusionists who can take a confined space and turn it into something amazing that makes you ask, 'How did they do that?' The ballroom is a great example of those guys doing their best work."
In the bigger picture, Fantasyland's revitalization is impressive for its timing, said John Gerner, Managing Director at Leisure Business Advisors, LLC, a planning firm based in Richmond, Va., specializing in theme park development and expansion. "The fact that Disney went forward with such a major expansion after the recession hit gave our industry a lot of comfort that we're rebounding as an industry."
And the expansion isn't done yet, notes Niles.
"The physical heart, the literal centerpiece, of the expansion is the Seven Dwarfs Mine Train, which won't be finished until 2014," he said. "There's quite a bit yet to come."