Most Facebook users have been switched over to the Timeline at this point, so it should be no surprise that brands — such as companies, TV shows or bands — are now finally able to convert their fan pages into Timelines as well. Facebook made this news official in an exclusive announcement on the TODAY show on Wednesday.
Naturally this means that the TODAY show is also launching its own Timeline right away. This Timeline — as well those of brands — is quite similar to the type you'd see for a regular user, though there are some subtle differences. You'll find tabs and apps which allow the brand to offer special features and you'll notice that featured posts sometimes get "pinned" to the top of a Timeline for up to seven days.. 
Oh, and if you mention (and tag) a brand's page in a Facebook post, that post will also appear on the brand's page — but it'll only be visible to your Facebook friends.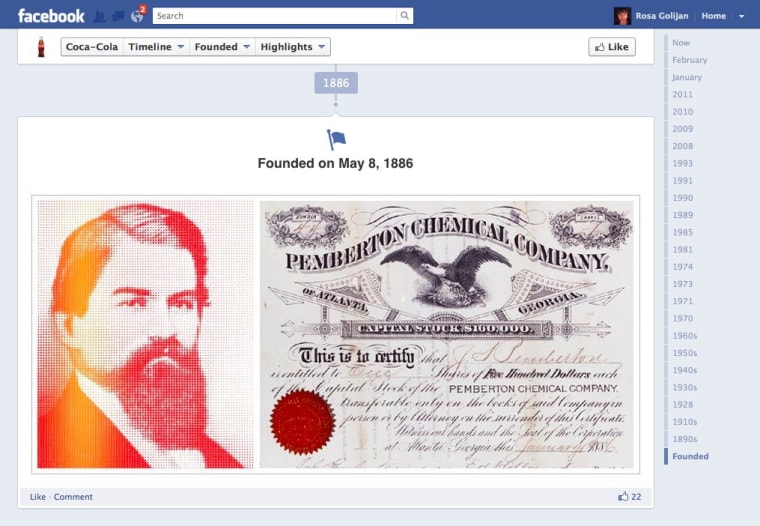 Other brands launching Facebook Timelines on Wednesday include the New York Times, Starbucks, American Idol, NBA, Red Cross, Coldplay and more. Many of them are using their Timelines to show off their respective histories — even if that includes events which occurred well before Facebook ever even existed.
While only a limited number of brands launched Timelines on Wednesday, the feature is available to all right now — and it will be automatically rolled out to all brands on March 30.
Related stories:
Want more tech news, silly puns, or amusing links? You'll get plenty of all three if you keep up with Rosa Golijan, the writer of this post, by following her on Twitter, subscribing to her Facebook posts, or circling her on Google+.