Caution: Switzerland's newest tourist attraction may make your knees go weak and your heart beat a little faster, but, oh, what a view.
Behold the Titlis Cliff Walk, Europe's highest suspension bridge swaying at 10,000 feet above sea level in the Swiss Alps. On a clear day, visitors can gaze at the south face wall of Mount Titlis in central Switzerland, experience a beautiful panorama of the surrounding mountains, glimpse parts of Italy and peek down more than 1,600 feet into the abyss.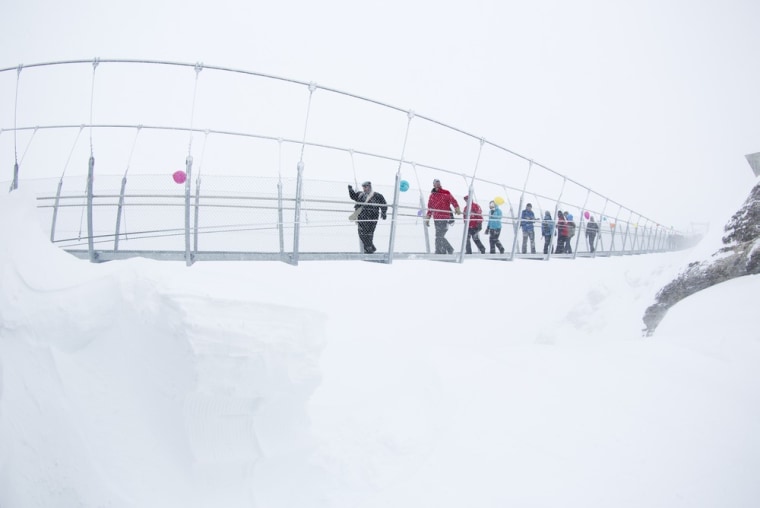 It was anything but a clear day when dignitaries from 15 countries attended the grand opening of the bridge on Friday, braving a snow storm and whiteout conditions, said Peter Reinle, a spokesman for the Titlis Engelberg ski resort.
"The weather was terrible, but it was a big adventure," Reinle told NBC News.
The attraction opens to the public on Saturday, although officials envision that it will be most popular during warmer months.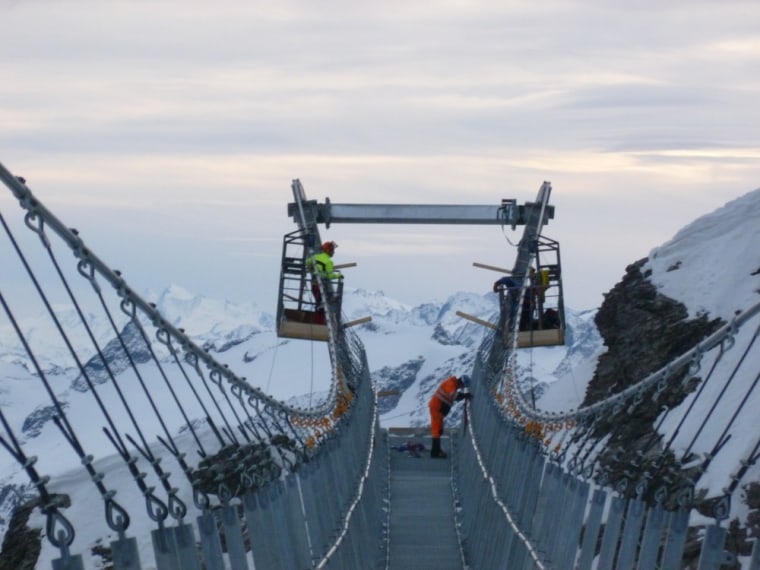 "It's going to be really big next summer as a high-adrenaline kind of new adventure in Switzerland," said Ursula Beamish, a spokeswoman for Switzerland Tourism. The agency hopes the bridge will attract more tourists to the country, she added. Reinle said visitor interest has already been "tremendous."
So how exactly do you build a suspension bridge in an environment where the winds can gust more than 120 miles per hour and snow can fall in the summer?
"It was challenging," Reinle admitted. A company that specializes in mountain construction began the work in July, with cable cars transporting 90 percent of the materials needed for the $1.6 million project. Some of the bigger pieces were brought in by helicopter. Because of its unique location, the attraction had to withstand not only strong winds, but also heavy snow accumulations.
"The bridge is built for the next 1,000 years. It has to carry all the snow and the ice -- this was the biggest challenge. So you can put around 500 tons of snow on the bridge," Reinle said.
"It is 100 percent safe… it's really impossible to fall from the bridge."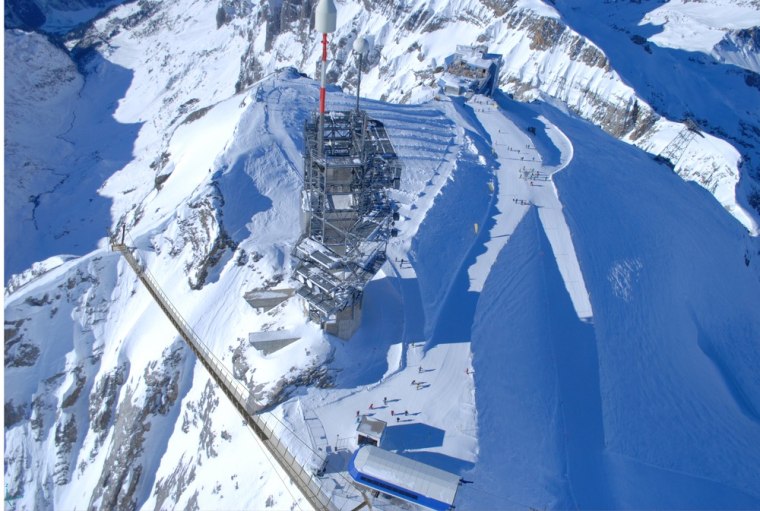 There hasn't been a problem with snow accumulating on the Titlis Cliff Walk so far, but the resort monitors the attraction carefully and will "groom" the bridge whenever needed, Reinle said. The bridge will be open whenever the Mount Titlis cable car is operational and the cost of walking across it is included in the roundtrip ticket up to the mountain – about $90.
The opening of the 3-foot wide, 320-foot long bridge -- which sways when visitors walk on it -- marks the 100th anniversary of the Engelberg-Gerschnialp cableway.