Those planning on getting a Washington Redskins peasant dress or decorative wreath for that special football fan in their lives this fall will not be able to find it on Etsy. 
The site that sells handmade and vintage items announced Tuesday that it will no longer sell items featuring the Redskins logo or name on them. That means the red-and-yellow tutu in team colors is acceptable, but the Redskins bling cap with the team logo on it is now a no-no.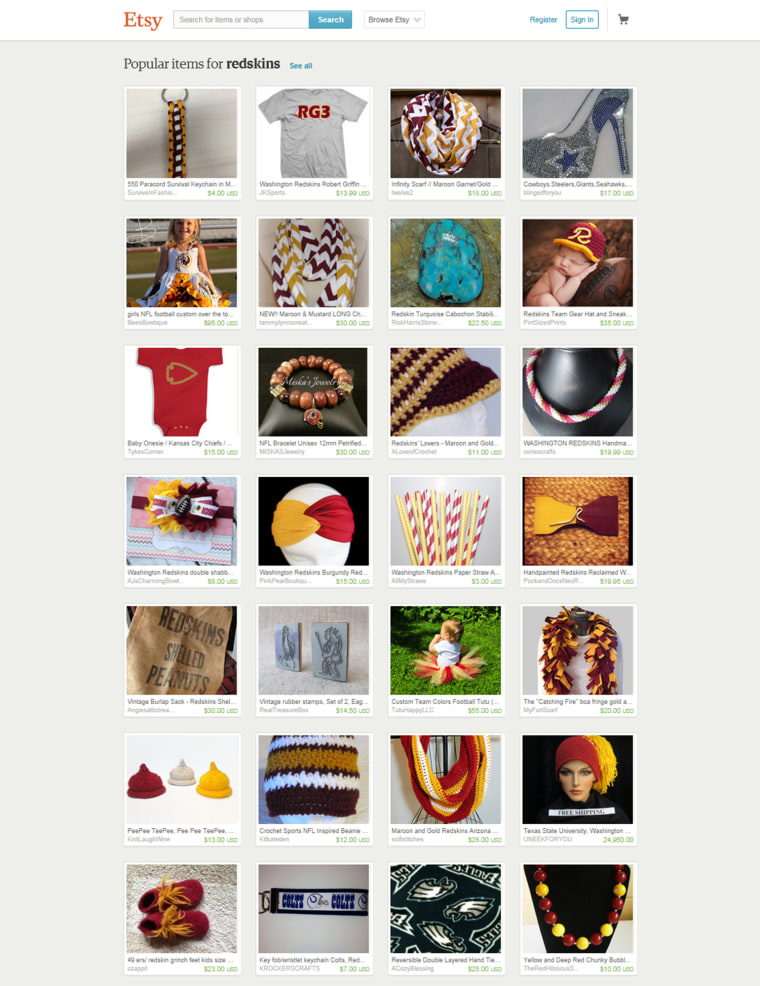 "Like the Trademark Trial and Appeal Board, we at Etsy find the opinion of the minority group itself to carry most weight in determining whether the mascot is disparaging," the company said in a statement on its blog. "In no uncertain terms, Native American groups have consistently advocated and litigated that the term 'redskin(s)' is disparaging and damaging to Native Americans. Therefore, it will no longer be permitted in our marketplace.

"We understand that fans wish to support their favorite football team, and we do not believe that fans who are attached to the mascot have any racist feeling or intent. We also understand that some fans view the name and mascot as an homage to Native Americans, and we do not doubt their noble intent, but the fact remains that Native Americans themselves find the term unacceptable."

Third-party sellers can continue to list Redskins' items that just feature the team's yellow, red and white colors, but anything with the logo or team name on it will be taken down. Etsy announced that it is contacting members whose items will now be prohibited under the new policy. The site has listed everything from unisex petrified wood gemstones to feather boas to yarmulkes in Redskins color and logos.
Follow TODAY.com writer Scott Stump on Twitter and Google+.