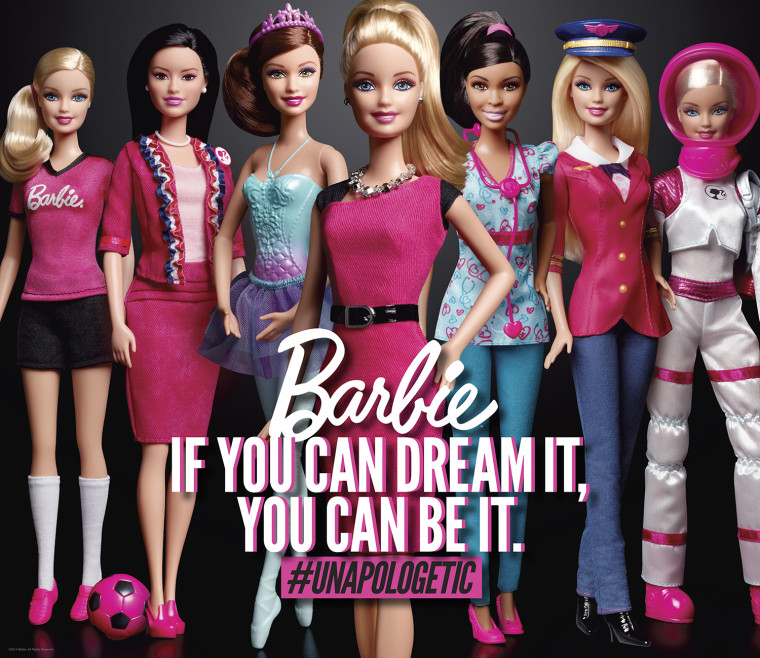 Talk about a multitasker: Over 55 years, Barbie has had more than 150 fantasy careers — from nurse (1961) to pilot (1990) to U.S. president (2000). Now, the classic fashion doll has set her sights on a new goal: entrepreneur.
Barbie stays fashionable, of course, with a hot-pink dress, glittering necklace, black handbag and stylish blonde hairdo. But also evident are the details of her business life, including a teeny-tiny smartphone and tablet computer. And Mattel says Entrepreneur Barbie will have her own LinkedIn page to help her stay connected with new and existing business associates. (Paging Ken and Skipper!)
Mattel will launch the doll this summer, with timing that corresponds with an era of prominence for real-world female entrepreneurs: Since the 1990s, the increase in the number of female-owned businesses has far outpaced the growth of those owned by men, according to a Forbes report. And 41 percent of women are now their family's primary breadwinners, according to Entrepreneur. 
In addition to the doll, Mattel hopes to keep up an online conversation about women entrepreneurs as a way of inspiring girls and grown-up Barbie fans alike. To do this, the brand partnered with eight real female entrepreneurs — or so-called "Chief Inspiration Officers" — to offer career tips and tricks, career-themed games, blog posts and activities. The online push will include a social media campaign using the hashtag #unapologetic — suggesting that no one should back away from her dreams.
See how the famous doll has changed over five decades.
The group of entrepreneurs involved with the project includes the founders of companies such as One Kings Lane, Rent the Runway, Girls Who Code and Sugarfina.

"My younger sister and I loved our Barbies and we would spend hours playing with them — if only my mother could have videotaped the stories we played out," One Kings Lane founder Alison Pincus told TODAY. "For us, Barbie was a tool that inspired creativity and story-making and encouraged us to have fun."
Her partner and site co-founder Susan Feldman added, "My hope is that Entrepreneur Barbie will encourage girls to think about starting their own business and harnessing their own creativity. We hope girls will be inspired by real women who have been successful forging their own path."
Rent The Runway co-founder Jenny Fleiss agrees. "If girls are taught at a young age that entrepreneurship is a plausible and satisfying career path," she told TODAY, "perhaps that will encourage more female-owned businesses in the future."
Alesandra Dubin is a Los Angeles-based writer and the founder of home and travel blog Homebody in Motion. Follow her on Facebook, Google+ and Twitter.