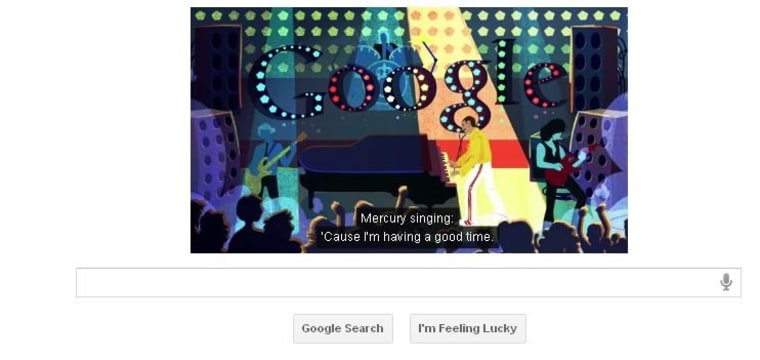 Google Doodles have become so commonplace, it takes a lot to make one stand out. Well, today, pay attention: for Freddie Mercury's birthday Google has gone all out in honoring Queen's famous frontman. If you haven't gone to Google.com yet, do it now.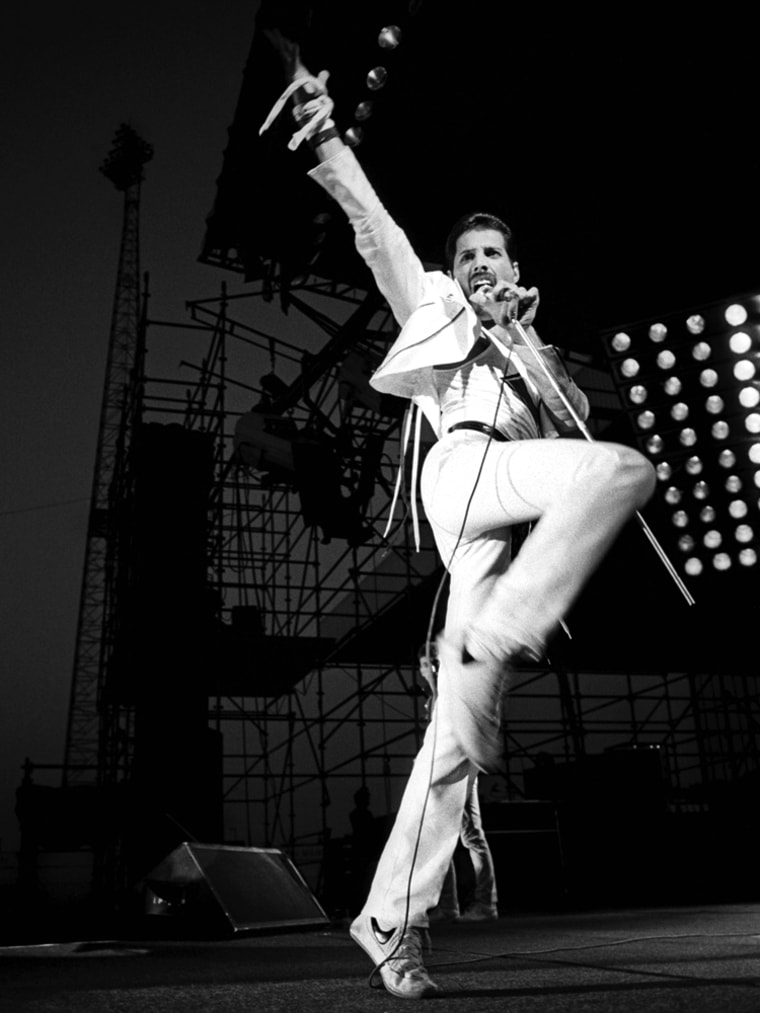 Say whatever you will about Queen's kitsch factor, and no offense to the softer-voiced male singers out there (like Death Cab for Cutie's Ben Gibbard and Justin Bieber) but Mercury's voice was loud, proud and powerful. 
"Mr. Fahrenheit" would have been 65 yesterday but Google picked today as his doodle day, instead of Labor Day (though it ran on Google's international homepages yesterday, where Labor Day is not celebrated). He died 20 years ago at the age of 45, another casualty of AIDS (which led to his death of bronchopneumonia).
Google chose "Don't stop me now" as the song to accompany its tribute to the man, and if you've ever seen "Shaun of the Dead" it's a rousing, hello morning! type of tune that gets the day started right. Google Doodler Jennifer Hom, whose obsession with Mercury fueled the project, told NBC Bay Area that it took her team three months to put the elaborate video together, which begins with a collage of illustrated Mercury images, and then breaks out into an animated 98-second extravaganza that at one point morphs into an 8-bit video game aligned with the lyrics in the song (available if you press the "cc" option on the dashboard).
The song, she said, was not only one of Queen's all-time greatest hits, but also one written by the larger than life Mercury.
Hom told NBC, "Considering how colorful Freddie's career was, we wanted to create a doodle that was just as colorful."
(Msnbc.com is a joint venture of Microsoft and NBC Universal.)
Queen founding member and guitarist Brian May guest blogged on the Official Google Blog to talk about his former friend and bandmate, giving some insights that dispel some myths about him:
Some people imagine Freddie as the fiery, difficult diva who required everyone around him to compromise. No. In our world, as four artists attempting to paint on the same canvas, Freddie was always the one who could find the compromise — the way to pull it through. If he found himself at odds with any one of us, he would quickly dispel the cloud with a generous gesture, a wisecrack or an impromptu present. I remember one morning after a particularly tense discussion he presented me with a cassette. He had been up most of the night compiling a collage of my guitar solos. "I wanted you to hear them as I hear them, dear," he said. "They're all fab, so I made them into a symphony!"
PC Mag's Chloe Albanesius has her own tribute to Mercury, with more information about him and how his birthday has spurred a resurgence of Queen activity.
Google has had no shortage of creative inspiration when it comes to its doodles. Some that come to mind include: the dancing Martha Graham-inspired piece, the animated interpretation of John Lennon's "Imagine," and the playable/recordable Les Paul guitar. 
More stories:
Check out Technolog on Facebook, and on Twitter, follow Athima Chansanchai, who is also trying to keep her head above water in the Google+ stream.