Many dog owners feel like Fido is part of the family. The downside? Like with your own kids, you can't just leave them alone for days while traveling or keep them cooped up in the house while you stay late at the office.
Luckily for dog owners, there is a new breed of apps meant to make dog ownership more convenient. Take Zingy, which has been available to Los Angeles dog owners for the last six months. You download the app, request a dog walker, and someone wearing a cheery Zingy T-shirt shows up in as little as two hours. Swifto offers a similar service in New York City. There are also companies out there offering AirBnB-style kennel alternatives, like DogVacay and DoggyBnB, that make it easy to find and rate pet sitters.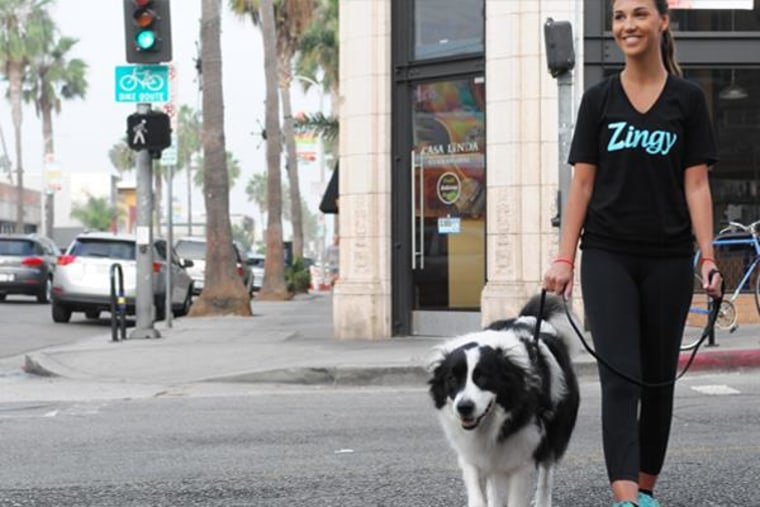 "We are often referred to as the Uber or Lyft of dog walking," Schafer Stewart, director of marketing at Zingy, told TODAY. "But we try to be so much more than that, because there is such a personal element to dog walking."
Owners can track their dog walkers on a map from their phones, and get a summary of where their dog went and whether it did its business.
Prices range from $25 for a 30-minute walk to $32.50 for an hour. Like Uber, there is no cash involved; you simply enter your credit card information and the money is transferred once the walk is over.
Obviously, safety is an issue. Nobody wants to hand over Rover to some shady stranger. Zingy says that it conducts a six-point background check and in-person interview before letting someone become a dog walker. The company is also fully insured, with $4 million worth of coverage per incident.
The founders of DoggyBnB also wanted to make finding a pet-sitter as easy as opening an app. But the idea of leaving your dog with a stranger for a couple of days can be kind of scary.
"It all started when I was going away for a weekend," Adam Pokornicky, co-founder of DoggyBnB, told TODAY. "I went down a list of like 15 friends, I was texting them individually back and I felt awkward, like I was burdening them or putting them on the spot. I thought, 'There has to be a better way.'"
Instead of random pet sitters, DoggyBnB focuses on building a personal network of friends and friends of friends. Dog (or cat or lizard or any pet) owners set a price, and then anyone who feels like watching an animal and making some extra cash can accept.
"If I'm trusting you and am making you part of my network, that means I've already vetted you," Pokornicky said. "There is always a valid human connection involved."
DoggyBnB makes money by taking a 10 percent cut of each transaction. Ideally, Pokornicky said, pet owners would hire someone they know, but the app allows for friends to recommend people that they trust.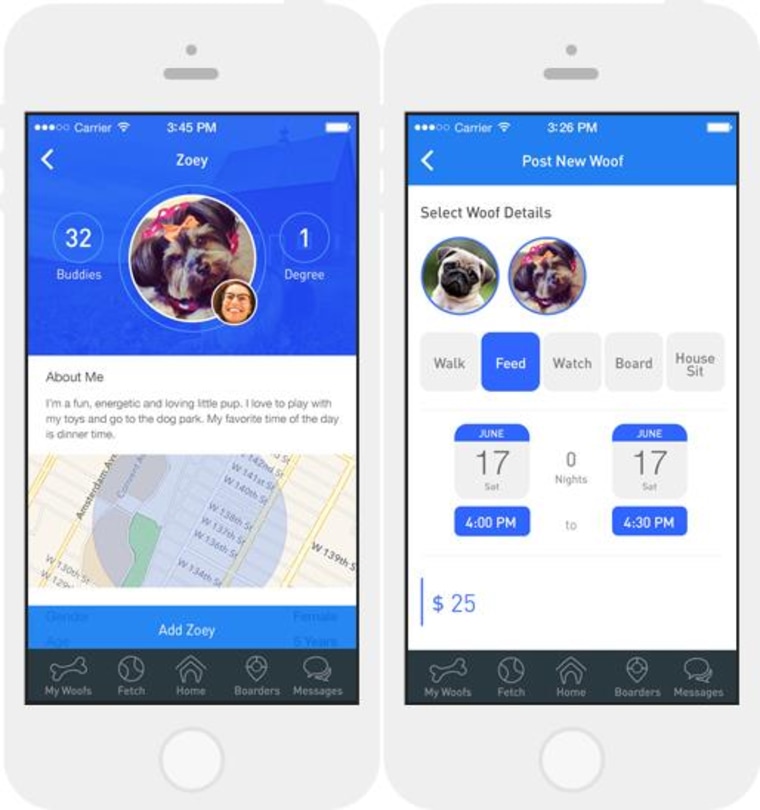 Right now, the company is focused on New York City, but people in Los Angeles, Chicago and Phoenix have started using the service as well.
DogVacay is a similar app available throughout the country. It's kind of like DoggyBnB, but instead of relying on a network of friends for pet sitters, it uses a strict vetting process that only accepts around 15 percent of applicants. The company does a background check, calls references and puts potential hosts through an online training course.
Pet owners get to set their price, with the average rate currently at $30 a night, and get daily photo updates on their furry friends. Each pet is insured up to $25,000 for vet visits, just in case they eat a pack of bubblegum while you're gone.
All of these apps try to allay the guilt of having a busy life and a dog at the same time. A DogVacay internal survey found that 80 percent of its users felt better about taking vacation after they started using the service.
"People said they were missing out on weekend trips with their friends because they were worried about their dog," Rachel King, head of communications at DogVacay, told TODAY. "It really gets rid of that feeling of guilt you feel when you leave a dog at a kennel."
Keith Wagstaff writes about technology for NBC News. He previously covered technology for TIME's Techland and wrote about politics as a staff writer at TheWeek.com. You can follow him on Twitter at @kwagstaff and reach him by email at: Keith.Wagstaff@nbcuni.com