Ah, the work commute. Millions of people all over the world do it daily, sitting or standing silently, biding their idle time with Candy Crush, iTunes, e-readers or some plain old, much-need sleep. But not Joe Butcher. The 31-year-old U.K. resident killed time during his twice-daily, 40-minute commute from Birmingham to Derby by drawing funny cartoon heads (think E.T. and Where's Waldo, the Hulk and Wile E. Coyote), then photographing said heads over his fellow passengers' bodies. And tweeting the images, of course. Random? Yes. Viral? Extremely.
Even Al Roker got in on the act on Thursday, trying out his doodle skills by holding up a drawing of Snoopy in front of Matt Lauer's face.
The images, which Butcher drew back when he was commuting in 2012, have been shared all over the web this week, something that the animator and illustrator told TODAY.com he finds "odd, but also very flattering."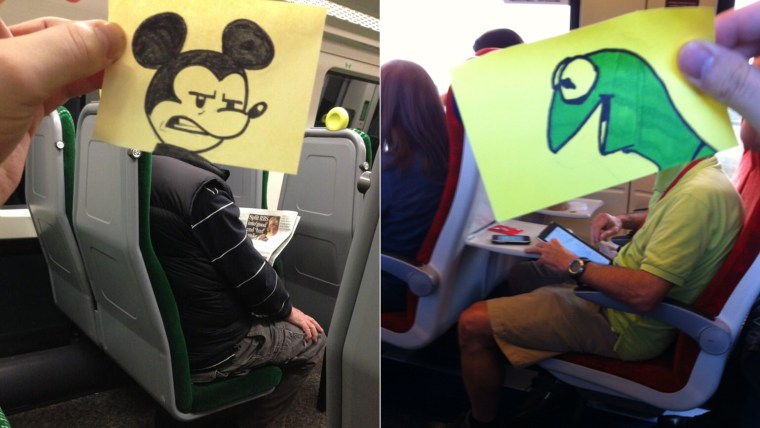 Butcher first began doodling "as a way to combat boredom," and though he is no longer subjected to a daily commute, thanks to being a full-time freelancer, he said, "The drawings have proved very popular, so I might start traveling on trains again!"

Butcher, who helms the Tumblr Text from Dog, said that despite being over the age of 30, "I'm basically a man-child. I like lots of cartoons and comics, I love 'The Simpsons' and stuff like 'Ren & Stimpy.' And I adore 'Calvin & Hobbes.'"
So did one of his subjects ever catch him in the act? "No, never," he said. "I am a post-it ninja!"

Check out the best of Butcher's Twitpics.
Courtney Thompson is iVillage's senior home page producer. Follow her on Instagram, Pinterest and Google+.