There's a first time for everything — and that includes technology-powered searches for love. To properly introduce some apps to get you started on your quest for serious romance, casual encounters, and everything between, I — a hesitant, offline-only dater — tried several myself. Here's what you need to know.
I selected a mixture of apps, some connected to well-established dating sites and some which are brand-new. The impressions I'm sharing are, for better or for worse, my very first personal experiences with the apps ... and with dating services in general. I stuck to dating apps rather than sites both because they're newer — and because I'm practically dating my mobile devices anyway. (My mom refers to my iPhone as my "boyfriend.")
Despite being a tech blogger who's seen more than her fair share of strange things, trying these apps was an unnerving experience for me. (Turns out I get writer's block when it comes to dating profiles.) If it weren't for my editor, an assignment, and the fact that Valentine's Day is coming up, I would've probably stayed a dating app virgin for another quarter century.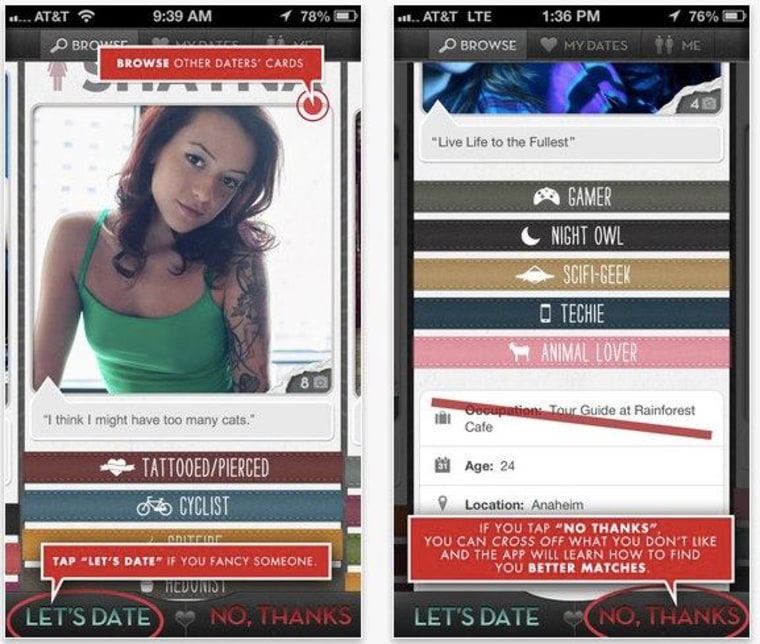 Let's Date
The idea behind Let's Date is delightfully simple. You scroll through "cards" — simplified profiles — and select the people you find interesting. If they also select your card, you're matched up and prompted to go on a date. I'd compare the whole thing to a high-stakes round of "Go Fish" if I'd ever actually learned the rules of that game.
After granting the Let's Date app access to my Facebook account — it promises to never post anything to my Timeline — I was asked to pick the location for my "dating pool," which sex I am interested in dating, what sort of activity I prefer on a first date (drinks, coffee, food, or "something else"), and who should pay for that date. I selected from the photos sucked into the app from my Facebook account and then covered the "fun stuff" (diet preferences, politics, religious affiliations, height, body type, and so on). There was even place to list my "kink factor." (Options include "I'm old-fashioned," "I just do what Cosmo tells me," "I'll try anything once, especially if you beg for it," and more.)
I was offered the option to prevent my Facebook friends from seeing my Let's Date card, perhaps in hopes of avoiding people already friend-zoned. It took me a while to decide to just plain include them in on the fun.
I proceeded to spend the next little while sifting through other people's cards, hitting "Let's Date" on the ones I found interesting. Whenever I selected "No, Thanks" on a card, I was asked to cross out whatever I didn't like. This made me flinch. Should I really point out that it's a guy's age that turned me off? Should I reveal that it irked me that he described his marijuana usage as "Willie Nelson style" and that he was a bit too short for my taste?
After a few minutes, I got a notification. Someone has tapped on my card. I'm told that he's in the next five cards I'll be shown. If I select "Let's Date" on his card, we'll be matched. I tap through the next five cards, expressing interest in two. Neither were the fella who was into me. I'm disappointed until later, when one of my selections — a cute, somewhat scruffy type with geeky interests — becomes a match. Guess he picked me out of his five cards. [Let's Date, for iOS]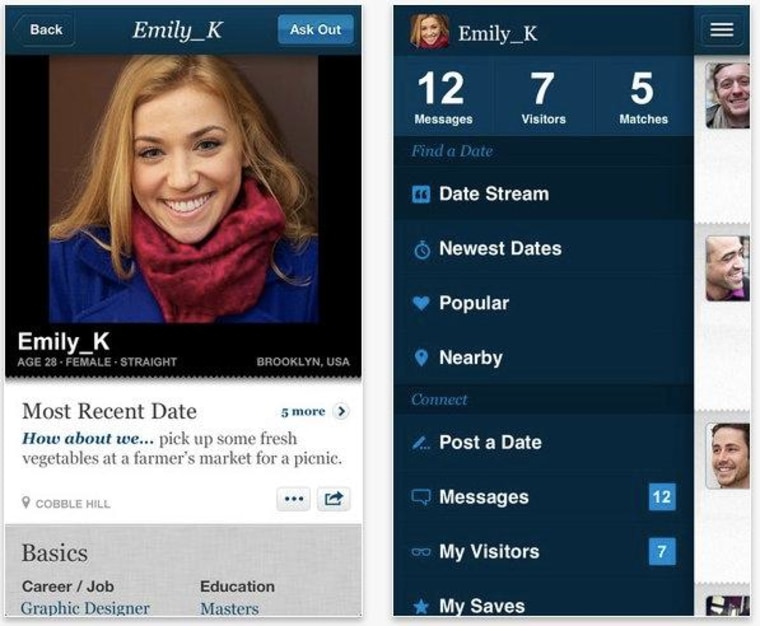 How About We
How About We has a fairly simple concept: You select a date you'd like to go on and others are able to accept it.
The sign-up is quick. Email, username, password, my sex, the sex I'm interested in, age groups I'm interested in, date of birth, zip code, photo. Bam. Done. All that's left is to offer up a date suggestion. ("How about we ... grab tea and go for a walk," I type.)
Before I even start browsing my options properly, I notice a little banner at the top of the app. "Upgrade today to send unlimited messages," it suggests. I sigh. Yet another "freemium" app. I can't even respond to the cute messy-haired fella who told me he's "intrigued" without upgrading. I consider reaching for my credit card when I notice that the guy's profile reveals that he has a weakness for an "exceptional laugh/giggle." Instead I scroll through my five daily matches, debating whether to express interest in any of them. I get distracted by another notification of a guy's interest. It turns out that he works with a guy I know "in real life." Small world. [How About We, for iOS and Android]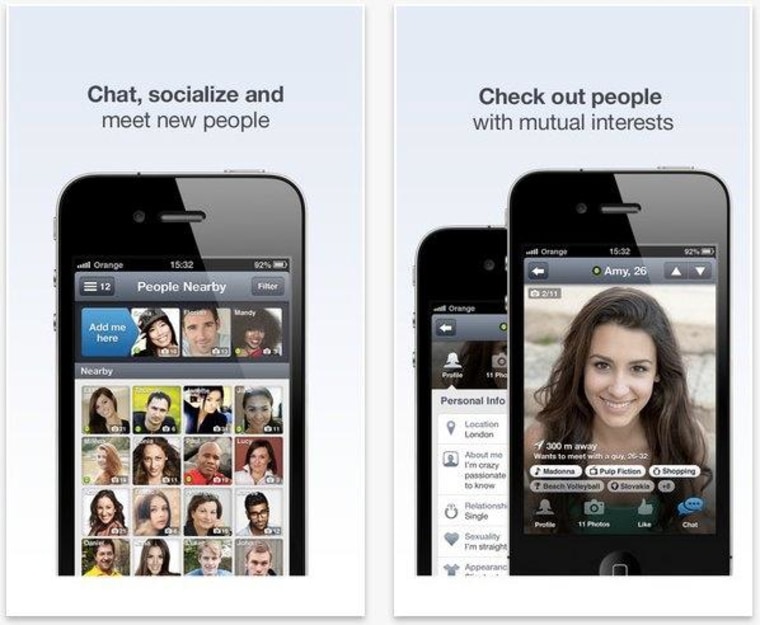 Blendr
While modeled after Grindr — an app mainly catering to the male gay and bisexual community — Blendr appeals to all sexes. You are shown people within geographic proximity who you can chat with (perhaps to arrange a meeting). Unlike Grindr, Blendr doesn't focus on casual sexual encounters quite as blatantly, but that doesn't prevent users from being rather ... forward. (I became very aware of this detail when one man invited me to join him and his girlfriend — I'm assuming he meant the pretty girl-next-door type pictured in a photo on his profile — in bed. He remembered to compliment my eyes in his second message.)
A quick log-in via Facebook, some verification to confirm that I'm really me, and Blendr was basically all set to go. I selected four photos from my Facebook profile and ... well, before I even had a chance to fill out anything on my profile, I started getting messages. Like some of the other apps, Blendr's freemium: Accessing certain features — like viewing who favorited my profile — requires a membership fee or referrals, but messages can be exchanged without a fee.
An overwhelming number of notifications about users who expressed interest in me continue flooding in throughout the day, including several additional invitations to join couples in bed. [Blendr, for iOS and Android]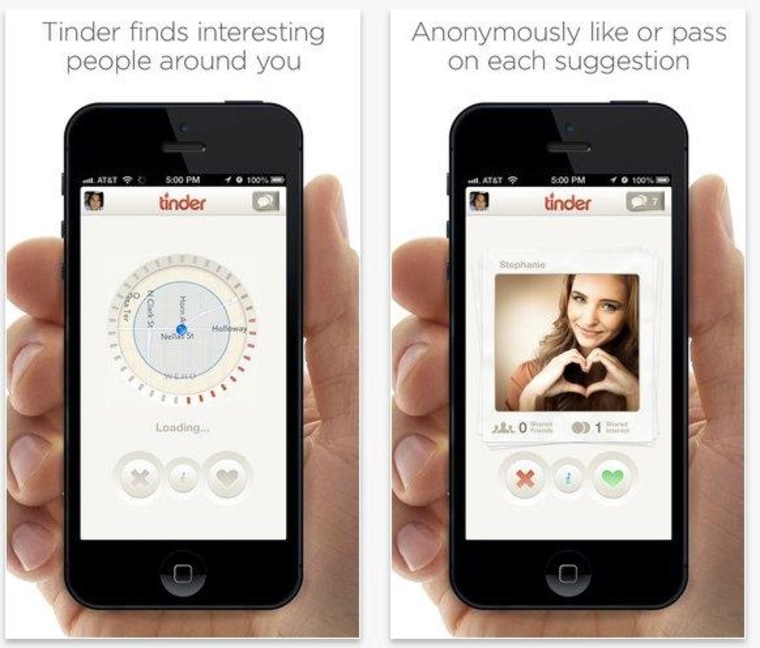 Tinder
Tinder requires people within geographic proximity of each other to express mutual interest in order to create a match. I expected it to resemble Let's Date, but it's definitely not designed quite as well.
A friendly introduction explains that I can "like" or "pass" on the people the Tinder app suggests to me. Unless there's a mutual "like," other folks won't ever know that I've liked them nor will they be able to contact me.
I signed in with my Facebook account and got started. The selection on Tinder somehow felt lacking in comparison to that on the other apps. I'm reasonably sure that the mature-looking fella in one particular photo is not 23-years-old. Several used images random objects in lieu of actual profile photos. I signed out 10 minutes later. [Tinder, for iOS]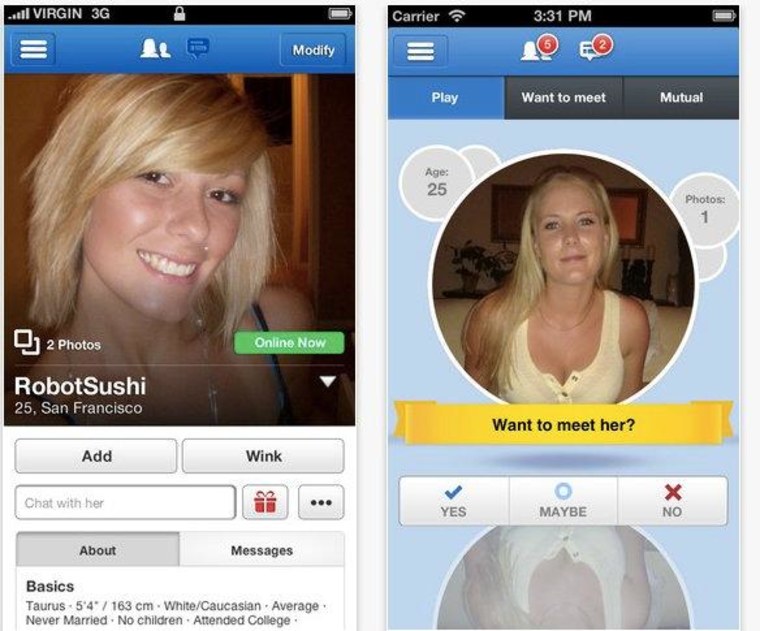 Zoosk
Zoosk feels like a blend of Facebook and a dating site … with a bit of gamification. There are rankings, based on participation. It's as if someone stuck Foursquare, FarmVille and a dating app into a mixer.
I took the lazy approach and logged into Zoosk using my Facebook account. I'm warned that the app may post on my behalf. This sounds very undesirable, but I proceed anyway — anything for love. I answer a few questions about myself, turn on the "Radar" feature which promises to alert me if someone I'm flirting with is nearby, and ... that's it. I now get to swipe through profiles. I notice that Zoosk posted a note on my Facebook Timeline, pointing out that I changed my profile photo on the dating app. This is annoying. I revoked Zoosk's access to my Facebook account and deleted the post. Good riddance ... I hoped.
But the annoyance wasn't over. Notifications of users sending me "flirts," viewing my profile, wanting to chat with me, and so on continue flooding my inbox. Instead of being flattered, I develop an obsessive compulsive relationship with the "spam" button. [Zoosk, for iOS and Android]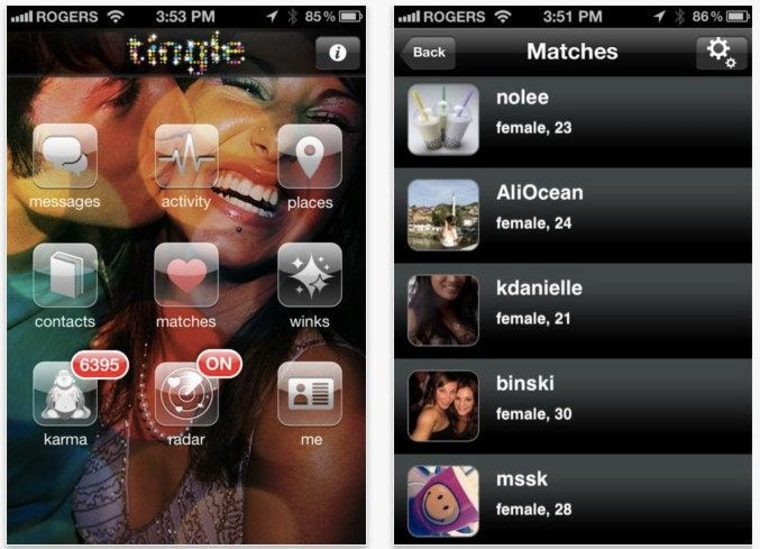 Tingle
Rather than forcing users to interact strictly via text-based chats, Tingle allows potential lovers to call each other as well. I can't decide if this is refreshing or just plain intimidating. (Mind you, the app doesn't appear to reveal actual phone numbers to anyone.)
While signing up for Tingle, I received an email asking me to subscribe to what sounds like spam thinly disguised as a newsletter. I passed, thinking back to the junk piled into my inbox courtesy of Zoosk. After answering a few questions, I'm able to browse through other users. There's a limited filter functionality and a "Radar" feature which sucks in nearby users. If someone's interesting, I can use my Tingle "Karma" to "wink" at him, call him, or send a text messages. The first batch is free, but to get more, you have to pay up.
For some reason, Tingle strikes me as dull. I dread spending any time browsing through it. It's likely the interface, which looks like it came out of the mind of a bored design student. [Tingle, for iOS and Android]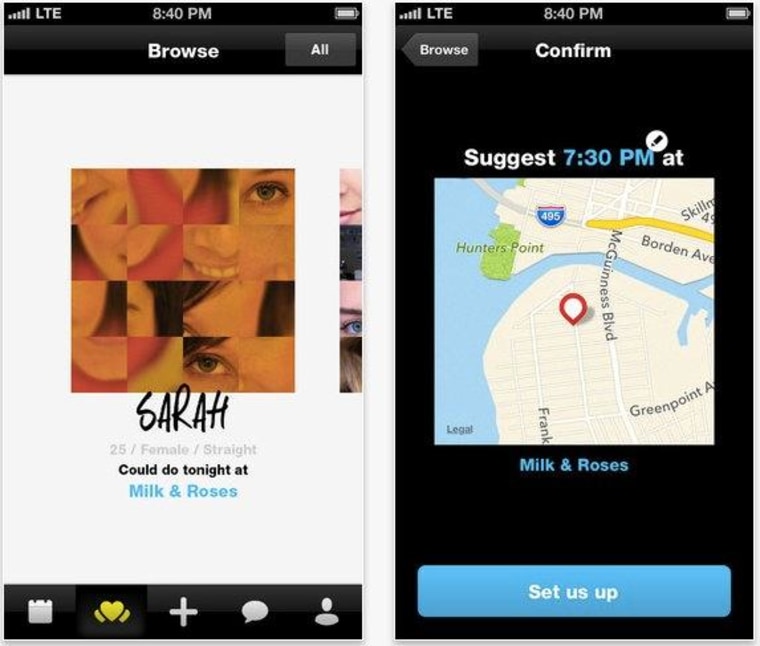 Crazy Blind Date
Supported by OK Cupid, a well-established dating site, Crazy Blind Date keeps things simple. Pick a time, pick a place, go on a date. You can even find a date for the very same evening.
True to its name, this really is a blind date: No background info, no dirty laundry, no "kink factors" — and even the photos are scrambled. I signed in with my newly created OK Cupid account. I was presented with an abstract version of my profile photo and asked to select which evenings I had free, along with places where I'd like to have my date. (I picked a bakery close to the office, as a craving for cupcakes had kicked in.)
After that little setup, I scanned several fellas who were available at the same time as I and who were looking to meet up close to my suggested location. I had the option to select any of them and dash off to meet a potential Prince Charming. Was this a chance at spontaneous romance? Or the dating equivalent of grabbing a pre-packaged meal from the nearest deli? [Crazy Blind Date, for iOS and Android]
Moonit
Rather than mainly relying on my ability to choose partners, Moonit promised to reveal my compatibility with friends based on astrology. (Guess that's about as good as any mysterious matchmaking algorithm.)
Unfortunately, it turns out that only one of my Facebook friends — one who happens to be very much off-the-market — is using the app. I assume that he, a prominent figure in the tech industry, was merely testing the app out to see if he should invest in its maker.
I idly wonder what types of folks I should be meeting as a Cancer. Would a Virgo be the most compatible match? I wish I paid more attention the last time a colleague tried to read me my horoscope. I tapped around the "Meet" section of the app, noticing that contacting someone requires me to spend "Star Powers." The app's layout, while information dense, turned me off quickly. Lots of details can be great, but only if they're well organized. It was as if someone tried to cram too many different dating apps into one, creating a mess in the process. This app won't be staying on my phone long. [Moonit, for iOS]
Dating-app virgin no more!
After diving head-first into the world of dating apps, I'm left feeling conflicted. On one hand, I'm pleased that I got through the experience without too much awkwardness. On the other, I'm somewhat disappointed. Out of the many men I interacted with, only three turned out to even sound like individuals with whom I wouldn't mind having a cup of coffee. There were many who just plain intimidated me — and I'm not exactly a shrinking violet.
I'm not so sure that I would use dating apps as my primary approach to seeking love, but if I did, I'd likely stick to Let's Date and How About We. (I've even recommended Let's Date to two friends since I tried it.) I'm not quite ready to deal with any more men who think that my smile screams "I'd be the perfect surprise for your girlfriend," after all.
Related stories:
Want more tech news or interesting links? You'll get plenty of both if you keep up with Rosa Golijan, the writer of this post, by following her on Twitter, subscribing to her Facebook posts, or circling her on Google+.