Call it the gift gap.

Americans are expected to spend about $7.4 billion less on gifts and goodies for dads this Father's Day than they spent on moms for Mother's Day last month, according to the National Retail Federation.
In fact, Dad may even be lucky to get a lousy card.
The National Retail Federation says about 64 percent of consumers plan to get Dad a card. That compares to 81 percent who were planning to make sure Mom got a card.
Experts say that Americans have traditionally spent more for moms than they do for dads.
Robert Passikoff, president of the retail consultancy Brand Keys, said that's partly because many people do feel a bigger emotional link to their moms than to their dads. But he said there's another more pragmatic reason: There's more stuff to buy for Mom.
"It's just harder to buy for men," he said.
That means kids may end up buying a card, flowers and a sweater for Mom – and then take her out to brunch. For Dad, he said, there can be the struggle to find anything he'll like – followed by the inevitable tie, golf gadget or gift card.
Passikoff said that doesn't mean the kids got out the calculator and decided to spend less on Dad. They just ended up doing so.
"This is not a contest," he said.
The National Retail Federation is expecting that total spending for Father's Day will be $12.5 billion this year, compared with an estimated $19.9 billion for Mother's Day.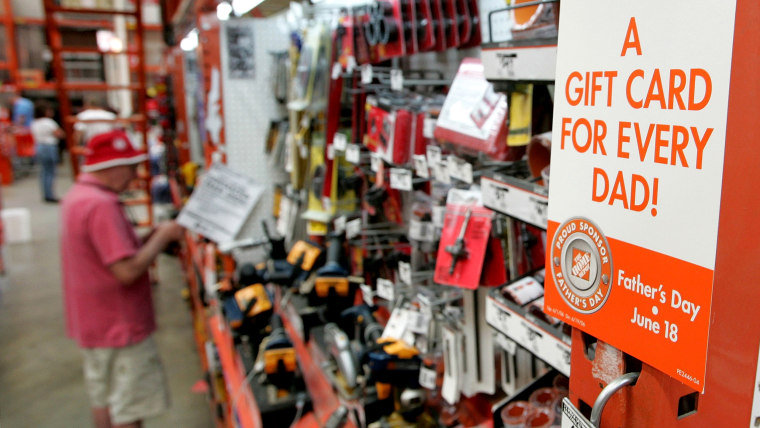 The retail trade group predicts that the average person will spend $113.80 this Father's Day, down slightly from $119.84 last year. For Mother's Day, they predicted that the average American would spend $162.94, also down slightly from 2013.
More than six in 10 respondents planned to get Dad a card. About four in 10 said they plan to get dad clothing such as a sweater or tie, and about four in 10 also said they plan to have a special outing such as dinner or tickets to a sporting event. Survey respondents could pick more than one answer.
Passikoff's firm, Brand Keys, is predicting that the average consumer will spend $145 this Father's Day, slightly higher than last year. For Mother's Day, Brand Keys predicted that consumers would spend $184, also slightly higher than in 2013.  
The Brand Keys data is based on a national poll of 5,500 men and women ages 18 to 65. The NRF data is based on a survey of 6,540 consumers conducted in May by Prosper Insights and Analytics.
Allison Linn is a reporter at CNBC. Follow her on Twitter @allisondlinn or send her an e-mail.