Most people dream of a white Christmas. It sure is pretty. And it sure can be hard on your set of wheels.
So we asked Audra Fordin, the founder of Women Auto Know, how to keep your ride in great shape.
Prevention is key
Wax your car before winter because snow and salt will wear away at the finish. Sun and other elements may cause the car to develop sun spots, and the paint will peel away.

Wash your car often because when there's salt and snow on the ground, salt eats away the undercarriage and turns it to rust, so the faster you can get the salt off, the better.

Make sure your wipers are in the right shape to handle winter weather. A general rule of thumb is to replace wipers once a year. A frozen wiper can crack your windshield.

Beat streaky windshield wipers by taking a plastic bag and putting it over the windscreen wiper blades and leaving them raised up the night before. The bag will prevent the blade from freezing, and you'll have a streak-free window.

Ditch the scraper. The night before freezing temperatures, go out to your car, rub an onion or potato on the windscreen. The sugar from the onion or potato creates a barrier over the window. And sugar helps to break down the molecules, which favor the melting process, so you'll come out in the morning and there won't be any ice or snow on there.

After it snows you need to thaw the frost. Grab a bottle, fill it with two parts vinegar and one part water and spray it over the window. The ice will then come off with just a credit card.

Make sure you get the right kind of tires for winter. It's all about layers: The tire should have two layers of polyester, two of nylon and three of steel.

To prevent your car's door handle from freezing, cover the car door handle with duct tape to protect the keyhole.

For remote keys, meaning handles without keyholes, always have WD-40 on hand. If not, here's a great homemade lubricant that will do the same job: Fill an 8-ounce spray bottle with one part water to three parts olive or sunflower oil. Shake it to mix, and spray away. You can also use this for squeaky doors to loosen stuck nuts and bolts, and zippers!

And let's talk worst-case scenario: You're frozen inside your car. Yes, it happens! Use the mechanical lever you can get to if you put the back seats down and get in the trunk.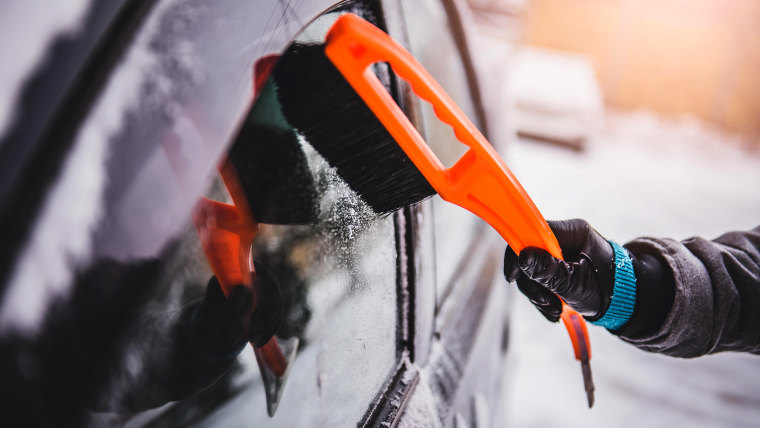 Safety first! Use common sense when heading out in bad weather
Make sure your phone is charged.

Tell a friend where you're going.

Take inventory of your car and make sure it's got a full tank of gas.

Make sure you bring a flashlight and extra batteries; a cellphone and charger; and non-perishable food and drinking water.

In terms of equipment, make sure you have flares, an ice scraper and snow brush, and a shovel and rock salt, plus paper towels.

For warmth, pack a hat, gloves and blanket.

As for tools, you'll need to have a screwdriver, duct tape, twine, matches, a pocket knife, a first-aid kit and battery jumper cables.

Stock up on extra washer fluid (and a spare pair of windshield wipers).

If you're traveling with kids or a baby, pack extra food, warm clothes and blankets, toys and games, and extra diapers just in case.

Make sure your heater and defroster are working properly.

Check all your lights: headlights, tail lights, brake lights, signal lights and fog lights.

Fill up your windshield-washer fluid.

Make sure your accessory belts and hoses aren't loose, brittle or bloated.

Check your windshield wipers; they need to be in great condition.

Make sure your battery is strong. One additional tip: If your battery is close to its expiration date, replace it.

Make sure your tires are properly inflated; they will give you the best traction.

Check the air in your spare tire.

Check your tire treads because it's the tread that grips the road and repels water.