The Food Network said on Friday it will not renew the contract of Paula Deen, one of its most popular stars, raising questions about how badly her business empire could be damaged by her use of racial slurs.
The TV chef's admission that she had used the N-word in the past wasn't the first time the queen of comfort food's mouth had gotten her into big trouble. She said in 2012 that for three years she hid her Type 2 diabetes while continuing to cook the calorie-laden food that's bad for people like her.
On Friday, the celebrity cook posted a video on YouTube apologizing for using racial slurs when she was growing up in the then-segregated South.
"I want to apologize to everybody for the wrong that I've done, and I want to learn and grow from this," she said. "Inappropriate, hurtful language is totally, totally unacceptable. I've made plenty of mistakes along the way, but I beg you, my children, my team, my fans, my partners, I beg for your forgiveness."
But hours later, The Food Network said it would not renew Deen's contract when it expires at the end of this month. The network, which began airing "Paula's Home Cooking" in 2002 and added "Paula's Best Dishes" in 2008, did not elaborate, but earlier, while investigating her comments, it said it does not tolerate discrimination.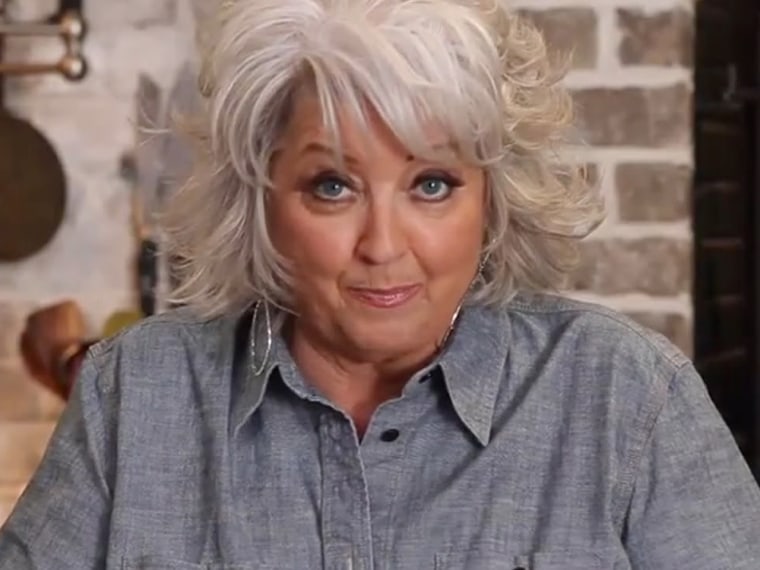 Deen is one of the network's longest-running and most recognizable stars, although her show airs in daytime — not prime-time. About three-quarters of her audience is female. The network, using Nielsen data, said it did not break down its audience racially

From her days as a divorced mother selling bag lunches on the streets of Savannah, Georgia, Deen parlayed her folksy, Southern gal charm into an empire that included the TV shows as well as cookbooks, magazines and a wide swath of product endorsements.
Deen is author of 14 cookbooks that have sold more than 8 million copies and her bimonthly magazine "Cooking with Paula Deen," has a circulation of nearly 1 million, according to her website.

Now there is a risk to that business image.
Outside of her loyal fans, Deen is now best known as the woman with diabetes who cooks fatty food and has made racially controversial statements, said Matthew Hiltzik, a New York public relations specialist.

"Those are usually not the ingredients — no pun intended — for a successful brand," he said. "However, she has very loyal, dedicated followers who are most likely to accept her apologies and explanations."
Where it will most hurt Deen is in her ability to expand her business, Hiltzik said.
Deen's business expansion began in earnest in 2011, when she began putting out a full line of cookware sold at major retailers including Wal-Mart, food items like spices and even furniture. In addition to her restaurant, The Lady and Sons, she owns a Savannah seafood restaurant with her brother Bubba. There are Paula Deen Buffets at Harrah's Tunica in Mississippi and at Horshoe Southern Indiana Casino, and restaurants at other Harrah's.
Deen's racial statements came to light as part of a deposition in a lawsuit brought by a former manager of Uncle Bubba's Seafood and Oyster House, who claimed to be sexually harassed and said the restaurant was rife with innuendo and racial slurs.
Deen was asked in the deposition whether she had ever used the N-word.
"Yes, of course," Deen replied, though she added: "It's been a very long time."
The chef's representatives issued a statement Thursday saying that it was a different time when Deen admitted using the word, and she does not condone its use today.
"She was born 60 years ago when America's South had schools that were segregated, different bathrooms, different restaurants and Americans rode in different parts of the bus," the statement said. "This is not today."
The situation has made Deen the subject of some online mockery, with Twitter users suggesting new "Paula's best dishes" that include "Cotton Pickin' Fried Chicken" and "We Shall Over-Crumb Cake."

Last year, her career took a serious knock when she revealed that she had diabetes for three years while promoting high-fat, high-sugar recipes like deep-fried cheesecake and bacon-and-egg doughnut sandwiches. She made the revelation as she signed on as the face of an initiative by a diabetes drug company.
Deen lost weight after the admission and now tells people to eat fatty recipes in moderation, but she hasn't backed away from the butter. In fact, she recently came out with her own line of "finishing butters."
In Savannah on Thursday, Waridi Stewart of New York City, took a pass on the buffet at Deen's restaurant. She said it was because the wait was too long.
"I feel nothing toward her in terms of her being white and me being black," Stewart said. "The food is good. I'm not here because of Paula. I'm here because of the food."
But she said Deen needs to be careful about what she says.
Jennifer Everett of Tyler, Texas, who carried a shopping bag filled with $53 worth of merchandise from the celebrity chef's store, dismissed the furor. "Who hasn't ever said that word?" she asked. "I don't think any less of her. She's super friendly. She's a warm person who wouldn't hurt a fly."
More from TODAYMoney: