With graduates of public and private colleges now racking up an average of $29,000 in debt, parents are looking for schools that offer the best bang for their buck while immediately placing their graduates in the workforce with a steady paycheck.
Robert Franek, author of a new Princeton Review book called "Colleges That Pay You Back,'' joins TODAY Tuesday to talk about colleges that offer the best combination of affordability, academics and alumni employment.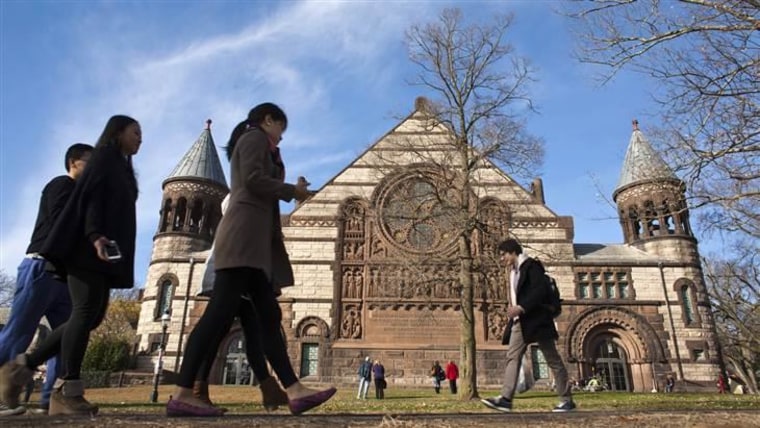 Franek believes the following five schools offer the best combination of outstanding academics, generous financial aid and relatively low cost of tuition, and bright job prospects for graduates.
1. The Cooper Union for the Advancement of Science and Art
2. Massachusetts Institute of Technology (MIT)
3. Harvey Mudd College
4. Stanford University
5. Princeton University
Franek also gave his top-ranked schools in certain individual categories:
Best Financial Aid: Vassar College. The New York school's average grant to students in need is $41,600 of the $61,100 sticker cost for a reduced cost of $19,500. Awards $57 million in scholarships.
Best Career Placement:Harvey Mudd College. The California school of 780 students has a renowned engineering program, a strong Office of Career Services and campus career fairs featuring about 150 companies.
Best Internships: George Washington University. Located in the nation's capital, GWU has the largest number of interns of any school in Washington, D.C., and proximity to federal agencies and corporate headquarters.
Best Alumni Network:Clemson University. The South Carolina school has an alumni network of 127,000 across the world, a strong cooperative education program, and a program where students spend a semester doing paid learning in their chosen career.
Best School for Making an Impact: Wesleyan University. The Connecticut school is known for its community service and commitment, headlined by the Patricelli Center for Social Entrepreneurship.