A Canadian con artist who made hundreds of millions of dollars selling worthless products on the Internet will need to look for a new line of work.
Jesse Willms of Alberta, Canada agreed today to settle a variety of false and deceptive marketing charges brought by the Federal Trade Commission. 
The FTC alleges Willms and his business partners used "Free Trial Offers" to get people's credit or debit card numbers in order to bill them for products and services they did not want and did not agree to purchase.
Willms sold dozens of products via the "free trial offer" come-on, including: 
 AcaiBurn weight loss products
PureCleanse colon cleaners
DazzelWhite and DazzleSmile teeth whiteners 
He also marketed work-at-home-schemes, free credit reports, access to government grants, online consumer research services and penny auction sites (SwipeBids.com and SwipeAuctions.com). 
In its complaint, the government says these "illegal practices" raked in more than $359 million dollars since 2007 from nearly four million consumers in the U.S., Canada, United Kingdom, Australia and New Zealand. 
In settling with the FTC, Willms and his 11 companies are permanently barred from using negative-option marketing, a practice where the seller considers the lack of a response from the customer as permission to charge them. 
They are also prohibited from debiting people's bank accounts without getting their express authorization, making misleading or unsubstantiated health claims and using false or deceptive endorsements or testimonials.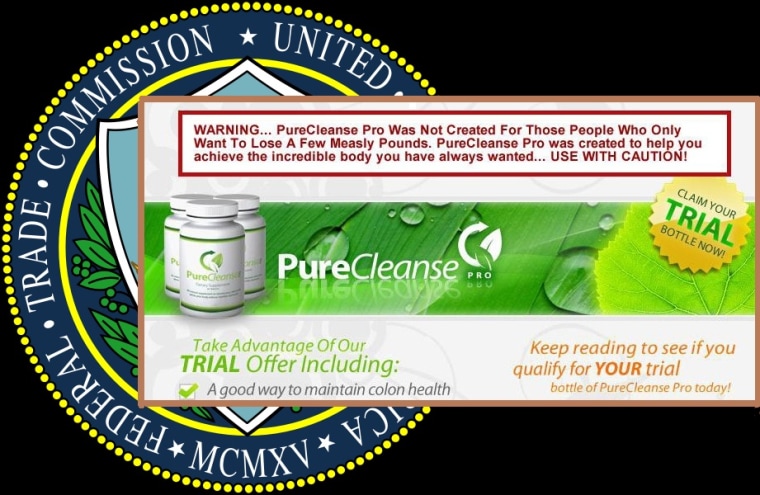 A judgment of $359 million will be suspended if Willms surrenders the money in his bank accounts, along with the proceeds from the sale of his house, personal property (including a Cadillac Escalade, fur coat and artwork) and corporate assets. 
The pitch for everything was basically the same: the product or service was available for "free" or on a "risk-free" trial basis as long as you paid a small fee for shipping and handling. 
"Get Your Risk-Free Bottle Today," the bold print would say. "We'll let you try it, before you buy it!" Buried in the fine print in the terms and conditions was the fact that you were going to be charged almost immediately. 
"If you didn't return the free sample within a very short period of time, normally 14 days from the date of purchase, you were not only charged each month going forward, but you were charged for the sample you got that was supposed to be free," explains Robert Schroeder, director of the FTC's Seattle regional office which handled this case. 
Ruth Witteried of Vancouver, Wash., is one Willms' many victims. She saw an online ad for a "free trial" of a weight loss product called PureCleansePro. Because the ad was on a reputable website, she figured it must be legit. So she agreed to subscribe to a newsletter and pay for the shipping. 
When her next credit card bill came, Witteried found charges for more than $166, including $59.95 for the PureCleansePro, membership to an acai berry support site and a web access fee. There were more unauthorized charges on her next statement.
"There wasn't anything free about it," she says. 
The ad promised a money-back guarantee. But when Witteried called customer service, she couldn't get the charges reversed. 
"They were not nice. They were not helpful," she remembers. "They said they were not allowed to give refunds." 
Other dishonest sales tactics
The FTC complaint says Willms and his companies made "false and unsubstantiated" product claims and used "false celebrity endorsements." 
Ads for the company's weight loss products promised rapid and substantial weight loss.  Colon cleaning supplements were touted as a way to help prevent colon cancer. In its complaint, the FTC says these claims were "false, misleading, or were not substantiated."
For some health-related products, Willms put bogus endorsements by Oprah Winfrey and Rachel Ray on his website. But neither of these celebrities endorsed any of his products. In fact, Oprah sued Willms for unauthorized use of her name and likeness. 
The bottom line
I warned before about "free trial" or "risk free" offers.  They're designed to make you think you're getting something for nothing. But if you're required to hand over your credit or debit card number, for whatever reason, you could be in for a nasty surprise. 
The Willms organization isn't the only company that's used this marketing trick to scam people. He was the largest fish caught by the feds so far, but there are others still out there. 
Before you take the bait, ask yourself – is it really worth the potential hassle to get a little sample of an unknown product from a company you've never dealt with before? I think you know the answer. 
More Information: 
FTC: "Free Trials" Aren't Always Free