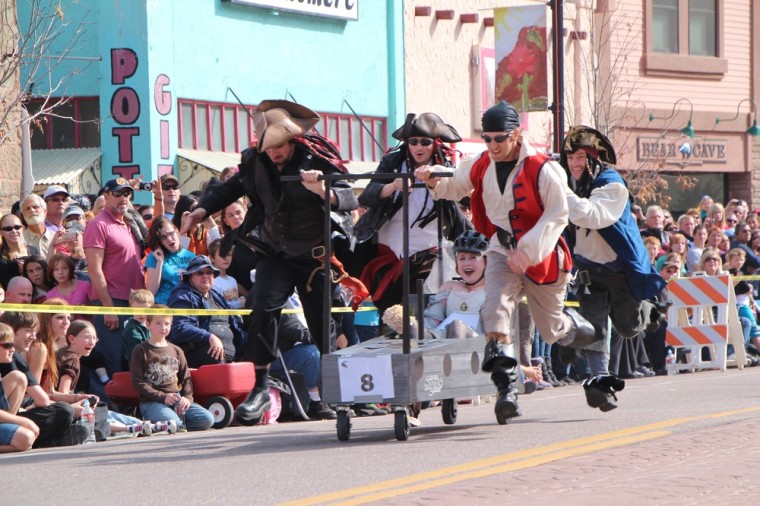 Take one morbid historical story and a town noted for celebrating the stranger side of life and what do you get?

If the town is Manitou Springs, Colo., you get the Emma Crawford Memorial Coffin Races, a madcap and macabre annual event set to take place on Oct. 27 this year.
Rolling coffins made up to look like hot rods, baby carriages and the Popemobile? Check. Coffin-pushing competitors outfitted as ghouls, pirates and zombie transvestite nurses? Check. Add in a parade of tricked-out hearses and you've got an event that draws up to 15,000 spectators a year and earns the title as our Weird Festival of the Month.
"It's fun, it's quirky; people love the themes and costumes," said Floyd O'Neil of the Manitou Springs Chamber of Commerce. "You have to experience it to understand it."
It may also help if you understand the genesis of the event. As the story goes, the original Emma Crawford moved to Manitou Springs in 1889 as a young woman, hoping the town's mineral springs and mountain air might alleviate her tuberculosis. Alas, it wasn't meant to be and when she died two years later, she was laid to rest on nearby Red Mountain, presumably for eternity.
Alas, that wasn't meant to be either. In 1929, after one ill-fated move and decades of storms, Emma's coffin apparently became dislodged and took off down the mountain, ending up as a jumble of bones and casket hardware in the canyon below.
Fast-forward to 1994 when a group of chamber officials found themselves discussing how to boost tourism during the slow, post-summer season. "The story had been known for a long time," said O'Neil, "and they said, 'Hey, Emma came racing down the mountain. Why don't we have a race in her honor?'"
These days, the event gets rolling with a parade in which competitors show off their creations, flanked by entourages of local citizens in outfits inspired by Emma, the apocalypse and every horror movie you've ever seen. There may not be any flower-bedecked floats but there will be hearses — black ones, white ones, ones outfitted with wings and guns — driven by members of the Denver Hearse Association.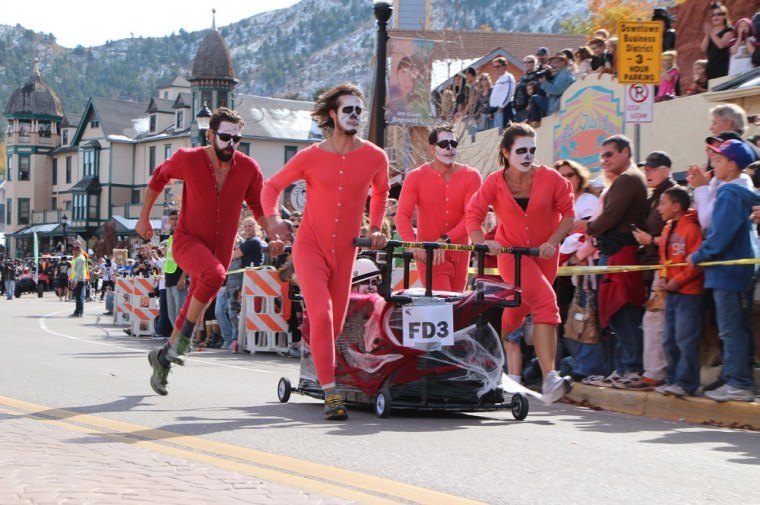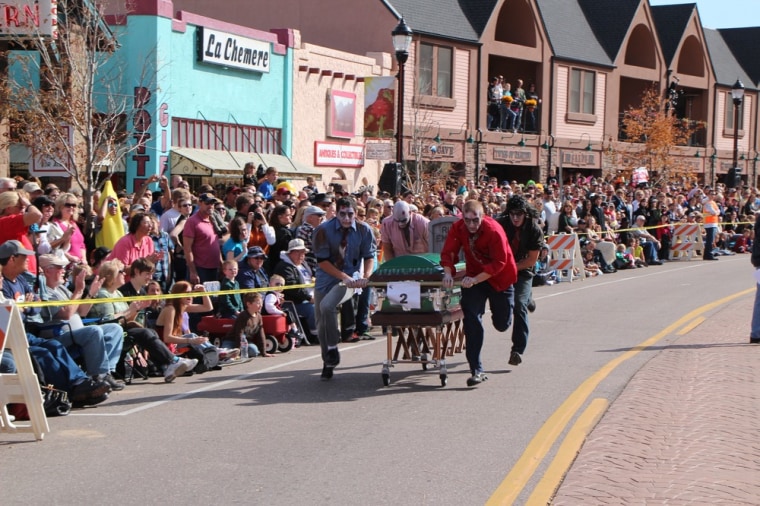 The real action, though, takes place after the parade when pairs of coffin-racing teams line up side-by-side on Manitou Avenue. Each team requires one "Emma" who must remain prone and up to four pushers who do their best to wheel her — or him — along the 195-yard course faster than the competition.
The result is a serial spectacle of costumed characters — goth girls and ghostbusters, blue-skinned Smurfs and dead celebrities — careening down the street, hell-bent for trophies, bragging rights and $50 in scrip they can spend in local stores.
"You just see the quirkiest things," said competitor Marlene Bizub, a frequent "Emma" who works as both a psychotherapist and owner of the Ghouls Gulch Haunted House in nearby Colorado Springs when she's not racing coffins.
According to Bizub, whose team has won Best Coffin and Best Entourage in previous parades, the key to the race is to build an aerodynamic coffin, ensure your "Emma" remains prone to further reduce wind resistance and remember that ultimately it's all in good fun.
Or is it? Even though she willingly shares tips with would-be competitors, one suspects Bizub may also be engaging in a bit of pre-race reverse psychology.
"We came in fourth in the race last year," she told NBC News, "so we're out to win it this year and get that trophy."
Rob Lovitt is a longtime travel writer who still believes the journey is as important as the destination. Follow him at Twitter.