There's no need to fear any "franken-fajitas" at Chipotle.
As of Monday, the Mexican fast casual restaurant said it had become the first national chain to get rid of all genetically modified or "GMO" ingredients from its food.
GMO food contains ingredients that have had its DNA tweaked to gain certain properties, such as pest resistance.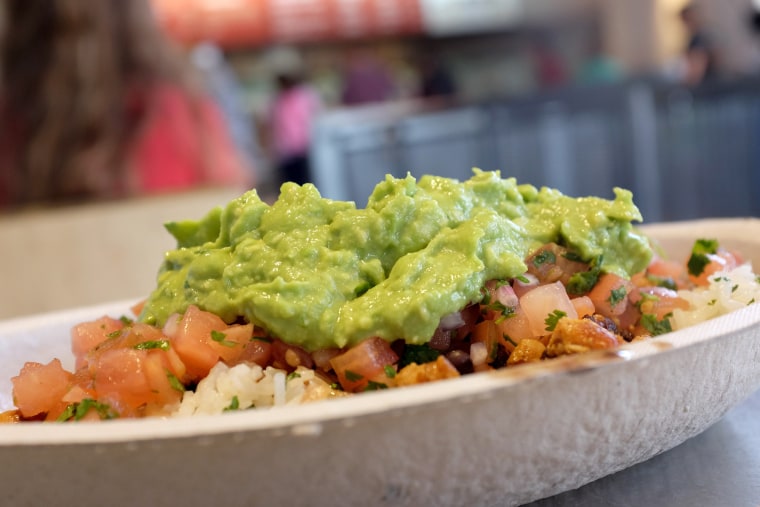 The FDA has said that there's no safety concerns to GMO food any different from those from traditional plant breeding. Ever since before Mendel first played with peas in the 19th century, farmers have been cross-breeding plants with to make tomatoes plumper and broccoli more nutritious.
But partly because genetic modification can involve syringes and viruses in labs, it makes some people uncomfortable.
One of them is Chipotle founder Steve Ells, who said in a press release that "there is a lot of debate about genetically modified foods" and while that debate and research continues, it had decided to move to get GMO ingredients out of its supply chain.
The Denver-based chain was already mainly using non-GMO ingredients. In March 2013 it pledged to also move to non-GMO ingredients for its tortillas. The solution involved its suppliers planting non-GMO corn and replacing soybean oil with sunflower oil to cook its chips and taco shells.
Over 90 percent of the country's corn and soybean crop is genetically modified to have certain traits like resistance to plant diseases.
Food health experts said the issue was not so much about nutrition, but perception.
"Is this a safety issue? I don't think so," said NYU nutrition expert Marion Nestle. "I think it's an issue of trust and transparency. The GMO industry's pouring millions into fighting labeling is not going over well with the public and has created a serious issue of distrust. Chipotle's owners have values about food issues and GMOs don't fit into them."
Next up, the company plans to get rid of all artificial additives in its tortillas.
"We are changing the way people think about and eat fast food, and that means cooking with the very best ingredients – ingredients that are free of additives – but still serving food that is affordable, convenient, and most importantly delicious," said Ells in a statement. "That's really unusual in fast food, but that's the quest we are on, and we continue to make progress."