As if summer heat wasn't enough of an excuse to reach for a sweet frozen treat, President Ronald Reagan decreed in 1984 that July would be National Ice Cream Month and the third Sunday would be National Ice Cream Day. And so, on July 20, we celebrate the 30th anniversary of ice cream consumption as a patriotic duty. To help Americans make the most of their ice cream calories, Cheapism.com set up a tasting panel and put 10 cheap treats to the test. Here are the top picks.
Kroger Sammies (31 cents each) cost less than any other novelty yet earned the title of best ice cream sandwich. The chocolate wafers on either side had a better consistency than competitors, which the panelists judged too soft. The vanilla center was declared deliciously creamy and sweet. (Where to buy)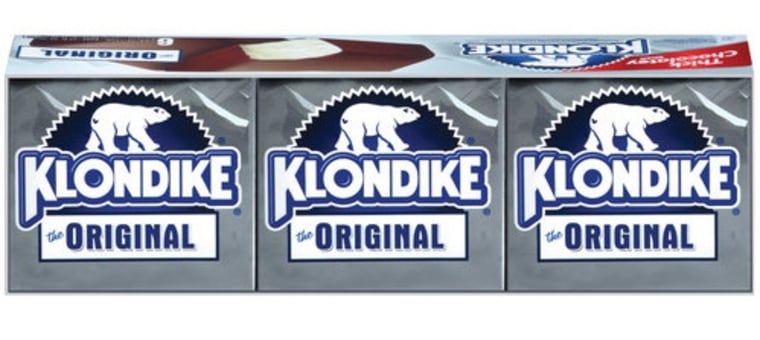 Klondike Original ice cream bars (58 cents each) received top marks in the blind taste test for their distinct vanilla flavor and thick, rich chocolate shell. Judges favored this treat over a Haagen-Dazs ice cream bar that cost nearly three times as much. (Where to buy) 
Nestle Drumsticks ($1.14 each) claimed a solid majority in the ice-cream-cone category. The classic novelty features a scoop of vanilla ice cream coated with chocolate and chopped peanuts. The satisfying crunch of the cone proved a deciding factor. (Where to buy) 
Klondike Classic Vanilla ice cream sandwiches (58 cents each) came up one vote shy of the first-place sandwich from Kroger. Panelists enjoyed the texture and flavor of the ice cream, but some found the chocolate exterior too soft to deserve the top spot. (Where to buy) 
Nestle Eskimo Pies (76 cents each) didn't put up much of a fight in the ice-cream-bar division, but this novelty did manage the same number of votes as the pricey Haagen-Dazs bar. It also tied for the lowest calorie count among the competitors. (Where to buy) 
Kroger Fun Daze Sundaes (84 cents each) won over a couple of the judges, although most of the panel preferred the Nestle Drumstick for a crunchier cone and less artificial flavor. The runner-up cone gets credit for good vanilla ice cream and scrumptious peanuts. (Where to buy) 
These novelties tempt consumers with low prices any day of the year, but keep an eye out for deals on other treats as National Ice Cream Day approaches. Carvel, for example, is offering customers a junior soft-serve cone for 80 cents on Sunday with a coupon. You can thank the Gipper.
More from Cheapism:
Full report on cheap ice cream treats 
Ice cream and frozen yogurt taste test 
Best ice cream makers under $45