Designer luggage may make you feel like a jetsetter as you breeze through the doors of the airport, but its high price generally has little to do with quality. Give it a few rounds with a baggage handler, and it'll look just as dinged up as a bargain-basement bag. Savvy travelers take a more practical approach, focusing on things like durable, lightweight construction and efficient, organizational design — and save money in the process.
Here are four top picks from Cheapism.com.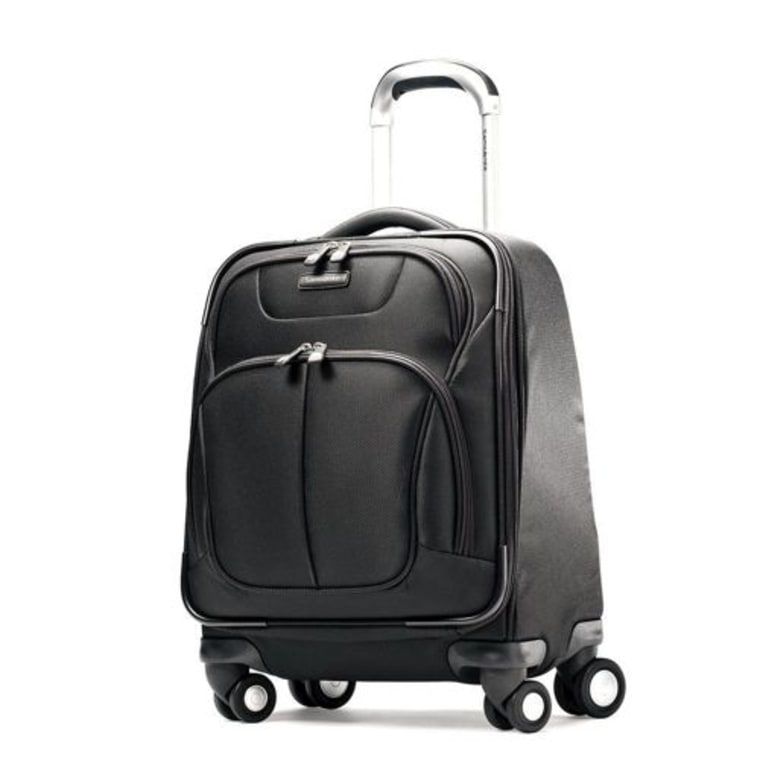 The Samsonite Hyperspace Spinner Boarding Bag (starting at $80) splits the difference between a full-size carry-on and a "personal item." It measures 17 x 14 x 7.5 inches, and online reviewers marvel at how much those dimensions can hold — all the necessities for a short business trip, for example. A padded laptop compartment and removable pouch help keep things organized. The bag sits on four dual spinner wheels and has a pullout handle for easy transport. (Where to buy) 
American Tourister Splash uprights are available in a range of sizes. Consumers have posted glowing reviews of the 21-inch (starting at $40) and 25-inch (starting at $72) in particular, praising the bags' sturdy build and roomy interiors. In addition to the padded carrying handle on top, there are extra handles on the side and bottom of the bags, making them easier to heave in and out of a car or overhead bin. This luggage comes in black, but also turquoise and a purplish shade called solar rose, which would be easy to spot at baggage claim. (Where to buy) 
The American Tourister Fieldbrook II Four-Piece Set (starting at $70) comprises a 15-inch shoulder bag, 23-inch wheeled duffel, 21-inch upright, and 25-inch upright. The pieces nest inside one another for storage. With a strap on the back, the smallest bag can slide over the handle of one of the uprights and rest on top, so you don't have to carry it. Users note that the luggage is lightweight and consider the set a good value. Color combinations such as purple/gray and red/black stand out in the sea of black bags coming off the carousel. (Where to buy) 
The Rockland Impact Four-Piece Spinner Set (starting at $135) is a quartet of uprights measuring 18, 22, 26, and 30 inches, each with four multidirectional wheels and a telescoping handle. Like the American Tourister Fieldbrook II set, these bags nest for storage. Users like the look of the two-tone luggage, which comes in black, olive, navy or burgundy, and describe it as heavy-duty in online reviews. (Where to buy) 
Keep in mind that the costs associated with luggage go beyond the price of the bags. Most airlines charge $50 to $100 for baggage over 50 pounds, so try not to fill a large suitcase to the brim. Consumers appreciate the zippered expansion on the American Tourister Splash and Rockland Impact uprights, but taking advantage could result in an overweight or oversize baggage fee. It could also render a 21- or 22-inch carry-on too big to bring onboard, incurring a fee of $25 or more for checking the bag.
More from Cheapism:
What are the best budget airlines?