From the team who introduced us all to "Instagram Husbands," a new video pokes fun at the hilarious text messages many of us get from the woman we love the most: mom.
From auto-correct fails to signing off text messages with a formal "Love, Mom," you might already be familiar with many mothers' adorable — but definitely confusing — technological faux-pas.
"My mom is yelling at me and she doesn't even know it," one character says in "Mom Text Decoder," a spoof from The Mystery Hour, a late-night talk show in Springfield, Missouri. "It's caps lock, Mom."
The video is a commercial for the "Mom Text Decoder" app, which claims to decipher what your mom is really trying to say in her puzzling text messages.
"Initially it was a fake commercial for a fake app, but then we were like, what if we really made the app?" Jeff Houghton, host of The Mystery Hour, told TODAY.
RELATED Olivia Munn shuts down engagement rumors in hilarious texts with mom
So they did. Just in time for Mother's Day, you can find the free app on the Apple App Store or Google Play.
"It's mostly meant to be funny," Houghton said. "It's super simple. You just copy the text from your mom into a box and then it decodes it — which is to say, we filled the app with hundreds of funny phrases a mom might say. So it spits out a mom-type text."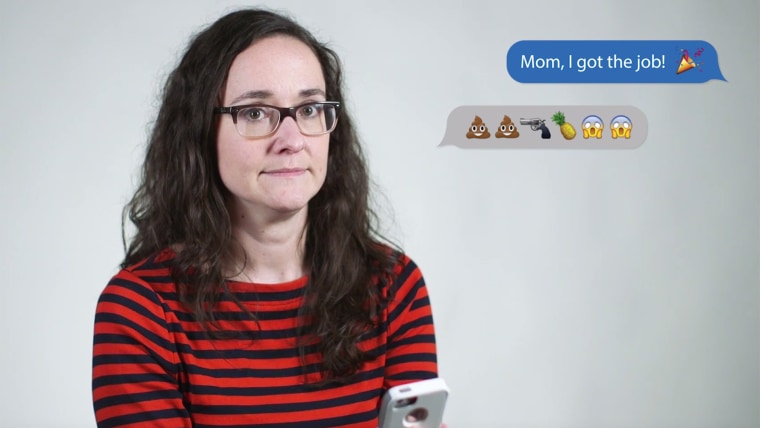 The app and the video were inspired by Houghton's own experience texting his mom.
RELATED: Dad and daughter have hilarious exchange about sanitary napkins
"It was totally autobiographical in that my mom doesn't keep track of auto-correct — she just sends text messages that are totally nonsensical and then she'll send a correction a few minutes later," he said. "My siblings and I have always joked about how her texts are crazy."
"I realized, I bet other people have the same problem," Houghton continued. "I brought it up to friends and everyone started sharing stories."
Sure enough, a quick search on social media of #TextsFromMom uncovers thousands of hilarious examples of texts gone wrong — from rapid-fire weather updates to unwelcome love advice.
As for Houghton's own mom, he says she approves of his latest project: "Luckily, she doesn't take herself too seriously."