The checklist for most apartment dwellers is pretty simple: Fitness center? Check. Free Wi-Fi? Check. Doggie bathroom? Wait. What? 
Yes, luxury living among the high-rise set is going to the dogs as builders are finding a huge demand for innovative spaces for animal lovers.
"There's a bit of an arms race going on among apartment buildings as to who can provide the most and the coolest pet amenities," said Carey Armstrong, director of rentals at Zillow.com.
"Where it used to be differentiating just to take pets at all, now to be competitive, many buildings feel they need to offer pet washing stations, full-service pet spas, places to walk your dog indoors, outdoor dog runs and even canine agility courses," Armstrong said.
For Ross Chanowski, who recently moved into a new pet-friendly apartment building in downtown Boston with his puppy Levi, this amenity was "super important."
"I never thought I would be able to have a dog in the city. This is life-changing," Chanowski said.
His building, 315 on A, is one of 750 apartment communities across the United States operated by Greystar. All of them cater to pet owners. Most have a room to wash and groom dogs. Some even have rooftop dog walks. The company brings in pet trainers to work with tenants and holds frequent pet events, such as "yappy hour" where tenants and their pets can mix and mingle.
"This gives us a distinct competitive advantage," said Kevin Sheehan, managing director of real estate at Greystar. "We highlight this on our website and make it part of the leasing presentation."
At some of the properties Greystar manages, there are restrictions on the breed and size of the dog. Tenants with a furry family member pay an additional $30 to $50 a month.
Sheehan admits there are problems from time to time, but he said good management takes care of most of them. The bottom line: "Pet owners are some of the best residents."

It wasn't so long ago that most landlords didn't allow pets, especially dogs. They were afraid of possible damage and the added liability. But Americans now spend more time and money on their companion animals and the rental industry has adapted to accommodate those who want to have pets.

"A lot of landlords have decided to go with the trend and stop fighting it," said Janan New, director of the San Francisco Apartment Association. "It's been an evolution over the last five years that's really accelerated recently."
The new Avant South Park apartment complex in downtown Los Angeles will have 440 units when it's completed. And like the other 15 projects the company plans to build in LA, pet owners are welcome.
"Pets are an important part of people's lives in urban settings and it's important for us to realize this," said Alla Sorochinsky, managing director at Century West Partners.
Taking it to the next level

Benjamin Hodson lives and works in downtown Seattle. When Bastion, his 2-year-old Weimaraner, needs to go to the bathroom, he can use the "pet deck" on the side of his apartment building.
"It's really convenient to have something that's not out on the street," Hodson said. "There are dog bags and a trash can right there, so everything is in one spot."
The deck has artificial turf with a sprinkler system that cleans, sanitizes and deodorizes. The maintenance crew also cleans it several times a week.

Hodson estimates that about 30 percent of the 118 units have dogs. And he knows they're using the pet deck because of how often they need to buy more poop bags.
"When you're building people's homes it's important that you include all of the people in the family — and dogs are now part of the family," Hodson said. "So having a bathroom facility that's designated for them makes people feel more welcome when they have a dog."
Gerding Edlen, a real estate investment and development firm based in Portland, Oregon, built the Barclay Broadway. The company, which focuses on the urban market, has pet-friendly policies at all of its properties. Most of the new buildings being designed will include pet bathrooms, washing/grooming rooms and places where dogs can play.
"It's something that the market appreciates and there's definitely enough awareness of this that it's demanded at the newer facilities," said company President Kelly Saito. "Those who do it well find a way to make these spaces really enjoyable, not just for the dog but for the tenant — a place where people can interact."
Saito told CNBC the capital cost of these facilities really isn't that much. It's making the commitment to devote the space in a dense downtown area where every square foot is precious.
Gerding Edlen believes the pet-friendly mantra can be applied to office buildings. Last month, the company unveiled a new "dog lounge" at the historic Dexter Horton building in downtown Seattle. This indoor bathroom has everything a pooch needs: Artificial grass and a vintage red fire hydrant.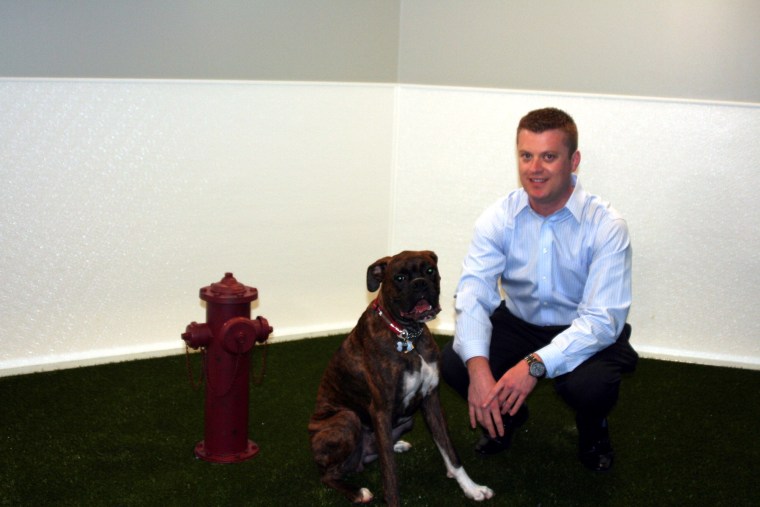 An irrigation system washes away the liquid waste. Owners take care of the rest. The room has a special ventilation system to deal with any smell — and to keep it from going into the hallway.
The new facility makes it possible for Spencer Norris, who works in the building, to bring Benny, his 14-month-old boxer, to the office.

"People have been bringing their dogs to work, whether they're allowed or not, for years. But there's no place for the dogs to go to the bathroom," Norris said. "Now, I have a designated spot where I can take my dog and feel comfortable letting him off the leash to do his business."
Helping solve the pet overpopulation problem

Aimee Gilbreath hopes this attitude change will help reduce the number of homeless pets in shelters. Gilbreath is executive director of the Found Animals Foundation, a nonprofit based in Los Angeles that works to reduce euthanasia due to pet overpopulation.
"One of the biggest reasons pets get surrendered to shelters is an inability of an existing pet owner to find pet-friendly housing when they move," she said. "If there was more pet-friendly housing available, more of those folks would go out and adopt and we'd have fewer pets dying in shelters."
—By CNBC contributor Herb Weisbaum. Follow him on Facebook and Twitter @TheConsumerman or visit The ConsumerMan website.