Tropical illnesses and wildfires may not sound like an ideal travel experience, but for Matthew and Renee Hahnel, it's all part of the job.
Since April 1, the Australian couple has been living the van life, traveling to all 59 national parks and sharing their stunning pictures to hundreds of thousands of Instagram followers along the way.
That doesn't mean they're on vacation.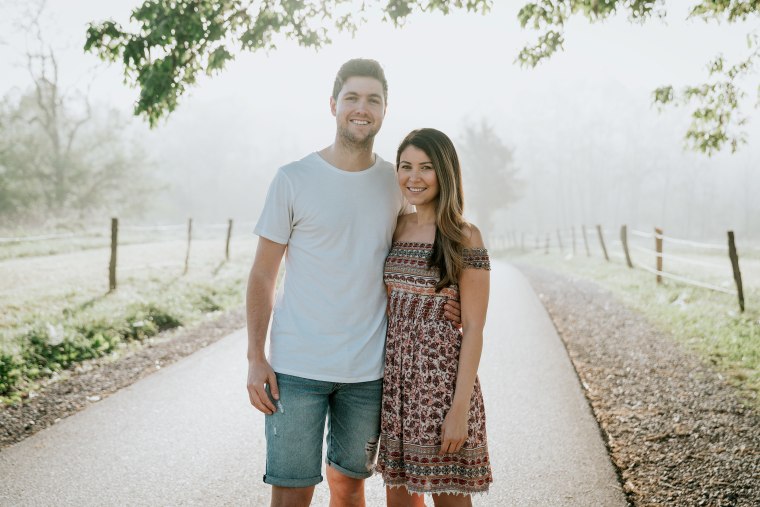 "We get a lot of comments from everyone saying what an amazing vacation and like holiday and stuff like that," Renee told TODAY, "but the reality is we're working our a---- off and we have a lot of deliverables for our client."
The Hahnels came to America in 2015, landing in Colorado for the mountains and snowboarding. Renee was a speech therapist, and Matthew was working at a recruitment company.
But at the beginning of last year, Matthew lost his job. All that did was present the couple with the opportunity of a lifetime.
"I had been working on my photography for a few years, and I always knew I wanted to turn that into a career, so I was kind of thrust into that earlier than anticipated," said Matthew, 27. "I took photos of a team-building event in Colorado. In November or December of last year, I got an email from one of their new marketing people saying they had a new brand coming out."
That brand, Evolve, which produces plant-based protein drinks, turned into the couple's client — the main sponsor of the trip. Another company provided them with their 1988 Volkswagen Westfalia camper van.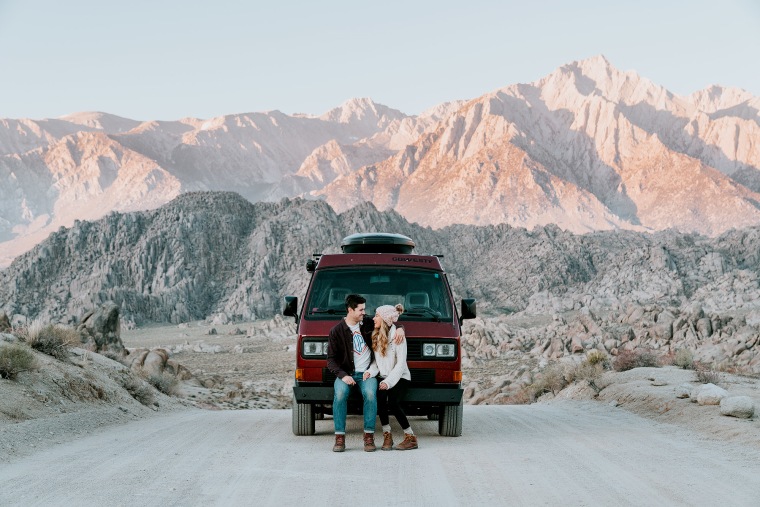 As part of their deal with Evolve, the couple is writing travel guides for the company's website, posting sponsored content on Instagram, writing blog posts and creating a small video. In exchange, the Hahnels don't have to worry too much about money while on the road.
The duo will have to return the van by the end of their countrywide trip at the end of October, but it's been their home for half a year — a cozy, messy home.
"We have like a little stink in our van but to be honest we're used to traveling and we're used to camping and hiking, so this, to us, we've done way worse than this," said Renee, 28. "To the everyday person who may not have done this before, they might be kind of grossed out. But you still have options to booking more campgrounds that have showers or hotels and stuff. It's really just like how much you want to spend."
The Hahnels aren't novices; they gave up their apartment lease in the middle of last year and have been traveling ever since, but they say anybody can do it.
"The national parks in America are for the people," said Renee. "They are created for the people, (run) for the people and so many of the parks have, like, accessible wheelchair trails and, you know, there are bathrooms and picnic tables at campgrounds. They really go out of their way to make sure that anyone and everyone can visit."
Some of their favorite parks included Lake Clark National Park and Preserve in Alaska, where they picked wild blueberries to add to their pancakes, and Grand Teton National Park in Wyoming. On the East Coast they enjoyed Acadia National Park in Maine and the Great Smoky Mountains along the Tennessee/North Carolina border.
Whether you're a young couple jonesing to explore or a family of four trying to make memories, the Hahnels offer these basic rules of the road.
1. Budgeting is key for a road trip of any length.
While the couple from Down Under is fortunate to have trip sponsors, they've done enough traveling to know how to stretch a dollar while on the road.
"I would say that it's possible for the average couple to road trip around America for less than $400 a week if they stay in campgrounds and cook their owns meals," said Matthew. "You could do it for less if you get creative."
They also suggest glamping as a nice alternative for couples who want comfort but still want to experience the outdoors.
2. Prepare, prepare, prepare!
The Hahnels suggest talking to park rangers at visitor centers and learning about Leave No Trace principles. They also warn against waltzing into a popular campsite and expecting to find an open spot on the same day. It's important to look up weather, too.
"In Washington and Oregon we had to leave some parks a bit earlier just because our throats and eyes and stuff were really taking a toll" from wildfires, said Renee.
Most travelers have the luxury of preparing a few weeks in advance for a fun and easy trip. The Hahnels had to find a way to plan their adventures and their work to the exact day.
"That was a big kind of process at the start before this whole thing was put together: a day-to-day itinerary for seven months," said Matthew. "And it's actually, incredibly, been very accurate. We've changed a couple little things. We might have moved around 10 days over the whole trip where we've just kind of been like we can leave here early, we've kind of got everything we need and got spend it somewhere else."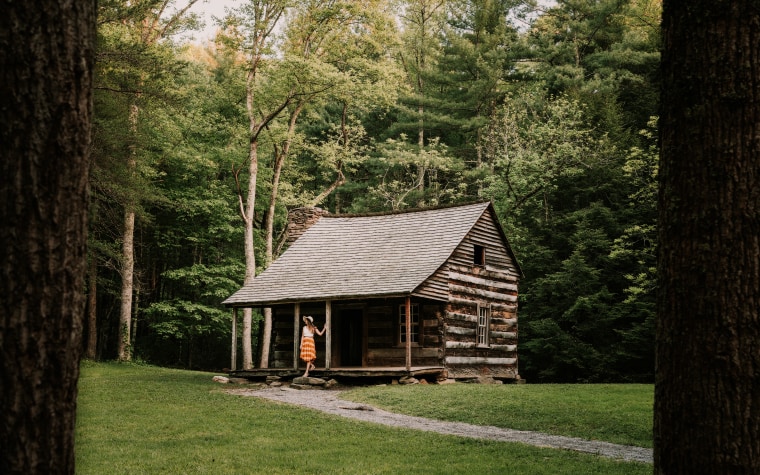 3. Don't worry about looking your best.
Although the Hahnels' photos look like something out of a glossy magazine, their itinerary covers seven months of travel through changing climates and landscapes. If you're planning an outdoorsy excursion that's anything like theirs, don't expect a life of glamour.
"We don't always look that cute, but you know, whatever. We're getting to go to all the national parks and we obviously don't care that much," said Renee, who admitted to wearing the same black hiking leggings "pretty much every single place we go." Matthew owned up to wearing only three pairs of pants for the last seven months.
4. Expect to learn a lot about your traveling partner.
Matthew and Renee have been married for three years, but they've been together for 10. While they think they know each other pretty well, they still manage to surprise each other.
A nine-day slog through the remote, mountainous Gates of the Arctic National Park, the least visited park in America, was a feat in itself. Just a couple months earlier, the two caught a tropical illness while spending two nights "sweating buckets" camping in high humidity in the Virgin Islands. Because of their remote location, the couple skipped a visit to the hospital.
On a separate occasion (and perhaps equally terrifying for some), the couple found a mouse chewing through their van's cupboard. According to Renee, Matthew was freaking out, but that's something they learned to laugh off.
Keeping things light is just one way the couple manages to stay happy while spending 24 hours a day together in a van that's only 15 feet long.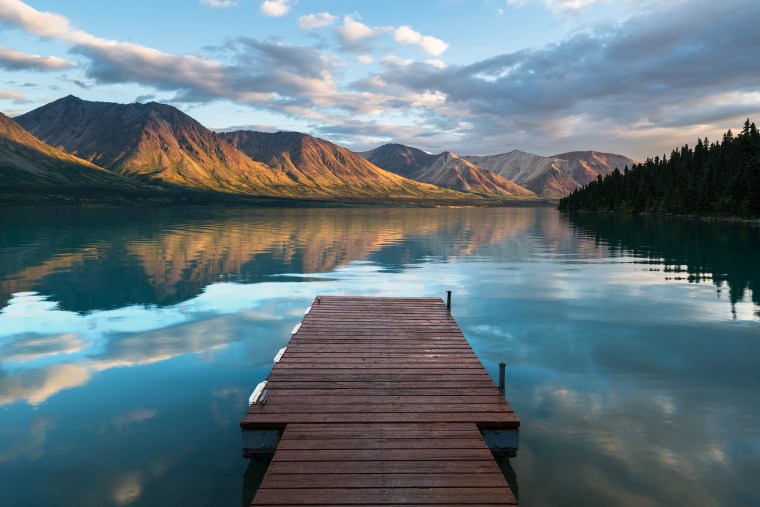 "We just try to be nice to each other, because when you're with each other all the time ... it's really easy to start treating that person not as you would, you know, a friend or a stranger," Renee told TODAY. "Like not saying please and thank you, and not being respectful. We do find times that we get like that, but we have to remind each other to keep respecting each other and being kind to one and other."
The Hahnels are finishing their journey in American Samoa, and from there they'll hop back to Australia for two weeks to relax with friends and family. It's back to the grind after that, though, as the couple plans to continue with travel photography and blogging full time.
You might wonder how they're not constantly exhausted.
They both put it simply: "We are."