This week, in a nod to hopes for bipartisanship after Republicans won control of the Senate, President Barack Obama said he would enjoy drinking Kentucky bourbon with Sen. Mitch McConnell of Kentucky. He probably wasn't thinking it would be in Jell-O shot form.
People are driven to lie, cheat — even steal — to get their hands on a bottle of cult favorite Pappy Van Winkle bourbon, which retails for $249 a bottle. On the resale market it can fetch nearly $10,000. Extraordinary demand and scarce supply have led to extraordinary measures, including a heist from the Kentucky distillery last year. Liquor stores and bars scramble for their "allocation," an industry practice where scant supplies are apportioned across markets. But in order to get a better share, retail outlets say they're forced to move greater volume of a distributor's lower-end liquors.
The divvying up in the allocation system frustrates retailers, but the cause is straightforward. Bourbon's explosive rise in popularity, compounded by increased exports, means there's just not enough to go around — even though production has increased 150 percent since 1999 (up to 1.2 million barrels in 2013). More than 162 million liters of bourbon and Tennessee whiskey were sold last year in the United States, and to handle demand nationwide distributors have to reallocate, shipping more to bigger markets where supply is tight.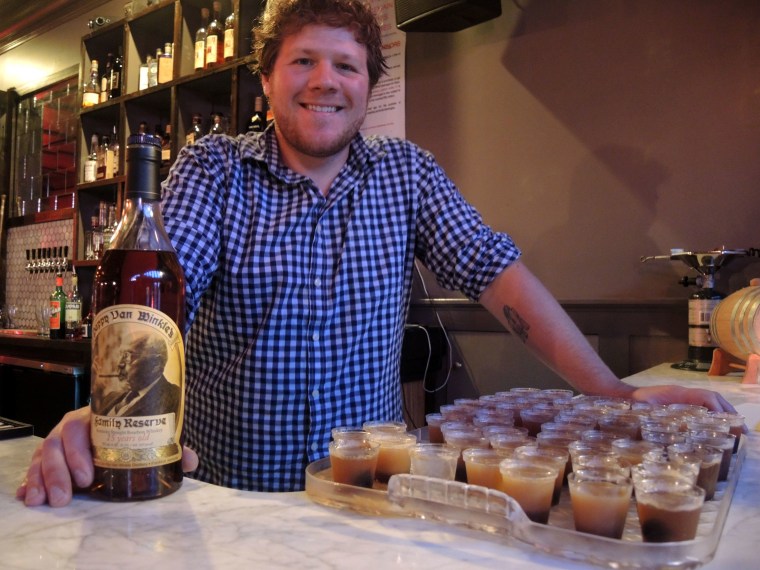 Jeremy Johnson, who opened cocktail lounge Meta in downtown Louisville last year, took a different approach with his first Pappy allocation this year. Pouring the first shot in what could be the Great Bourbon Rebellion of 2014, on Thursday night he served Pappy Van Winkle 15 Year in Jell-O shot form.
"[Allocation] has gotten out of hand," Johnson told NBC. "I have to literally ask [the distributor] to sell to me. I don't want to be a smart aleck about it, but you know I can't sit back and not poke a little fun at it. This is a healthy way to let a little aggression out."
Johnson posted his plans on the bar's Facebook page at noon Thursday. "I got so many calls I decided I'd better double the batch," he said.
On a weeknight more crowded than a busy Saturday, Johnson said he sold out — 100 Old Fashioned cocktail Jell-O shots at $10 each. Some patrons accompanied their shot with a $30 pour of the bourbon, straight.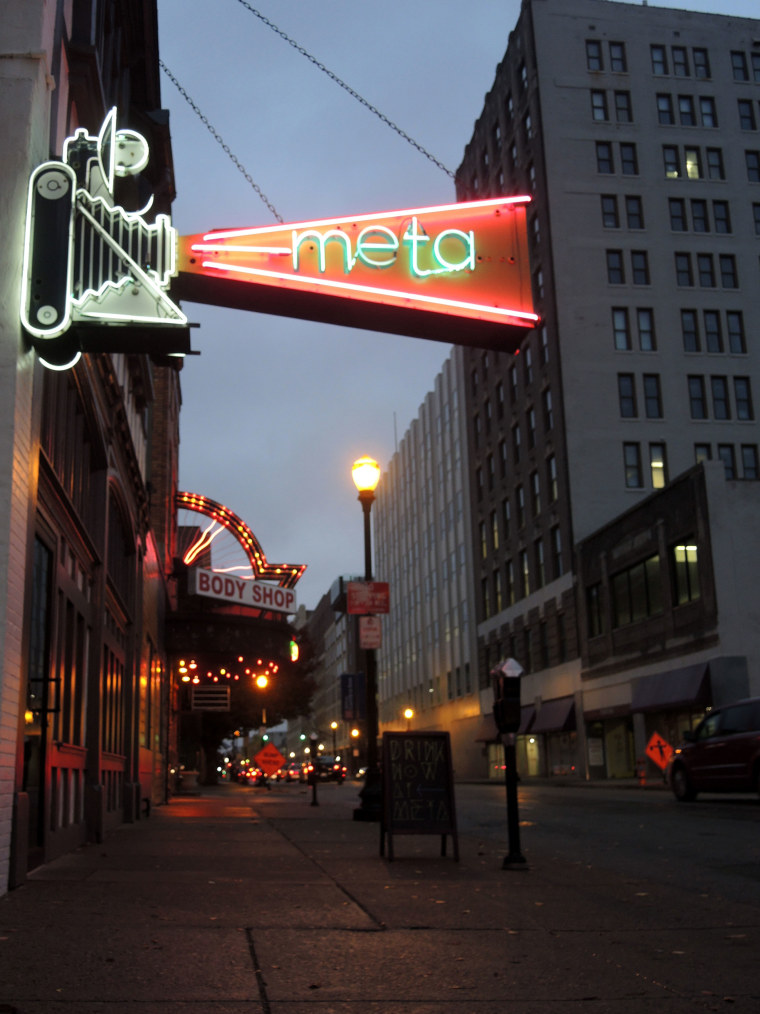 In the heart of bourbon country, drinkers were having a good time, though purists on Twitter dubbed the idea appalling and infuriating.
"It is like blasphemy," said Marsha Lynch, 51, a pastry chef who was first in line for the shot. "It's like a panda bear popsicle, but I wanted to say I'd done it."
Kim Sorise, a 41-year-old middle school English teacher who deejays at Meta, came in to show her support. She's frustrated with Pappy mania. "Now Kentuckians can't even go in the store and get it," she said.
'It felt like a slap in the face'
A local liquor store owner shares her frustration. Todd Antz runs Keg Liquors in Clarksville, Indiana, north of Louisville. His annual allocation has dropped over the last few years from several cases to his latest shipment: three bottles of 12-year-old Van Winkle. "I was like, 'You've got to be kidding me,'" he said. "I looked over and saw a couple displays for Sazerac [the distiller's parent company] and told my employees to tear them down." Antz texted photos of the tear-down to his sales rep, though he's not without sympathy.

"You feel for Sazerac," he said. "It's not like 20 years ago they realized they better lay down a lot of barrels." But Antz says his family has supported the brand through the shop's 40 years in business. "It felt like a slap in the face because you knew that stuff was going places that haven't supported them a fraction of that time."
Antz's rep advised him that allocation is based on their total purchases across the product line. But the things he'd have to sell for a better allocation were "dogs," Antz said. "They wouldn't sell. It just seems disingenuous that they'll hang these products over your head in order to get a handful [of Pappy]."
The distiller, Buffalo Trace, has no control, said spokesperson Amy Preske. "We allocate by state, but it's up to the distributor to determine who gets what beyond that. As far as the shortages, that's very simple. We didn't make enough." Preske declined to comment on the Jell-O shots. Representatives from Republic National Distributing Company, the sole distributor for Pappy in Kentucky, did not respond to a request for comment.
Antz expects his allocation of the sought-after bottles to eventually fall to nothing. However, "Fifteen years from now when the bubble bursts and there's a glut of Pappy Van Winkle, I'll see it back in the store," he said. "They'll have no choice but to sell it to me."