Steve Jobs never met his biological father, and even as the Apple co-founder's cancer progressed, he expressed no desire to talk with the man who gave him up for adoption as a baby.
When Jobs stepped down as Apple CEO in August because of his failing health, John Jandali, now 80, said he hoped his son would contact him.
In a rare interview, he told the British newspaper The Sun at that time: "I live in hope that before it is too late he will reach out to me. Even to have just one coffee with him just once would make me a very happy man." The side-by-side photos of father and son, run by the newspaper, are eerie in their similarities, and show what Jobs might have looked like had he lived to his birth father's age.
Jandali declined to reach out first to Jobs, blaming his own pride. He also wanted it known clearly that he was not after his son's money. He said in the interview:
This might sound strange, though, but I am not prepared, even if either of us was on our deathbed, to pick up the phone to call him.
Steve will have to do that as the Syrian pride in me does not want him ever to think I am after his fortune. I am not. I have my own money. What I don't have is my son ... and that saddens me.
When he became ill I thought maybe he might contact me to find out about my medical history but the call never came.
Jobs, born in 1955, was given up for adoption by Jandali and Joanne Schieble, both young and unmarried at the time.
Jandali told the Sun that that Schieble's "father was a tyrant and forbade her to marry me as I was from Syria. So she told me she wanted to give the baby up." The couple was living in Wisconsin at the time, and "without telling me Joanne moved to San Francisco to have the baby without anyone knowing, including me."
She didn't want to bring shame on the family and thought this was the best for everyone. I was sad and angry but I had no choice but to go along with her wishes ... I didn't even know when Joanne had the baby and I was not there on the day she passed him to the (Paul and Clara) Jobs family. I had no say in who was going to adopt my son but I knew Joanne had insisted the Jobs family make sure he received a good education. I was happy about that.
The couple did later marry and had a daughter, divorcing when she was only 4. That daughter is author Mona Simpson, who was close with Jobs. His biological mother was also in touch with him.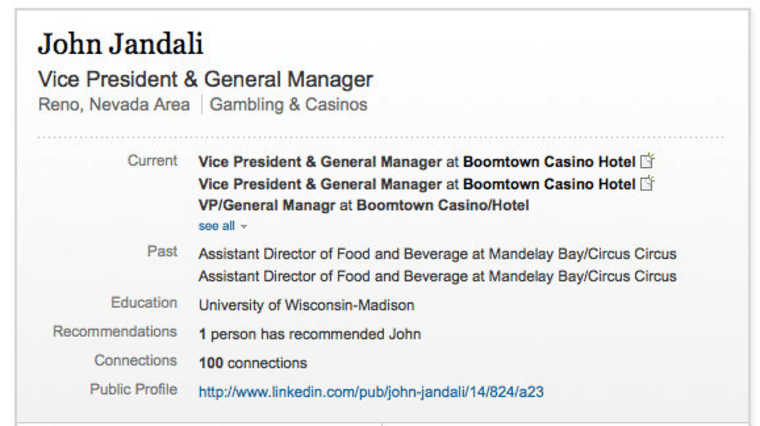 Jandali has been a success financially and professionally in his own right, both as a political science professor at the University of Nevada, Reno and as vice president of the Boomtown Casino Hotel there, the latter a position he still holds.
It wasn't until reporters sought Jandali out, after Jobs resigned, that many in Reno even knew of Jandali's famous son.
"His former colleagues in academia knew nothing of his son," wrote Las Vegas Sun reporter Anjeanette Damon in an Aug. 30 story. " 'Is this a crank call?" joked Eric Herzik, a political-science professor at UNR since the late 1980s. "I've never heard that story.' "
The Reno Gazette-Journal previously reported that Jandali's friends had said he had sent copies of his medical records to Jobs, hoping they would be of some help.
On Tuesday, contacted by the Gazette-Journal, about the passing of his son, he had few words. "I really don't have anything to say," Jandali told the newspaper.
Related stories:
Check out Technolog, Gadgetbox, Digital Life and In-Game on Facebook, and on Twitter, follow Suzanne Choney.