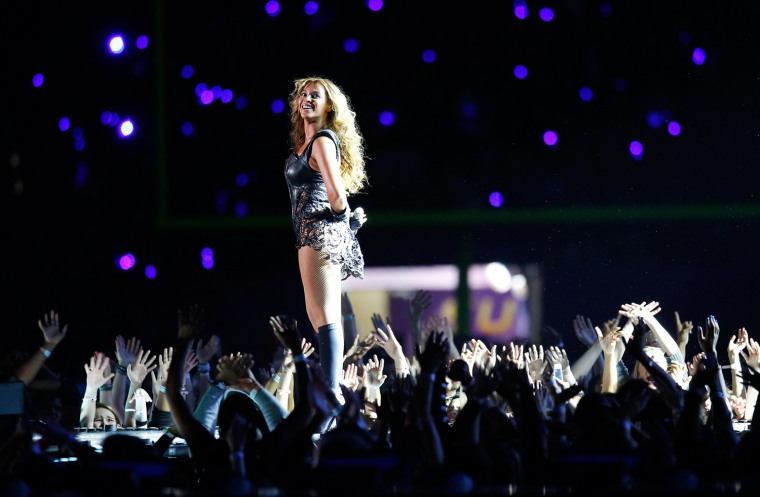 To the left, Kim Kardashian. Beyoncé has dethroned the ubiquitous reality TV diva as Bing's most searched person in America.
Kardashian dropped down to second place, followed by singers Rihanna, Taylor Swift and Madonna.
Of the top 10 people searches, the only men who made the cut were Justin Bieber and Barack Obama, with Miley Cyrus twerking her way to a narrow victory over the leader of the free world. The controversial pop star was more popular in Canada, where she held the top spot over runner-up Kate Middleton and celebrity train-wreck Amanda Bynes. 
Bing, the second most popular search engine in the United States behind Google, according to comScore, releases a breakdown of its most searched terms every year.
The report also provided insight on what news stories Americans have been following in 2013. Yes, they were searching for the latest on events like the civil war in Syria, the Boston Marathon bombing and the George Zimmerman trial. But nothing got the attention of the American people like the birth of Prince George Alexander Louis of Cambridge, otherwise known as the royal baby.
In the sports world, the Dallas Cowboys were the most searched team in the United States, which could explain why the sports franchise is worth $2.1 billion, second only to the New York Yankees. The Yankees, coincidentally, were the third most popular team on Bing.  
Tim Tebow might have had a disastrous year with the New York Jets, but he was the most searched sports star of 2013 — up from No. 3 last year — followed by Olympic skier Lindsey Vonn and golf legend Tiger Woods.
Also, surprise, sometimes people search for ridiculous things on the Internet. Neither Chuck Norris nor the adorably irritable Grumpy Cat could top the No. 1 meme of 2013: the Harlem Shake viral dance craze.
Keith Wagstaff writes about technology for NBC News. He previously covered technology for TIME's Techland and wrote about politics as a staff writer at TheWeek.com. You can follow him on Twitter at @kwagstaff and reach him by email at: Keith.Wagstaff@nbcuni.com