With fans flocking to New York and New Jersey for Sunday's Super Bowl, organized crime wants a piece of the action. Counterfeiters are busy smuggling fake jerseys, hats and more into the hands of consumers looking for a discount, investigators say.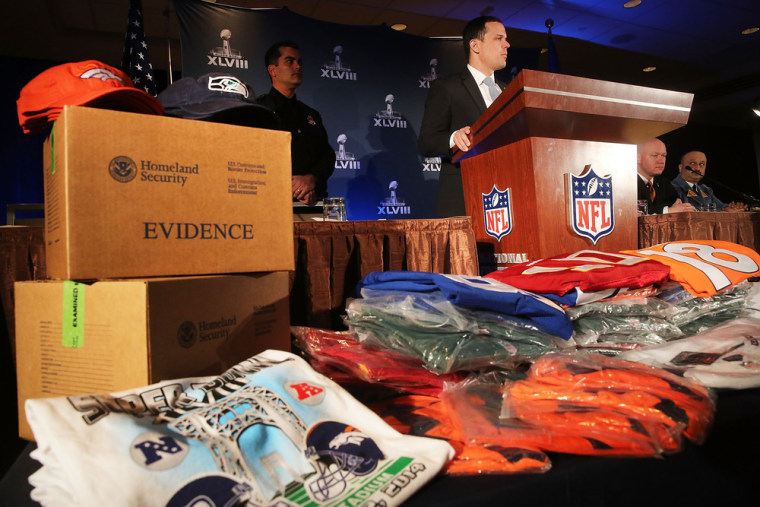 "Everybody in this city is trying to use the Super Bowl to make some money. Why wouldn't the counterfeiters be doing the same?" said Marc Misthal, an attorney and shareholder with Gottlieb, Rackman & Reisman, a law firm that specializes in intellectual property law.
Law enforcement officials this week arrested two people and seized counterfeit game tickets that could shockingly get through ticket scanners. "First time I've ever seen a ticket that was counterfeit that would actually get you into an event. ... These are clearly the best quality counterfeit we've ever seen," said James Hayes, special agent in charge of Homeland Security Investigations in New York.
Authorities this week have seized more than 100 fake tickets, including 30 Super Bowl tickets, a parking pass and tickets to some events related to the big game, Hayes said. They've also seized packages from China with fake jerseys and hats.
Counterfeiters also work online platforms and charge more for fake goods to make consumers think the items are real. Internet-based merchants may charge $150 for a jersey that retails for $250 so that the consumer thinks it's actually real, said Valerie Salembier, president and chief executive of the Authentics Foundation, a nonprofit group that fights counterfeiting. About 4,200 websites selling fake merchandise were shut down right before the 2013 Super Bowl, she said.

How do you know if you're getting the real deal?

Buy from the NFL or from a reputable store. If buying from a flea market, look for a license.
Ask the merchant if the item is real.
Look for a hologram on the tag.
Make sure jerseys do not say "Made in China." No officially licensed jerseys are made in that country. 
Touch the merchandise to ensure it feels like high quality.
Check that stitching and labels are straight.
Watch for misspellings.
—By CNBC's Jennifer Schlesinger and Andrea Day. Follow Schlesinger on Twitter @jennyanne211 and Day @AndreaDay. Follow the team on Twitter @CNBCinvestigate