When planning a vacation, you can look up tons of lists on the most beautiful destinations, the best beaches and top hotels, or you can research how to do everything on a shoestring budget.
But what about finding a happy medium of comfortable accommodations that won't break the bank? That's why Money magazine released its first Best in Travel Awards, where they selected the best domestic and international destinations, airlines, hotels, cruises and travel cards based on their value.
"To locate where quality, cost and value intersect, we relied not on our reporters' favorite haunts, but on something far less subjective: data," the company said in a release. "With input from more than 40 sources — including TripAdvisor, Numbeo, Hotels.com, J.D. Power and Onboard Informatics — we considered financial factors, such as overall costs and price trends, as well as experiential ones, such as cultural attractions and tourist amenities."
RELATED: Could this mark the end of 'ridiculous' airline fees?
So what came in first for the major categories? Prague, Czech Republic, scored the top spot for international destinations because the "beautiful capital has long been one of Europe's secret values." And with the strong U.S. dollar, according to the magazine, it looks even better. Along with getting to see castles, cathedrals and the stunning Vltava River, your dollar will go about 7 percent further this year versus the Czech koruna.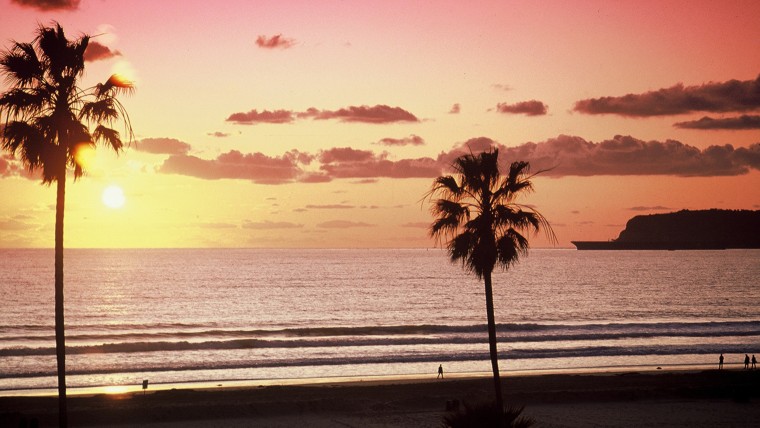 For the best domestic spot, San Diego, California, came in first place because it has "the best combination of outdoor attractions, cultural landmarks, great weather and affordable hotels in the country." The city, which sees an average of 263 sunny days a years, was also voted as having the best zoo, as well as acclaimed beaches, theaters and restaurants all over town.
In rating hotels, airlines, car-rental companies, cruise lines, credit cards, all-inclusive resorts and frequent-flier programs, Money chose a top pick (platinum) and a runner-up (gold).
"Rankings were based on overall cost, year-over-year price declines and travelers' satisfaction surveys, with extra emphasis placed on tourists' perceived value," said the magazine. "For apps, we focused on those that saved users money, then tested each to see how they performed."
RELATED: Lonely Planet's top travel destinations for 2016 include Transylvania and Kotor
For hotel chains, Wingate by Wyndham took the platinum spot with room costing about $100 per night in 2016, down 9 percent over last year, according to Hipmunk. Though costs have dropped, customer satisfaction hasn't, thanks in part to free Wi-Fi, 24-hour fitness centers and hot breakfast served at all 150-plus hotels.
As far as top airlines, Southwest Airlines is the best domestic carrier with an average fare of $256 with little to no fees. Singapore Airlines took the platinum spot because it has the highest ratings for amenities like food, drink, entertainment, seat comfort and value for the money, according to Skytrax.
RELATED: What's it like being a 'fat person' on a plane? Moving essay reveals mental anguish
Like hotels and airlines, with so many cruises to choose from, it's hard to know which ones to pick. Though the magazine admits Crystal Cruises is a bit of a splurge, they reveal it was their platinum choice because it's a relative bargain for this luxury line, with the average fare down 6 percent between 2014 and 2015.
Check out all the winners:
Domestic Destinations
1. San Diego, California
2. New York, New York
3. Memphis, Tennessee
4. Fort Lauderdale, Florida
5. Las Vegas, Nevada
6. Austin, Texas
7. Santa Fe, New Mexico
International Destinations
1. Prague, Czech Republic
2. Marrakesh, Morocco
3. Taipei, Taiwan
Hotel Chains
Platinum: Wingate by Wyndham
Gold: Four Seasons Hotels and Resorts
Resorts
Platinum: Ikos Oceania
Gold: Beloved Playa Mujeres
Rental Cars
Platinum: Enterprise
Gold: Alamo
Cruise Lines
Platinum: Crystal Cruises
Gold: Princess Cruises
Credit Cards
Best General Travel Card: Chase Sapphire Preferred
Best Hotel Card: Starwood Preferred Guest
Best Loyalty Airline Card:Southwest Rapid Rewards Premier
Airlines
Domestic Platinum: Southwest
Domestic Gold: Alaska Airlines
International Platinum: Singapore Airlines
Frequent Flier Programs
Platinum: JetBlue
Gold: Alaska
Best Money-Saving Apps
SkyScanner
GasBuddy
Open Table
Booking.com
Hopper