So, you've survived the holidays. Broken and bitter from airlines and in-laws, you prepare yourself to get back to the grind. You're back in town and it's time to beat those January blues by hitting the local watering hole, throwing back something stiff and spilling your guts to the bartender.
I get it, we've all been that stressed-out sibling or lovelorn loser that drags herself onto a bar stool at 2 in the afternoon.
I worked on the other side of the bar for seven years and, believe me, gushing feelings are part of the job. However, too often I found myself giving hurried advice which consisted of telling the customer exactly what they wanted to hear. Knowing that I couldn't be the only one, I took to the stools to ask some New York City bartenders about the things they should have said.
RELATED: What I learned from not drinking alcohol for 2 years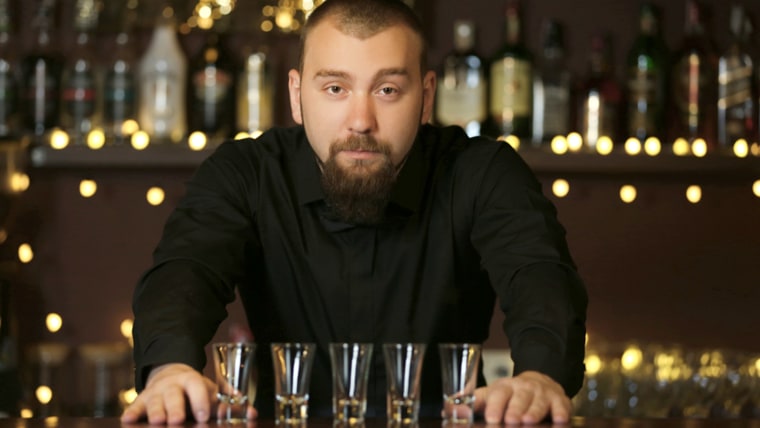 "What are ya telling me for?"
Fresh off the holiday break-up season — with a blizzard on the horizon — most bartenders have their love advice locked and loaded. As Ales Garcia, 33, from Woodside, Queens, says, "Most of the time it's about love. Always the same." The typical love factor makes up the bulk of bartender advice and we happily and willingly shell it out. Garcia is a good man and finds his most common words of advice being, "Don't leave your wife."
RELATED: A Corona for a fallen soldier: Here's how one Tacoma bartender honored a patron
The risk of talking your relationship problems over with your bartender is that, in most cases, the only way to fix your relationship is to talk to your partner. As Garcia puts it, "They complain about their girlfriend, then their girlfriend comes in and they act like nothing happened." The bar is your sanctuary. The home should be your sanctuary, too. Complaining to the bartender about your girlfriend (or boyfriend) may feel good but it won't fix anything. Man up and talk to your partner.
"Everything won't work itself out."
It's fair to say that bartenders are chiller than other people. It's a survival mechanism. So, when someone comes to you with an intense problem, you tend not to overreact. As Connor Brennan, 35, from Sunnyside, Queens, says, "We have to listen and say, 'That's all right. Have a beer.'" Now that's all fine and good, but the problem comes when "they think the bartender will make it all better."
RELATED: Bartender mom finds her tough-girl techniques don't work on a toddler
Sometimes problems can't be fixed by just a chat and a beer. Sara Murphy, 25, who's been bartending for four years now, has a regular patron who just got evicted. The regular was worried and all Sara could do was soothe her, but as she put it, "What I wanted to really say was, 'Sitting here and worrying about it won't make it better. Just do what you have to do to fix the problem.'"
It's the nature of the job to say everything will be all right, but many times, it won't be. Not if you don't get off that stool and start fixing your life.
"Get out."
All bartenders have known a person who is, sometimes quite literally, drinking themselves to death. Most people think that this is something written about in Dickens novels or rockers' biographies, but bartenders know that it is real. Some of the loveliest people lose themselves at the bottom of the bottle, and often for reasons too deep-seated for a bartender to reckon with.
RELATED: Leonardo DiCaprio's hot Swedish doppelganger, Konrad Annerud, is a viral sensation
I spoke to one bartender who wasn't comfortable giving her name. She told me about one of her regulars: "He looked so sick. I tried to stop serving him but he was friends with the owner. He hasn't been in for a while and I'm afraid to ask what happened."
Telling someone — especially a customer — to get out is bad enough. But if the individual has a serious drinking problem, chances are he or she is probably a regular and, in some cases, even a friend. As bartenders, we say, "It's good to see you again." But as a friend we want to say, "Get out!"
"Get over yourself."
Spilling your feelings with a bartender can be very therapeutic. It's true. I've done it. As Garcia says, it can be good to "just talk to a neutral person. No judgment." Get it all out and let the complaints flow, but remember there's a good chance other people, maybe even the bartender, are having a much worse day than you. After all, you have the luxury of sipping a cold beer in the afternoon.
"Enjoy life," said Brennan. "Enjoy other people. Don't take life so seriously." Chances are your problems are fixable, so have another beer and remember that this same beverage used to be made in ancient Egypt when people spent their afternoons pushing two-ton blocks of granite up a pyramid. Throw a shot back and take a step back. Your life's not that bad.
RELATED: Why mystery man shoveled Boston Marathon finish line
Though they may be working in a dark and dingy bar on a blisteringly cold day, when asked what piece of life advice these bartenders would like to share with me, the response was overwhelmingly and unexpectedly cheery.
"Kindness goes a long way," said Murphy. "It's a domino effect." As Brennan says, "We are here for a good time, not a long time."
Of course, they might not feel as sunny as they sound but, true to form, they said exactly what I wanted to hear. The thing is, I'm just fine with that. After all, I was just another person popping in to chase my January blues away. When a bartender's having a bad day they won't bother you with it; that's not there job.
But don't worry, bartenders have their bartenders, too.