Barbie can now slay your dragons, and she'll look fabulous doing it.
Through a successful Kickstarter campaign, one super-nerd dad in Wisconsin has designed a 40-piece medieval armor kit for Barbie that can be made on a 3D printer.
"I feel it is essential to respect Barbie's character. You can't make an ugly suit of armor and expect Barbie would be caught dead in it," Jim Rodda told CNBC on Tuesday.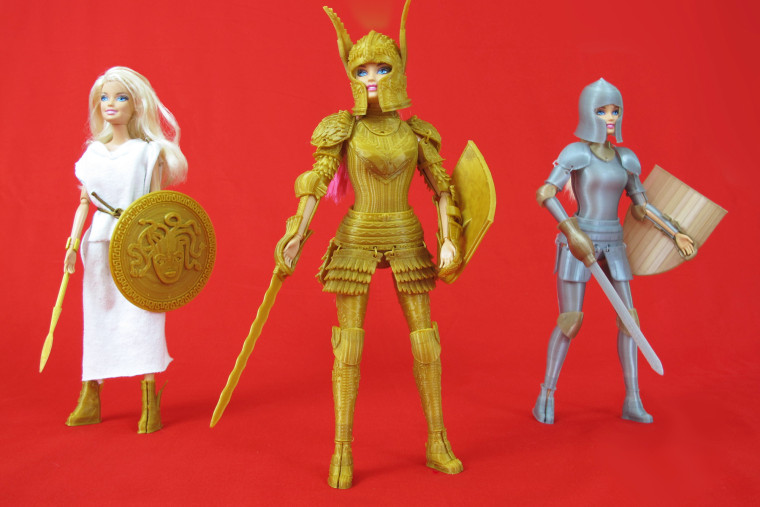 In all, he designed three medieval outfits for the Barbie Fashionistas Doll: parade armor, which is the more fancy uniform that would have been worn by kings for show rather than battle; the field plate armor — more practical for a battle-ready Barbie; and the Athena Makeover kit, with aegis, spear and winged boots. Rodda said he did research to find historical inspirations for the designs, including intricate enameled armor pieces.
A couple of things made the project especially difficult. "I have no access to the original Barbie design," Rodda said. "I have to reverse engineer it. There's a lot of challenge there. My experience is working against me because I'm used to normal human anatomy."
Rodda, who works as the creative director for a small independent video game studio, previously designed 100 free open source designs for 3D printers, including Seej, an open source tabletop war game with penny-launching catapults. His nerd bona fides also include membership in the Society for Creative Anachronism, hours playing Dungeons & Dragons and spending "way more time at Renaissance fairs than I should." Earlier this week, "Neuromancer" author William Gibson retweeted a Nerdcore story about the Barbie project.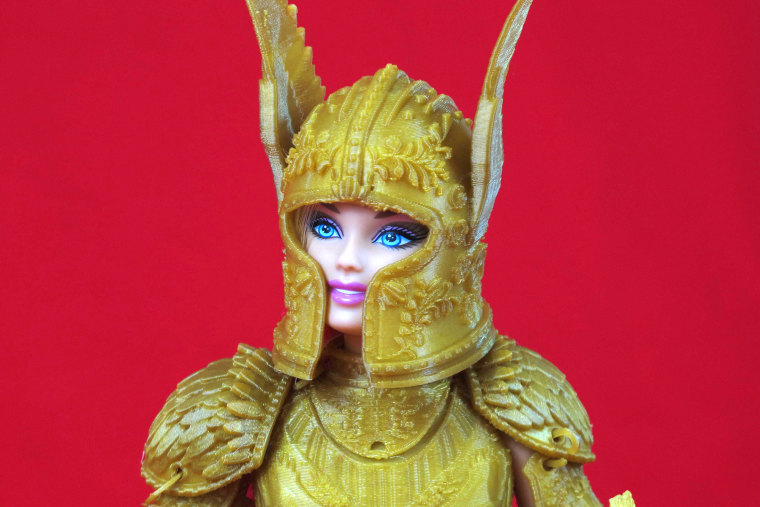 The inspiration for the armor was not Rodda's kids (who aren't really into Barbie), but rather his niece, who was a huge fan of My Little Pony. The original plan was to design spring-loaded glitter cannons for My Little Pony. But when the spring proved too unreliable for the 3D printer, he switched to Barbie. "Barbie is just the infrastructure that I can hang cool stuff on," he said.
His original Kickstarter page features a stop-motion video showing a town of LEGO people under attack from a dinosaur. One uses his cell phone to call Barbie, who's lounging in a bubble bath, but immediately starts calculating the computer code to whip up an appropriate outfit to wear into battle and eventually cage the troublemaker. 
The Kickstarter page went live in March and was fully funded with $5,000 by April 11. An extra $1,000 campaign produced funds for an additional Barbie-compatible recurve bow and quiver. Within the past two weeks he has been shipping the finished products to his Kickstarter backers.
The 3D printer blueprints for the armor are for sale for $30 at his website, but he no longer will print out the clothes for non-Kickstarter funders. He's too busy and working on his next, still secret project.
Rodda is hardly the first to design original clothes for the iconic doll. Pinterest even has a page devoted to Barbie patterns, including a packet of 1964 McCall's official Barbie and Ken clothing patterns. 
The 3D project has no affiliation with Barbie's maker, Mattel, and Rodda said he's grateful it has quietly allowed his project to proceed. "I want to say a big thank you to Mattel. They have completely left me alone. I think it's really great that Mattel is sort of letting this creativity fly," he said. "They've chosen not to release the flying devil monkeys on me. They're not endorsing the product, but they're not crushing it either."
Mattel declined to respond to a request to comment for this story.