Thousands may line up every day to get into Disneyland — the "happiest place on earth" — but it seems just as many people are eager to see its dejected distant cousin Dismaland.
Described as "the U.K.'s most disappointing new visitor attraction," this dystopian theme park is the latest exhibition by famous street artist Banksy and was revealed on Aug. 20. Since then the official website has received more than six million hits causing it to crash and making it difficult for fans to buy tickets.
As of Friday afternoon, the site says that it "is currently unable to process online ticket sales," and that tickets for Aug. 22 and Aug. 23 will only be available at the door starting at 9 a.m.
RELATED: See Banksy's art recreated in Legos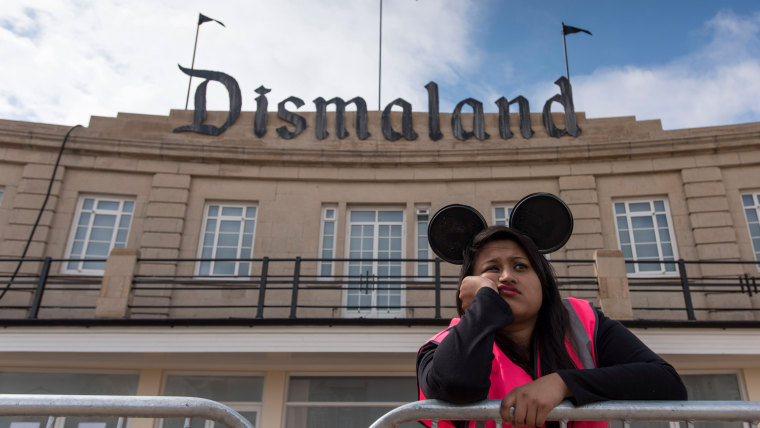 In an ironic twist, some believed the frustration over the website was part of the plan when it came to making Dismaland the ultimate unpleasant experience.
Despite the technological hiccup, the unique attraction has been getting a lot of attention, as it is the secretive artist's largest work to date. Kept hidden for months, select journalists were able to get a first look at the massive exhibition in Weston-super-Mare, a seaside town located about 140 miles away from London, that features a rundown castle, overturned pumpkin carriage and a killer whale jumping into a kiddie swimming pool. Even the staff is part of the show, looking despondent when greeting guests.
RELATED: London's transparent 'Sky Pool' lets swimmers see 10 stories straight down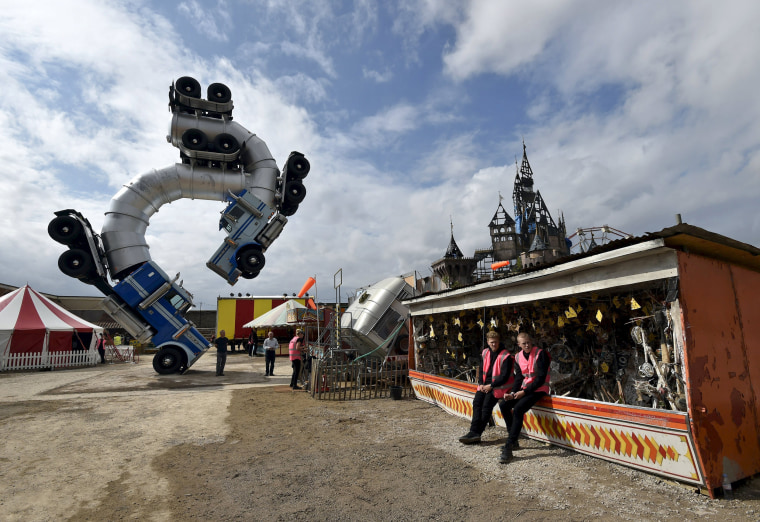 "There are a few rides, completely impossible fair games, interactive artworks, random live performances and unexpected spectacles happening throughout the day," reads the official brochure. "This event contains adult themes, distressing imagery, extended use of strobe lighting, smoke effects and swearing. The following items are strictly prohibited: knives, spraycans, illegal drugs, and lawyers from the Walt Disney corporation."
RELATED: Family walks 4,000 miles to Disney World in daughter's memory
Banksy is best known for his comic-book-like street graffiti, and staying out of the spotlight — often creating his work in the middle of the night. "I think a museum is a bad place to look at art," he said in a rare interview with the Guardian. "The art market certainly doesn't encourage creativity."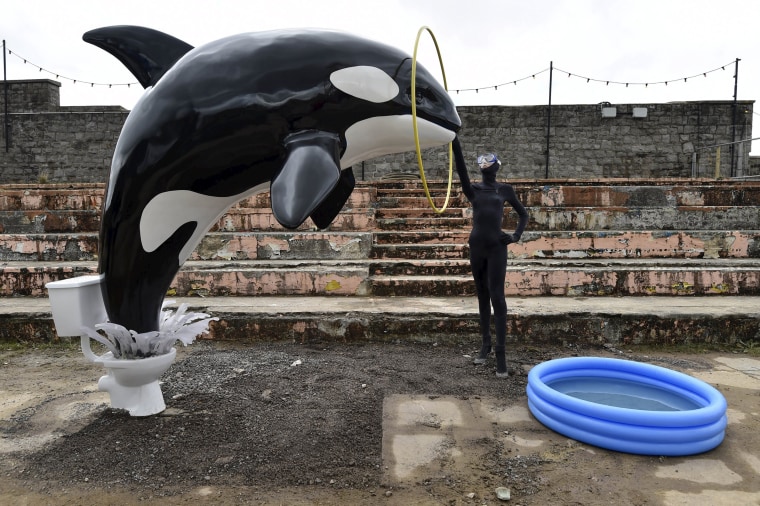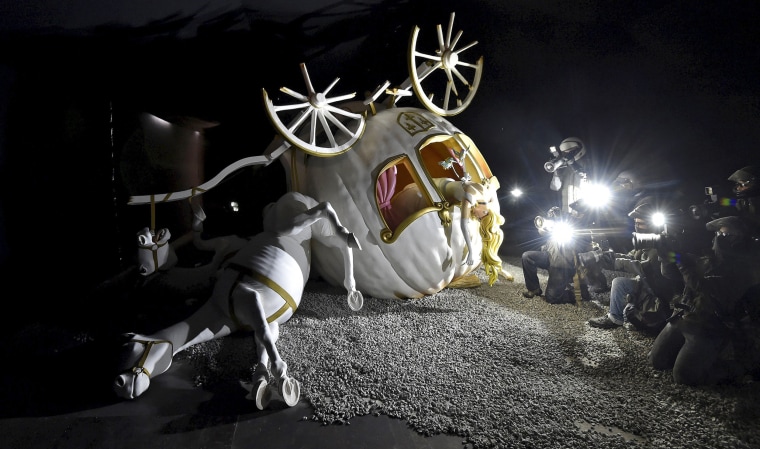 He went on to described this large-scale piece as "a place where you can get your counterculture easily available over the counter. A theme park for the disenfranchised, with franchises available," and said it was modeled on the sad winter wonderlands that pop up every December "where they charge £20 to look at some alsatians with antlers taped to their heads towing a sleigh from a skip."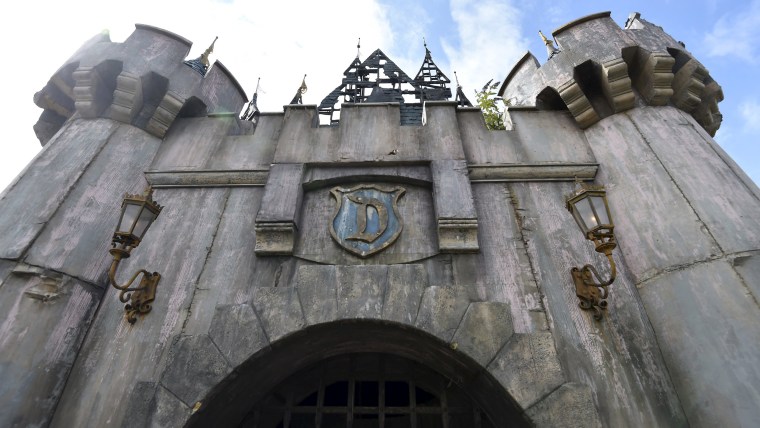 Banksy also involved 50 other artists from around the world to help, including Damien Hirst, Jenny Holzer, Bill Barminski, Caitlin Cherry, Polly Morgan, Josh Keyes, Mike Ross, David Shrigley and Espo.
Dismaland is open to the public from Aug. 22 through Sept. 27.