The giant pencil hangs from the ceiling of the big box retailer. It's beckoning you back into the labyrinth of shelves piled high with brightly colored school supplies where the smell of glue hangs in the air. Kristan Sheappard loves this time of year. She looks forward to what she calls, "a ritual."
"My favorite part of the whole event is handing each of my two kids the list and watching them enjoy the mature process of picking out their own supplies," said Sheappard, a Yuma, Arizona, marketing executive.
How much will Sheappard's mini consumers spend? According to the National Retail Federation's (NRF) Back-To-School Spending Survey, an average of $97.74. But prepping for the looming school year doesn't end with folders, notebooks and other basics. Kids need electronics, new duds and shoes—to the tune of $630.36. Sounds like a lot but it's actually $40 less than last year.
RELATED: 15 money-saving tips to help you survive back-to-school season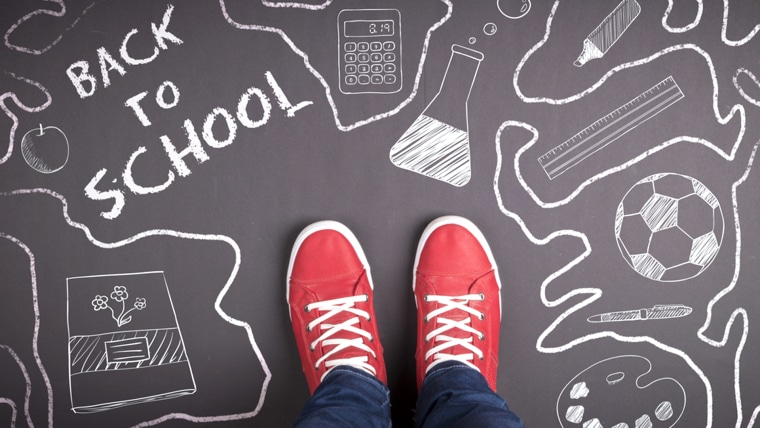 "As seen over the last 13 years, spending on 'back to school' has consistently fluctuated based on children's needs each year, and it's unlikely most families would need to restock and replenish apparel, electronics and supplies every year," said NRF President and CEO Matthew Shay.
Northern Virginia mom Susan Petersen said her 17-year old daughter Alyssa is more than happy to inventory her stash of clothing before splurging on unnecessary items, but still, "colorful pens and a funky flash drive are big on her list this year," said Petersen.
RELATED: Back-to-school fashion that you and your kids will love
With that in mind, here are tips on where to snag the trendiest back-to-school supplies and get some super deals!
Locker accessories: Duran Duran posters? Tiny mirror stuck on the metal locker door with toothpaste? Not anymore. Lockers are the new space that must be Pinterestified with wallpaper, mirrors, lighting and even chandeliers. Bedazzling a locker isn't cheap but lots of stores, known traditionally for decorating, offer a wide variety of funky accouterment as do the customary office supply stores like Office Depot. Prices range from $10 mini marker boards to $20 chandeliers.
Flash drives: Portable yet stylish storage devices for students are a must this year and like just about everything, a flash drive offers an opportunity to let one's personality shine. Besides that, a 2GB plug in seems a lot smarter than lugging around pounds of notebooks and binders. Plus there are ones shaped like SpongeBob and Hello Kitty! Prices range from $4 on up to more than $20.
Personalized everything: Planners, notebooks, water bottles and folders. If you like it, then you should put a name on it. Moms can also grab cute note pads for lunch box letters and as brownnosers know, it never hurts to kick off a new year with a lovely gift for the teacher. Most photo sharing sites will offer some kind of deal on free shipping. Look for codes on the site's landing page. $10 notebooks to $20 for a pack of 25 lunch box notes.
Earth-friendly school supplies: Want to reduce your kid's carbon footprints? You can with bamboo rulers, reusable snack bags, a pen that lasts seven years and even recycled rubber erasers. Check out these sites for the latest and greenest school supplies.