Fashion still outranks function when it comes to picking out a back-to-school bag, says Jonathan Fox, director of merchandising at one-stop, cyber-shop ebags.com. Even if it's the most comfortable bag on the rack, consumers won't buy "an ugly bag," says Fox. "It's human nature," he adds.
Ironically, the most stylish back-to-school packs morphed from the simplest of bags — the messenger bag. That is, the cool look of some of the hottest brands, such as triple5soul.com and clivebags.com, evolved from the single strap shoulder bags that urban foot or bicycle messengers tote around town when delivering packages, says Fox.
Stylish totes
A perfect example of style following function is the smart square shoulder bag with a front zipper in the fall collection at Brooklyn-based Triple Five Soul. Style, though, comes with a price. The chic canvas shoulder bag sells for $76, compared with a basic messenger bag, which retails for around $50. Other manufacturers of the most trendy type bags include Manhattan-centric manhattanportage.com, Brooklyn-based yakpak.com and internationally known kipling.com.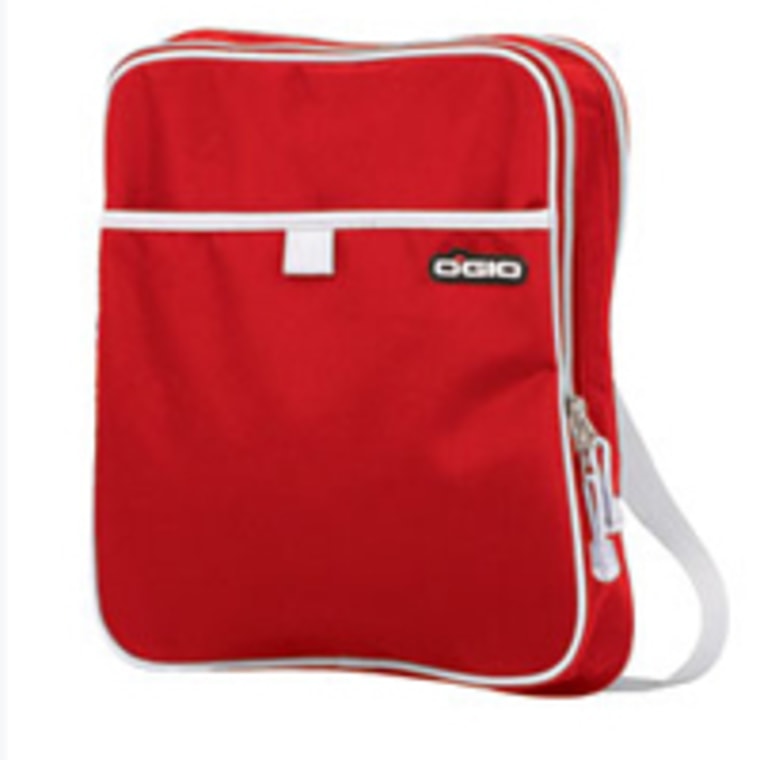 Styles, too, have evolved over time. The rectangular messenger bag with a utilitarian strap has transformed into a swanky satchel in an assortment of colors. For example, the flight bag from ogio.com is essentially a smaller, cuter messenger bag. The retro-style airline bag, priced at $24.99, comes in a bright red or a cool ice. (Think fast on this one. The black has already sold out.)
Fashion, however, doesn't always overrule function. Classic messenger bags are still a best seller at Manhattan Portage, especially during the back-to-school season, says David Clark, sales and marketing assistant at the East Village store in Manhattan. Students favor bags with pockets that expand simply by opening a zipper, says Clark. The Europa, a recent expandable addition to the collection, fits the bill. It not only comes in three sizes — small $55, regular $59 and deluxe $64 — and but also in 12 colors, from royal blue to hot pink.
Packs on wheelsThe most fashion-conscious consumers are students aged 12 to 22, says Fox. So most tweens or teens just "wouldn't be caught dead with a backpack on wheels," he adds. It's just not cool. But younger kids, 12 and under, and older folks, 22 and up, realize the benefits of wheeled backpacks. Younger kids, who are expected to carry heavy textbooks back and forth, automatically get it. How else are they supposed to get those books to school? Older students also get it after one back ache or pulled muscle.
Fox recommends mainstream manufacturer Jansport when it comes to backpacks on wheels. The quality is good and prices are moderate. Bestsellers at eBags.com include the Moby or the Hemi, priced at $49.99, and the Driver 8 for $59.99.
Since function has taken a backseat to fashion, unfortunately there are not a lot of manufacturers that "go the extra mile" to ensure proper shoulder strap support, says Fox. Exceptions include Appleton, Wis.-based jansport.com and Portland, Ore.-based columbia.com. Jansport produces a line of bags specifically designed to maximize overall comfort. Jansport's ergo-dynamic straps, filled with a special material called Gelastic Gellycomb, help distribute the load and increase air circulation. The latest model, the Airlift EXOS, cost a hefty $179.99 at eBags.com. Columbia also makes backpacks with a unique shoulder strap system. Columbia's packs are filled with a substance called "Rubba-Nubba" — different material, same philosophy. Columbia's All Nighter, $69.99 at eBags.com, features the comfort straps.
Make room for gadgets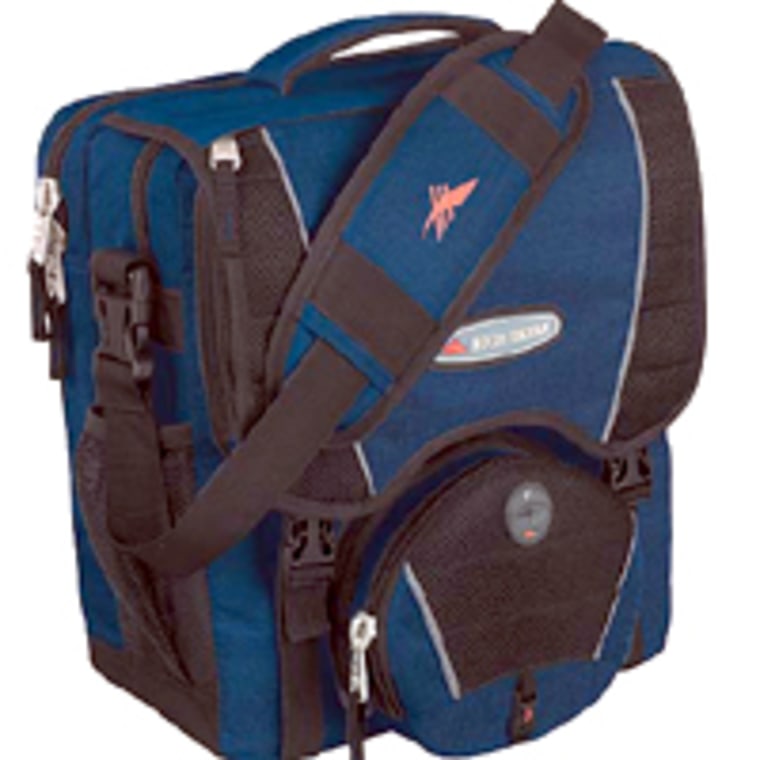 Regardless of age, most students seek out packs equipped with special pockets for wired or wireless wonders,  such as CD players, MP3 players, iPods, lap tops and cell phones, says Fox. Electronic gadgetry has just reached "critical mass," says Fox. In response, manufacturers automatically incorporate internal pockets and exit ports into a backpack's design. Some models have extra storage for CDs, such as High Sierra's boxy "Sonic Messenger," $39.99 at eBags.com.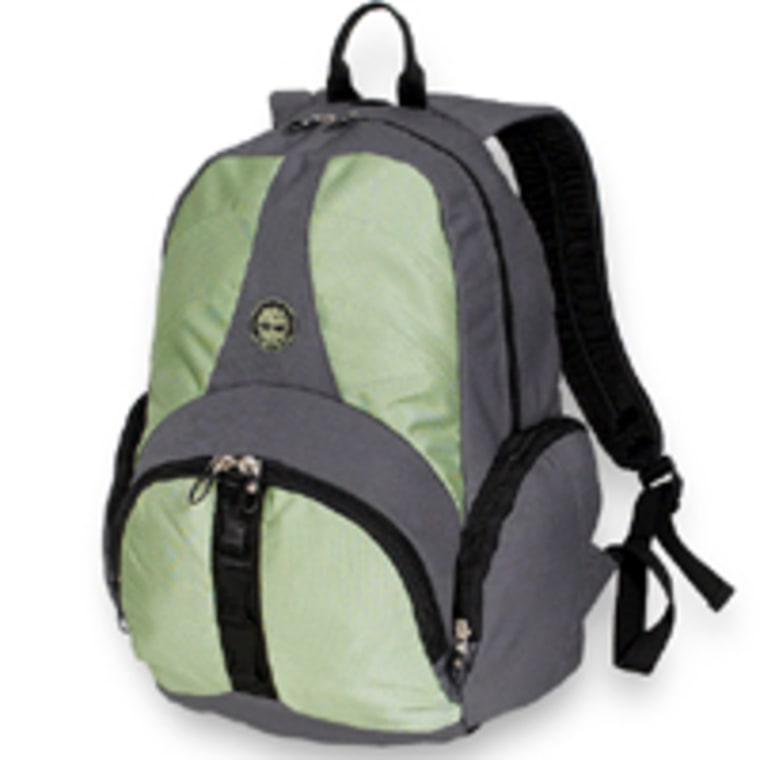 Other moderately priced packs that accommodate electronic gadgets include Timberland's "Gust" and eBags.com's "Remix" or the company's music-enabled backpack. eBag.com's Remix not only has three pockets with headphone ports but also converts into a laptop backpack. The main draw of the Timberland pack, $39.99 at eBags.com, is it maintains a classic design — complete with a main compartment to store books — yet has a separate pocket and port for electronic gear.
Carrying a laptop via a backpack versus a handheld tote is also a relatively new trend, says Fox. The primary reason is laptops, even the exceptionally light ones, are heavy after carrying them around for awhile. The laptop backpacks come with special sleeves that protect the laptop from the normal use and abuse. Most packs also have padding on the bottom. It doesn't mean, though, if you throw your laptop backpack on the floor, it will survive the crash, says Fox.
Fox reminds consumers to make sure your laptop fits in the laptop backpack. At eBags.com, consumers can isolate the right pack using the "laptop bag finder" on the Home page. Students can search by brand and model or by entering the computer's dimensions.