You might know that Bill Gates is a computer genius, but did you know that he loves doing the dishes? How about the fact that he considered a career in law? The founder of Microsoft hosted this week's "Ask Me Anything" on Reddit Monday, and it was certainly an eye-opener.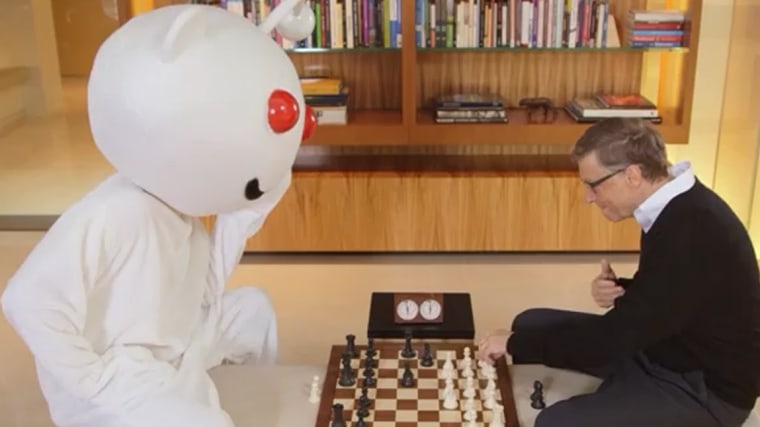 Check out the eleven best things he said during the chat. Oh, and after you read the highlights — which are in Bill's words, typos and all! — be sure to watch his thank you video to Reddit. Turns out billionaires can be funny, too! (And viral: the video has garnered more than 600,000 views in just one day.)
1. He's more Zen nowadays
Ssm: What is different about Bill Gates age 20 years and today, except for the time?

Bill: 20 years ago I would stay in the office for days at a time and not think twice about it—so I had energy and naiveté on my side. Now hopefully I am a bit more mellow but with a little extra wisdom.
2. Expiration dates are important
Darung: Hey Bill, have you made any plans to artificially prolong your life?

Bill: No I don't. Other people think about that but I wouldn't want to extend my last few years unless that is happening for most people.
3. Even billionaires do the dishes
Briannnf: I'd just like to know, what is something you enjoy doing that you think no one would expect from you?

Bill: Playing Bridge is a pretty old fashioned thing in a way that I really like. I was watching my daughter ride horses this weekend and that is also a bit old fashioned but fun. I do the dishes every night — other people volunteer but I like the way I do it.
4. The guy loves science!
Kushtykush: Hey Bill, if you didn't go into computers and later found Microsoft, what do you think you would be doing?

Bill: I considered law and math. My Dad was a lawyer. I think though I would have ended up in physics if I didn't end up in computer science.
5. He doesn't underestimate education
Anonymouslives 1151: What is your best personal financial advice for people who make under $100,000 per year?

Bill: Invest in your education.
6. Is a Bill Gates biopic on the horizon?
Departmentofworks: Steve Jobs had Ashton Kutcher. Who do you want to portray you in a biopic?

Captain_crabs: Samuel L Jackson
Bill: Melinda would probably watch that version
7. No airport lines for the Gates family
Danjorgo: What is your most expensive guilty pleasure purchase?

Bill: Owning a plane is a guilty pleasure. Warren Buffett called his the Indefensible. I do get to a lot of places for Foundation work I wouldn't be able to go to without it.
8. Bill's tablet of choice is…
H0ll0w: What smartphone and/or tablet are you currently using? Thanks Bill! :)

Bill: I am using a Surface 2 PRO which works well for me.
9. Bill knows his burgers
Godsburden: I hear way back when you were a fast food connoisseur. What was your favorite fast food and why?
Bill: Burger King and McDonalds are fine but In-N-Out is a very good burger. Dicks and Burgermaster are the local special burgers.
10. Polio is almost gone, thanks to him
Bar078: How close are you to wiping out polio worldwide?

Bill: We are very close. India just went 3 years with no cases. Pakistan is our toughest location right now because some parts of the Taliban have not allowed vaccinators to come in and have even attacked vaccinators. We are hopeful this will get resolved since no one wants their kid to be paralyzed. I spend a lot of time making sure the polio campaign is doing the best it can. We have great computer models that help guide our activities.
11. He's not a gamer!
Wigglez1 1112: Are you a fan of Video Games? If so, what is your favorite video game?

Bill: I am not a huge gamer. My son knows a LOT more than I do about what is cool on Xbox. I played Halo but the sports games that the whole family can use are the things I use the most. I threw the javelin very very far!