Americans are recycling, composting or donating their excess waste more than ever since 1990, but what about large corporations and small businesses? They're the target of 28-year-old Anna Sacks, who searches for unexpired or slightly damaged goods in their trash bins on the streets of New York City.
Known as @thetrashwalker on Instagram, Sacks started her "trash walks" in 2017 by scouring through residential trash and removing usable items. It wasn't until 2018 that Sacks expanded to corporate trash, including schools, thrift stores and retailers such as CVS, the largest retail pharmacy chain in the U.S. Her goal is for companies to improve their disposal policies to prevent excess waste ending up in landfills or getting incinerated.
Think of it as dumpster diving for the environment.
"I genuinely enjoy going through trash and educating people and trying to open people's eyes to the amount of waste we create," Sacks told TODAY on a recent trash walk.
With two reusable bags and a gardening glove in hand, Sacks took TODAY to five different CVS locations on New York's Upper East Side. In two hours, she found five cans of Coke, a full bottle of shampoo, two packets of Emergen-C, two packets of ThermaCare Heatwraps, gas relief pills, Dr. Scholl's shoe inserts, makeup, lotion, keychains, chocolate, trail mix and pretzels. For her, it was a small haul.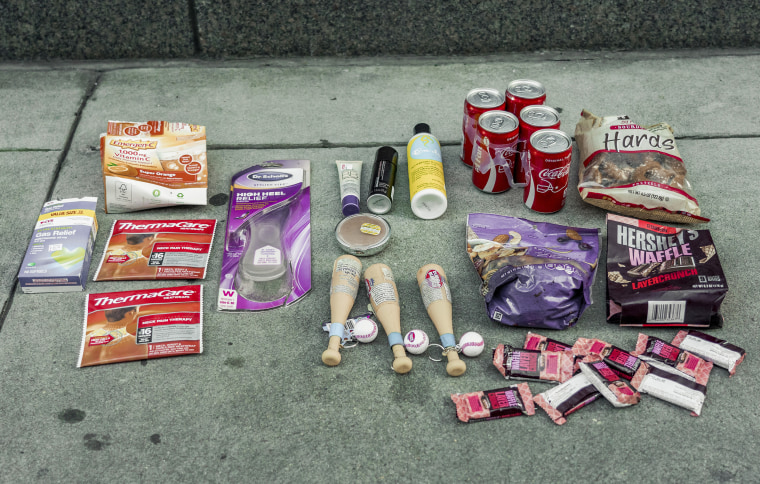 Since starting her trash walks, Sacks has found anything from 40 bags of Lindt chocolate to tapes from the Paris World's Fair in the late 1930s. She even found a 1935 Russel Wright "Saturn" punch bowl, the same one that the Cooper Hewitt Smithsonian Design Museum has in its collection, which usually sells for $1,000-$2,000.
Working with waste, both on and off duty
When she's not on her trash walks, Sacks works as a senior associate at Think Zero LLC, a waste management firm. She tries to keep her professional and personal lives separate but admits that her work feeds into her individual endeavors.
"During the day I am reading articles about waste, working with clients to reduce and divert their waste, sometimes doing training sessions or listening to webinars," she told TODAY. "I definitely take that knowledge and then try to disseminate some of it through my Instagram."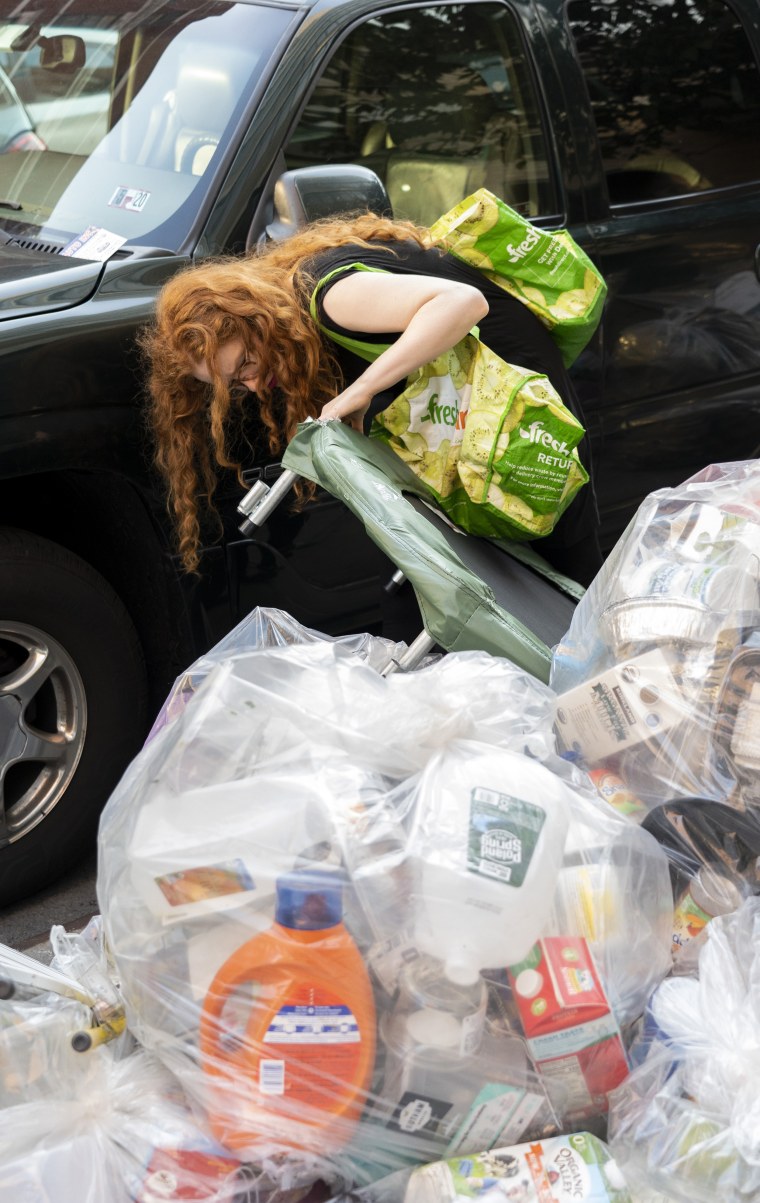 In 2018, Sacks changed her Instagram account from a personal feed to one primarily devoted to documenting her trash walks to establish credibility in the waste industry. She wanted to show her devotion to waste reduction and diversion despite having no prior work experience or formal education in the field. Sacks previously worked at an investment bank, which she wasn't feeling "inherently fulfilled" by, so she quit to participate in a Jewish farming fellowship in rural Connecticut.
After returning to New York City, she says the waste on the streets stood out to her more than ever before. Sacks noticed usable items among the piles and started to take them. She began posting her findings on Instagram, completed a master composter certificate course at the Lower East Side Ecology Center and began volunteering at a nonprofit.
"Instagram was a way for me to get into this field initially. It was a way for me to establish credibility, establish something I really care about, even though my resume didn't reflect that," she told TODAY.
Sacks goes on trash walks as often as she can, averaging a few hours each week. Out of convenience, she sticks to her Upper West Side neighborhood, but always carries an extra bag so she can go on trash walks wherever she is.
A push to reduce corporate waste
CVS and its almost 10,000 retail locations remain Sacks' main focus due to the company's national reach. She has tried contacting corporate leadership and started a Change.org campaign, believing that if CVS improves its policies, other companies will follow.
While she acknowledges that CVS donates items to some extent, she still sees an "unbelievable amount of unnecessary waste" in their trash. To her, this goes against their corporate branding of "CVS Cares." With so many retail locations in the United States, Puerto Rico and Brazil, it is unclear how much each location is donating.
When asked about the company's waste policies and procedures, Mike DeAngelis, senior director of corporate communications at CVS, told TODAY over email: "We work with numerous nonprofit organizations to arrange for damaged or near-expired goods from our stores to be donated to people in need. Last year, we donated about $60 million worth of product to charity, including Feeding America and Feed the Children. To help ensure that unused products are donated in a safe manner, most consumable products must be at least one month from its expiration date to be eligible for donation. Our product disposal guidelines and procedures comply with applicable state and federal regulations, and they are consistent with that of the retail industry."
CVS couldn't be reached for a phone interview for further clarification after multiple attempts.
Overloaded thrift stores
CVS isn't the only target on Sacks' radar. Thrift stores are often the last resort before items end up in the trash. But many people don't realize that most thrift stores won't take every item donated. They look for things that are "sellable," and generally don't accept anything "gross," unsanitary, recalled or dangerous, broken or damaged; most stores also won't take large appliances.
It's not something Sacks thought about until she noticed that Unique Boutique, a thrift store on New York's Upper West Side, tossed out donations monthly. She found puzzles, games, CDs, videos, books, clothing and home decor items in their garbage.
"That made me think I need to do something different," she said. "Like, I needed to gift informally because I just couldn't trust donating to the stores."
TODAY reached out to Unique Boutique multiple times but was unable to receive a comment.
Sacks believes that thrift stores should create a "free table," where people can place items that won't necessarily sell but can still be used. She does the same outside of her apartment, leaving items she has found for those in her community to take. According to Sacks, items are usually gone in a few hours.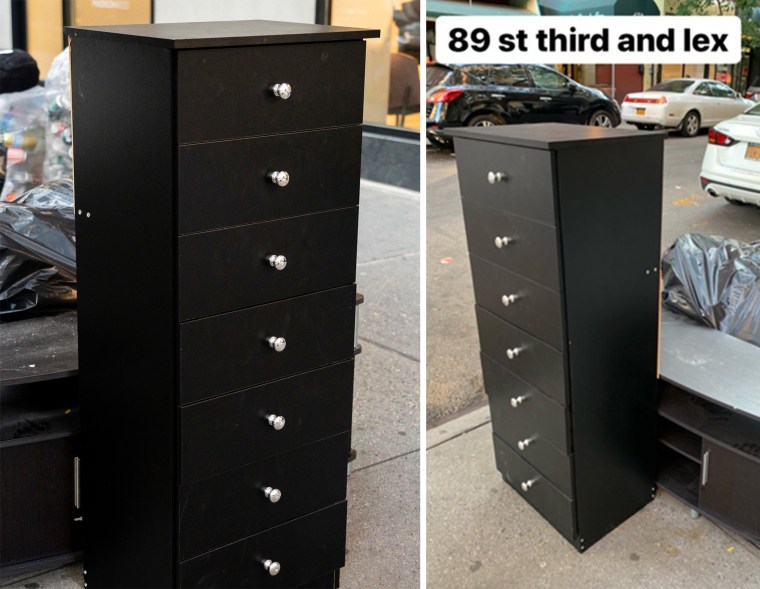 It also fosters a sense of community, encouraging conversations with people who might otherwise remain strangers. "I have met neighbors through doing it who stop by and tell me about the things they picked up and how they are using it," Sacks told TODAY. "It may be a little bit more convenient for people to leave it there rather than do Goodwill or the Salvation Army."
Targeting national change through local action
To make a nationwide impact, Sacks believes in change on a federal level and urges people to write to their local representatives about it.
"Ultimately, we need to create laws preventing the destruction of usable items," she said. "France does that. It could start off with food and then it could expand to all other usable items. It can be a voluntary thing, but it would be more effective if this becomes a federal law."
California already has such a law. It prohibits retailers from sending organic waste to a landfill, so CVS is complying there. In September 2018, the company established a program to manage excess food products to prevent them from becoming waste.
"I think eventually we will have those laws," Sacks said. "Just because I think it is really unsustainable, the practices that we have, and we as a society need to become more sustainable."
But to start this change, Sacks encourages people to go through their own neighborhood's trash.
Maggie Ford, a fourth grade teacher at The Geneva School of Manhattan, took Sacks' advice and started going through her neighborhood CVS' trash. However, recently, they "figured her out," she wrote on Instagram, and covered all the "good trash" in lotion to deter her from taking it. Ford told TODAY that this same location has destroyed "anything people could need," such as feminine products and toothpaste, to deter people from taking them out of the trash.
A manager at the Brooklyn CVS location, reached by phone on Oct. 16, denied knowing about such practices and hung up when asked further questions, refusing to comment to TODAY.
"I see going through trash and rescuing things as not something to be ashamed of," Sacks told TODAY. "It is the opposite of shameful. It is something people should be proud to do. Doing so helps the planet and helps people."