Baby, it's hot outside. So with temperatures soaring, you may be ready to take off for the beach, but are you tempted to take it all off once you get there?
Perhaps not.

Only about 5 percent of American beachgoers say they have gone nude at the beach and only a quarter feel comfortable with topless beaches, according to the 2013 Flip Flop Report, Expedia.com's annual study of beach behavior and preferences in North America, South America, Europe, Asia and Australia.
That makes Americans less squeamish about dropping their top than people in Asian countries, but more modest than Europeans, who have the most relaxed attitudes toward nudity at the beach, the study found.
Women in Denmark, Norway and Italy are most likely to go topless, while American women were most likely to cover up.
"I'm not surprised," said Carolyn Hawkins, a spokeswoman for the American Association for Nude Recreation (AANR). "Europeans have always been more free."
Still, nude recreation is growing by "leaps and bounds" in the U.S., Hawkins said, touting some of the benefits of sunbathing au naturel.
"When you shed your clothes, you shed all your stress. You don't have any barriers," she noted.
"In my opinion, there's nothing worse than sand in a bathing suit. I've never liked that, I cannot stand it. When you're nude, you don't have that to worry about."
Interested in trying it out? Hawkins advised newbies to always take a towel and lots of sunscreen. The AANR maintains a list of nude beaches and offers nude beach etiquette tips.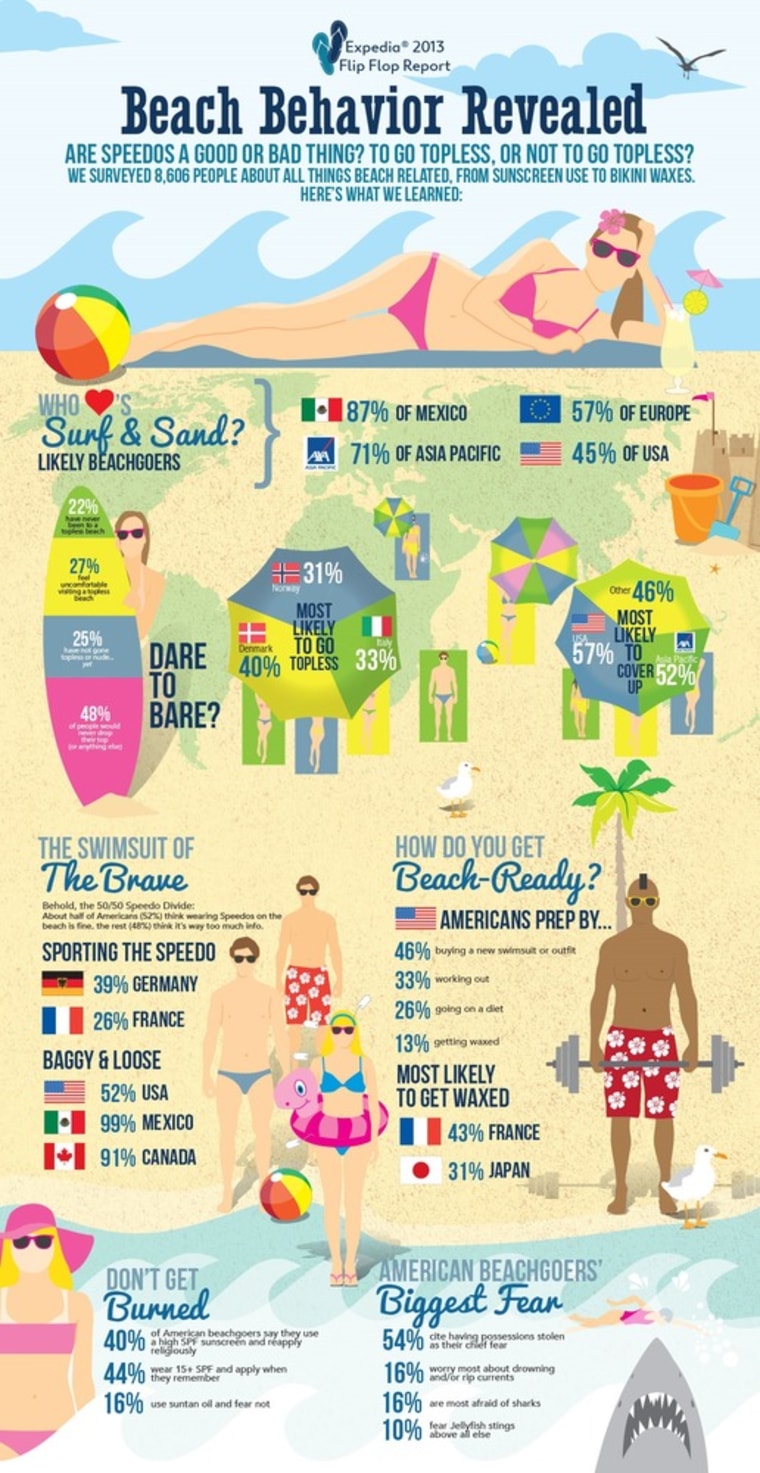 To Speedo or not to Speedo?
For many men, the more common dilemma is whether to opt for loose swim trunks or the figure-hugging Speedo-style bathing suit. There's mixed news if you prefer the bolder look — the Flip Flop Report found 65 percent of beachgoers worldwide called the Speedo an "acceptable" beachwear option.

But U.S. beachgoers were split: 52 percent were fine with the look, while 48 percent were not.
Etiquette expert Lizzie Post encouraged men not to shy away if they felt comfortable wearing a Speedo.
"I say go for it. Why wouldn't you? If you want to wear it, I think it's perfectly acceptable," said Post, co-author of "Emily Post's Etiquette, 18th edition."
"It's funny — we watch our guys in the Olympics wear Speedos ... and now all of a sudden it's like, 'Oh, but at the beach they can't wear them,' that's silly."
Biggest beach worries
Once you have your Speedo decision finalized, there are other things to stress about at the beach.

More than half, or 54 percent, of American beachgoers said their biggest worry was having their wallet or other possessions stolen while frolicking in the sand, according to the Flip Flop Report.
Drowning or succumbing to a rip current was a top fear among 16 percent of Americans, as was the possibility of encountering a shark.
Mind your beach etiquette
Heading to the beach? Here are more tips from Lizzie Post to make it a more enjoyable and safe experience for everyone.

Be mindful if you bring along a boom box: Blasting your music so loud that it takes over the area beyond where you sit is a no-no, Post said. If you want to play your music louder, move to a space with fewer people, especially if your tunes have explicit lyrics.
Keep an eye on your children: "It's important that parents still parent their kids at the beach — it's not just a free for all," Post said. Splashing and running at the water line is fine, but kids should slow down elsewhere. Once children are done playing, fill in any holes they've dug in the sand so that other beachgoers don't trip and get hurt.
Leave some room: "When you have a whole beach to yourself and the next person who comes decides to sit within 4 feet of you, that is bad beach etiquette," Post said.