Amazon will only be accepting medical supplies, household staples and other high-demand items to its warehouse service through April 5 as it tries to meet surging demand for specific products during the coronavirus pandemic.
The company confirmed the change to NBC News after making an announcement on its platform.
"We are seeing increased online shopping and as a result some products such as household staples and medical supplies are out of stock," the company announced on its seller platform called Seller Central. "With this in mind, we are temporarily prioritizing household staples, medical supplies and other high-demand products coming into our fulfillment centers so that we can more quickly receive, restock, and ship these products to customers."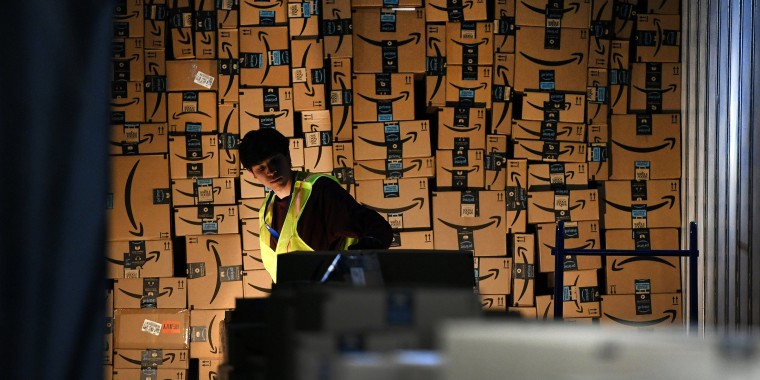 High-demand goods include groceries, beauty and personal care products, pet supplies, baby products, health and household items, and industrial items.
Amazon notified customers last week that it has sold out of some household items and deliveries may take longer than usual as demand surges.
The company wrote in a blog post that was updated on March 14 that customers "will notice that we are currently out of stock on some popular brands and items, especially in household staples categories."
The one-day or two-day delivery for Amazon Prime customers has also been disrupted for certain items.
"You will also notice that some of our delivery promises are longer than usual,'' the company wrote.
Customers may also get a notice on the Amazon marketplace saying that "inventory and delivery may be temporarily unavailable due to increased demand. Confirm availability at checkout."
Many types of toilet paper, bottled water and hand sanitizer were listed as "currently unavailable" on the Amazon site due to the increased demand. The company also noted that it is working to crack down on price gouging as sellers try to inflate the cost of in-demand items like toilet paper and hand soap.
With more and more states closing schools, restaurants and businesses to help prevent the spread of coronavirus, many have turned to buying important items online as well as having food delivered by Amazon.
"As COVID-19 has spread, we've recently seen an increase in people shopping online,'' Amazon wrote. "In the short term, this is having an impact on how we serve our customers."
The company also noted that Prime Now, Amazon Fresh, and Whole Foods Market customers have the option to get unattended delivery as health officials urge people to practice social distancing during the outbreak. The customer can specify a location for all nonalcohol items to be left by a delivery person.
Many large retailers have struggled to meet demand after a wave of panic buying, with images of empty store shelves at grocery chains, Walmart and Target becoming commonplace across the country.
The Centers for Disease Control has recommended that mainly those over 60 or with chronic medical conditions should stock up on supplies for a lengthy stay home because they are at a higher risk of complications from coronavirus.