While the disappearance of Ty, the 6-year-old pit bull that went missing Oct. 31 on a Delta flight, continues to raise questions, Susan Smith offers a judicious answer to other travelers who wonder if it's safe to fly with their own furry friends.

"There are a lot of pets that get shipped and one would hope there wouldn't be even one incident," said Smith, president of PetTravel.com. "But it's unfortunate that there's always a risk for traveling pets."
And Ty is hardly the first pet to go missing in the nation's air-travel system. Over the years, there have been several high-profile incidents, including Jack the Cat, who escaped when American Airlines baggage handlers dropped his crate at JFK in August 2011. Eventually found 61 days later, he was subsequently euthanized due to the effects of extreme malnutrition.
Most pet-travel mishaps, however, don't make the evening news. Last year, the carriers required to report animal incidents to the Department of Transportation (DOT) reported 42 incidents, including 21 deaths, 15 injuries and six lost animals. Through September of this year, they've reported 39 incidents, including 15 deaths and 24 injuries.

So what's a flying pet owner to do? Here are some precautions you can take to help ensure your furry friends arrive alive and uninjured.
Have appropriate documentation: Airlines typically require a current health certificate before allowing pets to fly. Affixing contact information to your pet's carrier is also a good idea.
Invest in a high-quality crate: Pets are naturally stressed out when separated from their masters, says Smith, which may explain why so many DOT incident reports note bloody teeth and nails as animals tried to chew or claw their way free. Securing the crate's door with cable ties is also a good idea.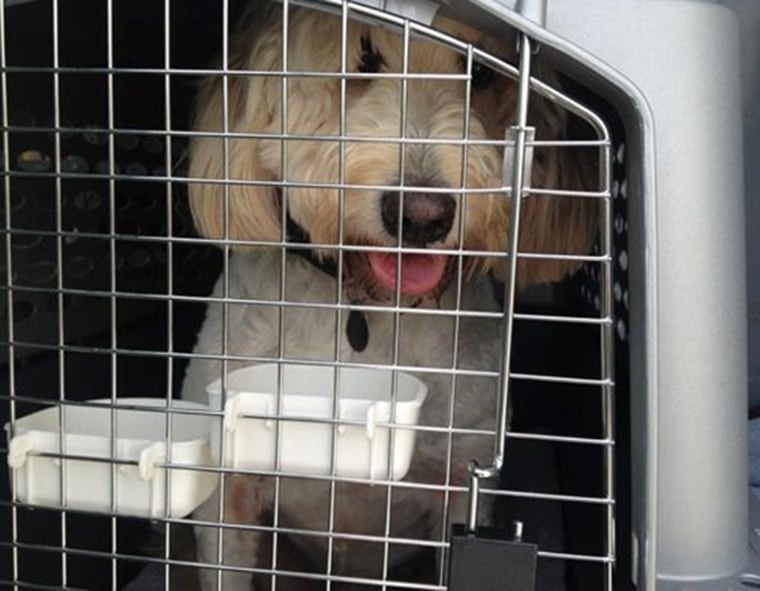 Know your airline's pet policies: Although the Department of Agriculture sets regulations for the transportation of live animals, every airline has its own policies regarding crate requirements, in-cabin/cargo-hold considerations and restrictions regarding breeds, routes and temperatures.

Book early: Some carriers limit the number of pets that can be carried in the cabin; if Fifi is flying under your seat, don't delay. Also look for non-stop flights (fewer opportunities for mishaps) and, if possible, travel at non-peak times to minimize stress and maximize available space.
Skip the sedatives: The American Veterinary Medical Association recommends that you do not sedate or tranquilize your pet before flying, as that can impede respiratory and cardiovascular function. Sedation can also affect balance during turbulence or rough handling, resulting in injury.
Be proactive: Although airlines do their best to ensure animal safety, Smith says owners should remain vigilant and involved, especially when their pet will be traveling in the cargo hold: "When you get on the plane, go up to the flight attendant and say, 'I have a live animal on this flight and I want to make sure you monitor the temperature and pressure in the hold.' You absolutely have that right."
Finally, as of Jan. 1, new DOT rules will require more airlines to report more information, including not just specific incidents but also the total number of animals carried. And while enhanced reporting won't automatically prevent future problems, it will provide insights that fliers can use to make more informed decisions.
"It's great that consumers will have the opportunity to research the track records of the airlines, and it will encourage the airlines to continue to improve their pet programs," said Smith. "Yes, there will still be incidents, but when the airlines know someone is looking over their shoulder, they'll do the right thing."