During all the trial and error it took for combat veteran Brad Soden to invent a wheelchair worthy of his wife, nothing motivated him more than her tears. 
Liz Soden, partially paralyzed after a traffic accident only three months before their wedding, would often be distraught at missing out on family hikes and camping trips with their five kids. 
Brad was determined to do something about it. 

"When you get her to cry, I'm motivated,'' Brad told Matt Lauer on TODAY Thursday. "I'll make it happen." 
A plumber without a college degree or any training as an engineer, Brad suffered a few setbacks to construct a wheelchair with tank-like treads rugged enough to work off-road and powerful enough to handle mountain trails. 
"We started a couple fires, but we had beer on hand, so we could just put it out,'' Brad said. 
Watch: How did the 'Tankchair' come about?
The end result was the "Tankchair," which gave Liz the freedom she craved and soon became Brad's full-time job.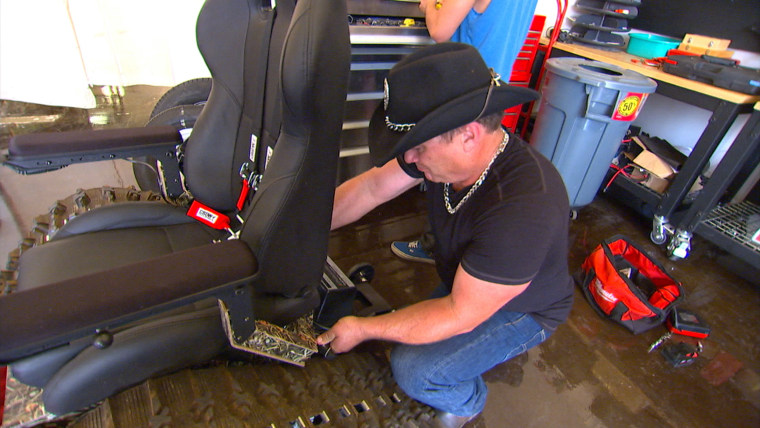 "It made it where I could go out and go hiking and camping,'' Liz told Lauer. "When we went to the snow, I would sit in the car. Now I can get out, and I can chase my kids around, and I can go with them. Just the hiking and getting out — I'm not a prisoner anymore in the car and in the house."
Brad hopes to provide Tankchairs free of charge to wounded warriors, but as the chairs are classified as recreational vehicles, they are not covered by insurance. The chair, which can travel up to 30 miles per hour and costs between $12,000 and $15,000, has become a hit with disabled veterans — a new one has a three-month waiting list. 
Follow TODAY.com writer Scott Stump on Twitter and Google+.