The Apple Watch is coming out on April 24, and if you're willing to pay the $349 (or $10,000 and up for the solid gold Edition version) you'll be among the first to try out what looks like one of the smartest smartwatches out there. App-makers and developers are rushing to bring new experiences and capabilities to the platform, but don't worry, you'll have more than enough to do next month. Here's how a particularly action-packed day one might go.
Use Apple Pay to grab lunch
Assuming you've been up all night waiting in line outside the Apple Store, you're probably going to be hungry. There's almost certainly a Starbucks nearby, or one of the nearly 700,000 other retail locations that accepts Apple Pay. Set it up through your iTunes account, and when the cashier rings up the bagel and mocha, just tap your new Apple Watch on the reader and you're off.
Snag an Uber
Maybe you picked up your new gadget the day of a trip, and you need to get to the airport. You can request an Uber from the watch, then relax with your coffee until the ride's nearby — which you'll know, because the app will "tap" you on the wrist and show the driver's name, car and license plate.
Paperless airport security and check-in
No need to hit the ticket counter or boarding pass printers — everything you need is right on the watch in Passbook. No need to even check the board to see if the flight is delayed, since the Expedia app would have alerted you already if so. Assuming security doesn't hassle you or ogle your hot new gadget for too long, you should be on the way to the gate (also displayed on the watch) in no time, where the airline can scan your watch just the way they would with a ticket.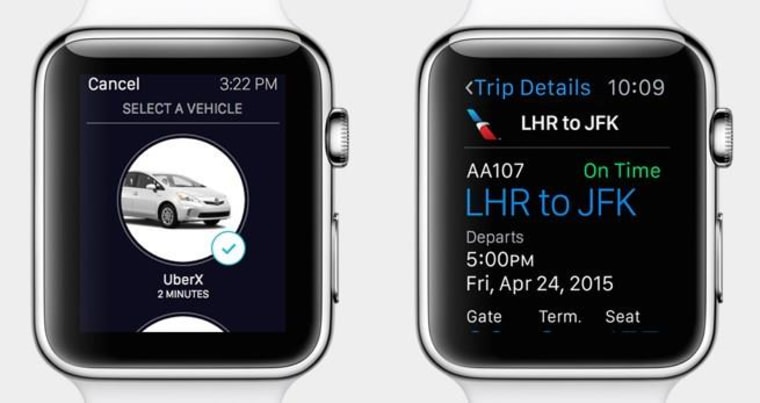 Manage your smart house
Just as you sit down, you remember you forgot to close the garage door last night. No worries — an early adopter like you probably has a home full of smart appliances and security cameras. Pull up the garage camera on the watch via an app from Alarm.com — yep, car's still there — and shut the door with the press of a button. Next time you'll have Siri remind you to do that before you leave.
Instagram time
Passengers are still loading, so there's time to check what's new on Instagram. It's kind of hard to appreciate the pictures on such a small screen, but you do your best and heart everything just in case.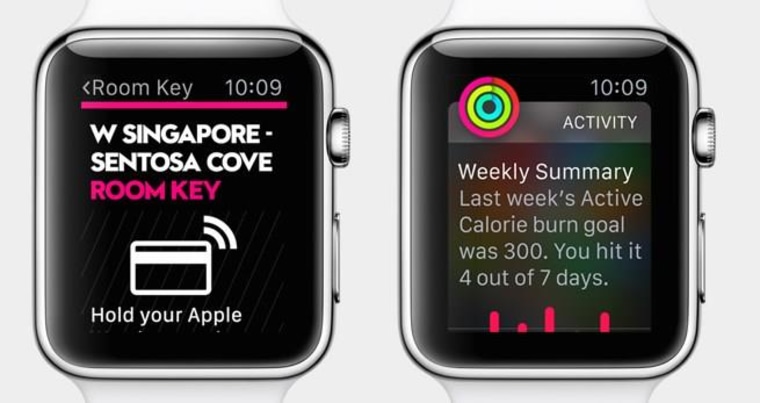 Keyless hotel room entry
Save time and the planet by not needing a card key for your hotel room (they throw them away after you're done, you know). For now it's just via Starwood's SPG app (it has reservations and hotel details too), but more hotel chains will likely be adding NFC-based entry soon.
Check your heart rate and steps
Have you made it to 10,000 steps today? Your Apple Watch will tell you, though it may note that you sat down for a little too long on the plane (not your choice). If you're not wiped from traveling, do a little yoga or hit the gym and watch your heart rate on your wrist.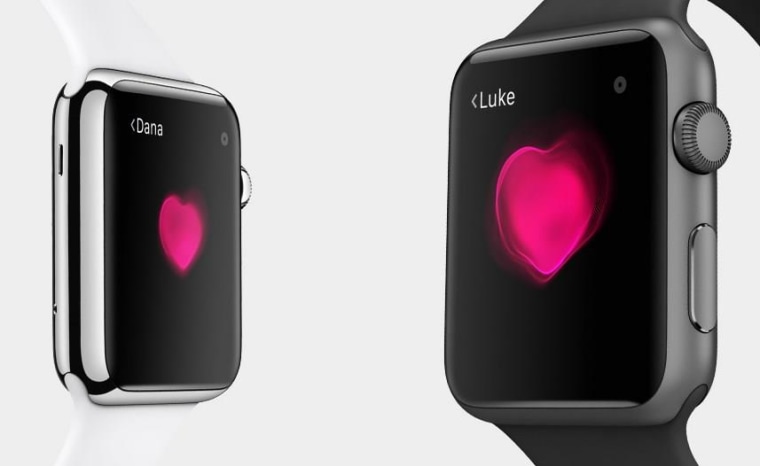 This story was originally published on March 9 at 6:23 p.m