When it comes to rating satisfaction in the workplace, some employees may prefer flexibility, and others may favor autonomy or the chance to move up and try a variety of roles and tasks. While it's difficult for companies to cater to every employee's wishes, there are a few workplaces that have managed to raise the bar according to a recent report from Indeed.com.
The careers website just released the results of its "50 Best Places to Work in 2017" survey. To compile the list, Indeed called upon employees to review their companies, and those working in fields including tech, finance, health care and consumer products answered the call. The results pull responses from companies within the Fortune 500 list with more than 5,000 employees and at least 50 reviews, according to Indeed.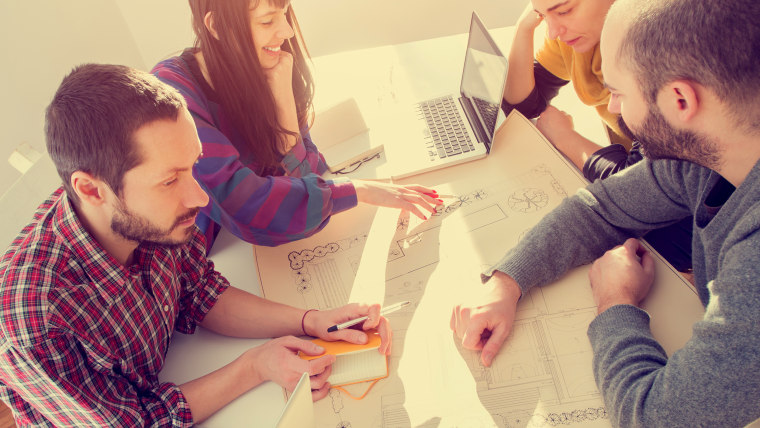 Grabbing the top spot was Salesforce.com, a management software company, which employees voted to the No. 1 spot last year as well. Southwest Airlines ranked No. 2 again, according to the survey.
"While compensation and job security are always top of mind for employees, we are seeing strong company culture and sense of community becoming just as much of a priority," Indeed SVP Paul D'Arcy noted in a press release.
Newcomers to the top 50 slots in the survey this year include cosmetics giant Estee Lauder (No. 21), medical device maker Stryker (No. 27), Capital One Bank (also No. 27) and John Deere and American Airlines (tied at No. 30). Other ties include Apple and Nike at No. 8, while Pfizer and Biogen share the No. 24 spot this year.
In addition to Apple and Salesforce, tech companies long perceived as having more of a "hip" culture also made the survey. Google ranked No. 5, and social media giant Facebook nabbed the No. 4 spot.
"We are seeing people describe these exemplary workplaces as 'inspiring' and 'engaging' by maintaining excellent company culture, ensuring quality leadership, and offering competitive pay and benefits," said D'Arcy. "Employees also praise the companies on this list for being mission-driven organizations that are leaders in their respective industries."
Some companies also rose in the ranks from last year. JetBlue went to No. 3 from No. 21, while CenterPoint Energy jumped to No. 6 from No. 37 in 2016.
Here's the full list of the top 50:
1. Salesforce
2. Southwest Airlines
3. JetBlue Airways Corporation
4. Facebook
5. Google
6. CenterPoint Energy
7. DTE Energy
8. Nike*
8. Apple*
10. The Walt Disney Company
11. Delta
12. Costco Wholesale
13. Discovery Communications, Ltd.
14. Johnson & Johnson
15. Chevron
16. Fannie Mae
17. Bristol-Myers Squibb
18. Exelon
19. Viacom
20. Starbucks
21. Estee Lauder
22. Microsoft
23. Publix
24. Pfizer Inc.,*
24. Biogen*
26. Stryker
27. Capital One
28. Charles Schwab
29. Edward Jones
30. John Deere*
30. American Airlines*
32. Amgen
33. MasterCard
34. National Mutual Insurance Company
35. Conoco Phillips
36. Monsanto
37. The Clorox Company
38. Baker Hughes Incorporated
39. Freeport-McMoRan
40. L Brands
41. Eli Lilly
42. Lockheed Martin
43. Northwestern Mutual
44. USAA
45. Cisco
46. Avon
46.The Dow Chemical Company
48. Ameriprise Financial
49. Discover Financial Services
50. American Express
*indicates a tie