Like the subject of a highly publicized marathon commuter who flies from Barcelona to London and back daily, Matt Dodd commutes to work between two countries every day, round trip. The 28-year-old marketing professional drives between Tijuana, Mexico, where he lives with his girlfriend, and his job at Arc-zone.com in San Diego, California.
To arrive by 9 a.m. every day, he leaves home at 7:20 a.m. "I can expect to spend at least 30 minutes sitting at the border," he told TODAY. His mega-commute — a commute defined by the Census Bureau as lasting more than 90 minutes one way — is not uncommon. Census data show that in 2013, 3.5 million Americans made one-way mega-commutes from their homes to their jobs.
RELATED: 5 tips for coping with workplace stress
And not every mega-commuter does so by choice like Dodd, who is a U.S. citizen who opts to live in Mexico and commute across the border. For many commuters, like Eva Velasquez, it's just a fact of work life.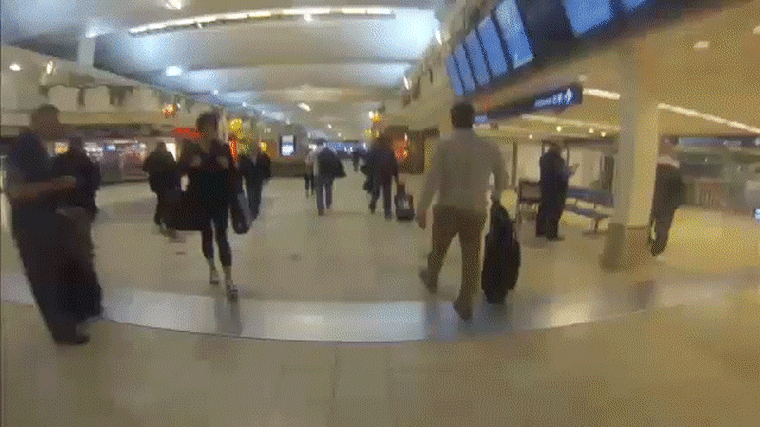 Velasquez, who lives in San Diego's East County, could commute the 16 miles to her office at the Identity Theft Resource Center, where she is the organization's president and CEO in 30 to 40 minutes in little traffic.
RELATED: Stuck in a rut? 5 tips to kick-start your career
But because her commute is unpredictable, she said, "What should be 30 to 40 minutes is often up to 90 minutes." And, that may be the case for the 22.4 million Americans who expect their commute to be between 30 to 40 minutes but becomes a marathon rather than a sprint to work.
Others have mega-commutes that keep them away from home for several days a month or week. These "super-commuters" — defined by the Census Bureau as those who live in one metropolitan area but work in another, sometimes distant metropolitan area — often leave home early in the week and return near its end.
"My husband became a super-commuter in 2009 when he took a job in New York City after losing the position we'd moved to Minneapolis for him to take," said Meagan Bearce, a licensed marriage and family therapist.
Bearce, who wrote the book Super Commuter Couples, told TODAY, "My husband's commute starts at 5 a.m. on Monday morning and ends at around 11 a.m. when he arrives at his office in SOHO."
Bearce interviewed 24 people in super-commuter relationships for her book, and said the phenomenon has become common as people take jobs in more distant places because of the economy. Yet work/life balance expert Gabrielle Pelicci, Ph.D., known as "Dr. Gabby," said she has seen people who simply love their jobs develop super-commuter lifestyles. Whatever the case, the average worker spends 200 hours and $2,600 a year on commuting, according to a recent CNN Money article.
RELATED: Want to teach your kids about money? There's an app for that
Aside from money and time, marathon commutes can have adverse physical, mental and emotional effects. "Travel takes a huge toll on the body. It's difficult to eat healthy and maintain normal sleep patterns and exercise routines," said Pelicci. "Mentally, it means adjusting to different environments, cultures, people and experiences, which can be mentally taxing and draining," she said.
"And emotionally, the loss of routine and intimacy with family can cause emotional disconnect, isolation and conflict," she told TODAY. Bearce has seen all these stressors occur with partners and families in her research, and Pelicci said that it happens with singles and their friends and loved ones, too.
So what are some strategies to cope with a marathon commute? Bearce and Pelicci offer the following tips:
Get regular exercise and rest. "Stretching on planes or doing exercises in your seat is one way to get it," said Pelicci, who also advises exercising before and after work. Because commuting is a sedentary activity, commuters often gain weight. On the flip side, getting enough rest is also critical, and Bearce recommends trying to sleep on long plane or train trips.
Eat healthy. "Bring your own bottled water, healthy snacks and other food," said Bearce. This saves money, too. People should also avoid fast food at airports and restaurants, and resist always getting room service at hotels.
Make time for mental downtime. Working while commuting by plane or train can help, but more often, it's better to rest, listen to motivational material or do light reading. Avoid dangerous activities like texting, reading or working while driving, which can cause accidents and increase driving stress. Partners in super-commuter relationships also need downtime. "I've gotten good at both asking for help and saying no," said Bearce, who needs help with her two young children while she runs her counseling practice.
Stay connected with friends and family. Bearce stays in touch with frequent calls home, FaceTime sessions and sending postcards home using the app SnapShot Postcard, which turns photos into postcards and mails them home. Staying connected to the familiar can also be an important mental coping mechanism for super-commuters who switch environments or cultures frequently. Items carried from home, familiar foods, books and music can help with this, especially for those staying days in hotels.
Reconnect with loved ones after extended commutes. "One way we do this as a family is limit activities our kids participate in to those that don't require weekend events," said Bearce. "My husband and also I do date nights and take short trips alone together." Even singles need reconnection time with friends and loved ones. "It's important for singles to attend family events and sometimes do things even if they don't want to so they can reconnect with loved ones," said Pelicci.
"This lifestyle is not for everyone," said Bearce. "But, for some people, it's a great option and it can work out fine if they take care of themselves and their families."