While pot tourism continues to generate a lot of buzz in Colorado, visitors who don't partake can still get plenty high in the state this summer. From Estes Park to Telluride, park operators and mountain outfitters are offering a slew of new opportunities for visitors in search of a thrill.

It's a trend that Monty Holmes, owner of Captain Zipline Aerial Adventure Park near Salida, believes is born of the state's combination of spectacular scenery and pioneer attitude: "Majestic mountains, fertile forests, wild whitewater… add in some adventurous spirit and we'll find a way to 'eat the scenery.'"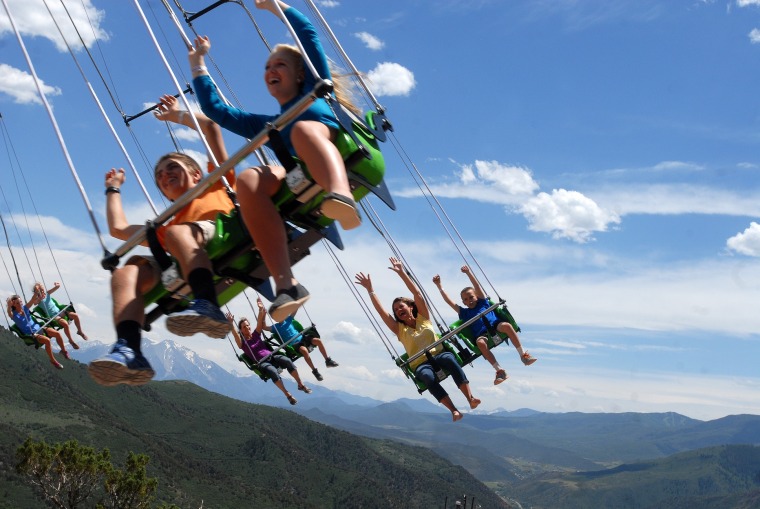 For travelers with the munchies, the following are bound to satisfy:
Glenwood Canyon Flyer
Generally speaking, swing tower rides, in which seated riders are swung out and around a central tower, are more family-friendly than fear-inducing. Then again, most swing towers don't send you soaring out over a 1,300-foot cliff.
Not so the Glenwood Canyon Flyer at Glenwood Caverns Adventure Park in Glenwood Springs. The tower itself is only 40 feet high, but by the third go-round, riders can look down and see the Colorado River almost a quarter-mile below their feet. "We took a benign family ride and turned it into a thrill ride," said Nancy Heard, operations manager. 
Captain Zipline Aerial Adventure Park
Take nearly two dozen 60-foot telephone poles, 27,000 feet of cable and 120 linked "challenges," including swinging bridges, trapezes and balance beams, and you've got the Captain Zipline Aerial Adventure Park, the latest addition at Captain Zipline outside Salida.
The park features nine courses of varying levels of difficulty, from kid-friendly traverses to ones requiring both figurative and literal leaps of faith. "It's like a jungle gym, except there's no jungle and we're in the bottom of a canyon," said Holmes. "It's like 'Indiana Jones' meets 'Spider-Man.'"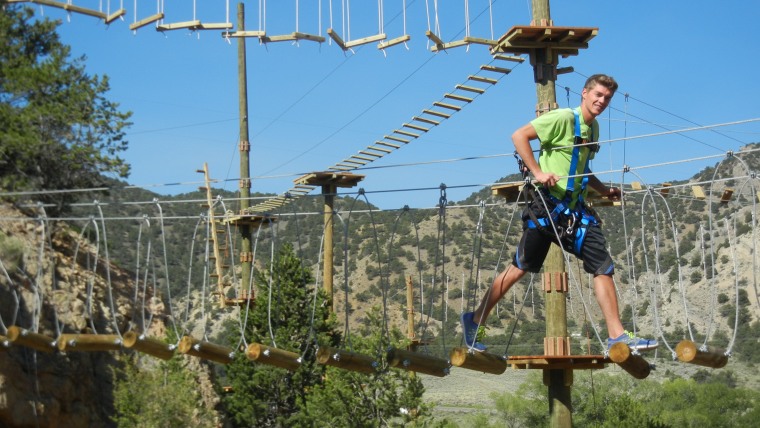 Terror-dactyl

Feel the need for speed during your high-country sojourn? Then consider Terror-dactyl, the newest addition at Cave of the Winds in Manitou Springs. Set on the edge of Williams Canyon, it's a two-seat thrill-ride that's essentially a pendulum ride on steroids.
To ride it, visitors get strapped into their seats, which are connected to a long cable connected to another cable that spans the canyon. Once the safety gates open, riders are tilted out over the canyon floor and released, at which point gravity takes over, sending them on a high-speed, high-g trajectory that management claims will have them laughing and praying for their lives at the same time.

Pikes Peak, Garden of the Gods: See the magic of Colorado Springs with TODAY
Via Ferrata
The concept — Italian for "Iron Road" — involves climbing up or across cliff faces via a series of metal rungs embedded in the rock. It was born in the Dolomites of Italy but has become a popular activity in Telluride where climbers can click into safety cables and traverse a half-mile series of narrow ledges and sheer faces 200 feet above the valley floor.
"It's like high-adventure hiking," said Andrew Klotz, managing partner at San Juan Mountain Guides, which leads guided trips on the route. "It offers the excitement of climbing without requiring the gear, technical skills or commitment."
Cliff camping
Finally, for those who'd rather stay "high" longer, there's cliff-camping at the Kent Mountain Adventure Center in Estes Park. Using vertical ascenders called jumars, guides lead campers 165 feet up a 400-foot cliff, where they've set up a small, hanging platform called a portaledge.
According to owner Harry Kent, most folks are content to spend a few hours enjoying the scenery and perhaps a picnic, but it's also possible to enclose the platform in a tent and spend the night before rappelling back down in the morning.
Either way, we suspect campers still feel the buzz long after they reach the ground.