How does your job rank on a scale of 1 to 5 (with 5 being the best)? If it's not an unequivocal 5 (or, more likely, a 4.7) it might be time to reconsider your career path starting...now.
Careers website Glassdoor.com released its annual "25 Best Jobs in America" list Tuesday night, using a ranking system based on three criteria: number of job openings, earning potential (median annual base salary) and career opportunities rating.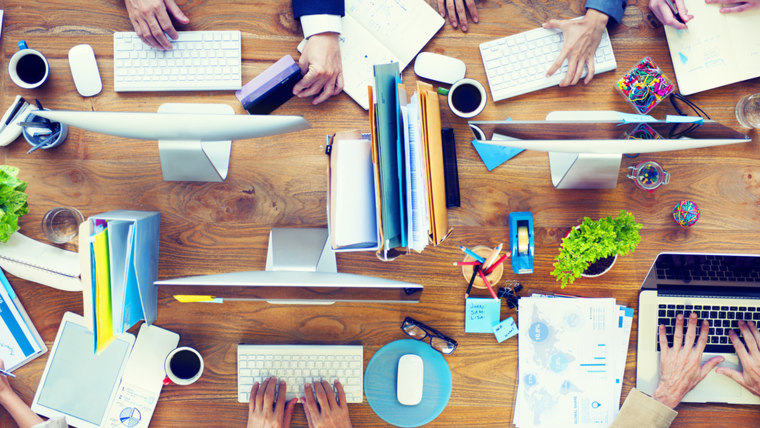 RELATED: 10 best companies to work for in 2016 according to employees in Glassdoor study
This year's top job has 1,736 job openings, a median base salary of $116,840 and boasts a 4.1 career opportunity rating for an overall job rating of 4.7. All you need is a little knowledge about numbers and computer science because the top job goes to last year's No. 9 — data scientist.
Following closely behind are tax manager (No. 2) and solutions architect (No. 3), with overall Glassdoor job scores of 4.7 and 4.6, respectively. Other jobs further down the list have fared well, too. The highest median annual base salary actually belongs to software development managers, which falls a bit lower on the list at No. 12 ($135,000 with a 4.4 job score).
RELATED: Equal pay, more work perks: 5 job search trends for 2016 according to Glassdoor
The list does have some changes from last year, as engagement manager (No. 4), analytics manager (No. 11), and UX designer (No. 18), among others, made their way into the fold, bumping jobs such as database administrator (formerly No. 7), sales manager (formerly No. 10), and mechanical engineer (formerly No. 12).
RELATED: The best jobs for work-life balance: Data scientists, SEO managers, and more
According to a recent Glassdoor survey, 45 percent of people are currently looking or plan to look for a job in 2016, so if you're one of them, check out the full list below — some of the rankings may surprise you!
• Job Score: 4.7
• Number of Job Openings: 1,736
• Median Base Salary: $116,840
• Career Opportunities Rating: 4.1
2. Tax Manager
• Job Score: 4.7
• Number of Job Openings: 1,574
• Median Base Salary: $108,000
• Career Opportunities Rating: 3.9
• Job Score: 4.6
• Number of Job Openings: 2,906
• Median Base Salary: $119,500
• Career Opportunities Rating: 3.5
• Job Score: 4.6
• Number of Job Openings: 1,356
• Median Base Salary: $125,000
• Career Opportunities Rating: 3.8
• Job Score: 4.6
• Number of Job Openings: 2,251
• Median Base Salary: $90,000
• Career Opportunities Rating: 3.8
6. HR Manager
• Job Score: 4.6
• Number of Job Openings: 3,468
• Median Base Salary: $85,000
• Career Opportunities Rating: 3.7
• Job Score: 4.6
• Number of Job Openings: 3,364
• Median Base Salary: $97,000
• Career Opportunities Rating: 3.5
• Job Score: 4.5
• Number of Job Openings: 6,607
• Median Base Salary: $106,680
• Career Opportunities Rating: 3.3
• Job Score: 4.5
• Number of Job Openings: 49,270
• Median Base Salary: $95,000
• Career Opportunities Rating: 3.3
10. Audit Manager
• Job Score: 4.5
• Number of Job Openings: 1,001
• Median Base Salary: $95,000
• Career Opportunities Rating: 3.9
• Job Score: 4.5
• Number of Job Openings: 982
• Median Base Salary: $105,000
• Career Opportunities Rating: 3.7
12. Software Development Manager
• Job Score: 4.4
• Number of Job Openings: 1,199
• Median Base Salary: $135,000
• Career Opportunities Rating: 3.4
• Job Score: 4.4
• Number of Job Openings: 1,111
• Median Base Salary: $115,000
• Career Opportunities Rating: 3.5
• Job Score: 4.4
• Number of Job Openings: 2,560
• Median Base Salary: $90,000
• Career Opportunities Rating: 3.4
15. QA Manager
• Job Score: 4.4
• Number of Job Openings: 3,749
• Median Base Salary: $85,000
• Career Opportunities Rating: 3.4
16. Finance Manager
• Job Score: 4.3
• Number of Job Openings: 1,632
• Median Base Salary: $115,000
• Career Opportunities Rating: 3.3
17. Business Development Manager
• Job Score: 4.3
• Number of Job Openings: 2,906
• Median Base Salary: $80,000
• Career Opportunities Rating: 3.4
18. UX Designer
• Job Score: 4.3
• Number of Job Openings: 863
• Median Base Salary: $91,800
• Career Opportunities Rating: 3.6
19. Strategy Manager
• Job Score: 4.3
• Number of Job Openings: 631
• Median Base Salary: $130,000
• Career Opportunities Rating: 3.7
• Job Score: 4.2
• Number of Job Openings: 1,160
• Median Base Salary: $69,548
• Career Opportunities Rating: 3.7
21. Consultant
• Job Score: 4.2
• Number of Job Openings: 1,071
• Median Base Salary: $84,000
• Career Opportunities Rating: 3.4
22. Construction Superintendent
• Job Score: 4.2
• Number of Job Openings: 1,054
• Median Base Salary: $78,000
• Career Opportunities Rating: 3.4
• Job Score: 4.2
• Number of Job Openings: 5,624
• Median Base Salary: $99,500
• Career Opportunities Rating: 3.1
• Career Score: 4.2
• Number of Job Openings: 2,516
• Median Base Salary: $76,900
• Career Opportunities Rating: 3.3
• Career Score: 4.2
• Number of Job Openings: 653
• Median Base Salary: $130,000
• Career Opportunities Rating: 3.4