Every four years, the Summer Olympics draws in thousands of people to one city to watch the world's best athletes compete for that coveted gold medal. And with less than a year until the opening ceremony of the 2016 Games in Rio de Janeiro, which kick off Aug. 5, the athletes are already preparing — and so should you.
According Brazil's state-owned tourism agency, Embratur, an estimated 380,000 foreign tourists are expected in the "Marvelous City," creating high demand for hotel rooms with a limited supply. On top of that, teams, sponsors and officials are expected to take up a large portion of the city's hotel capacity.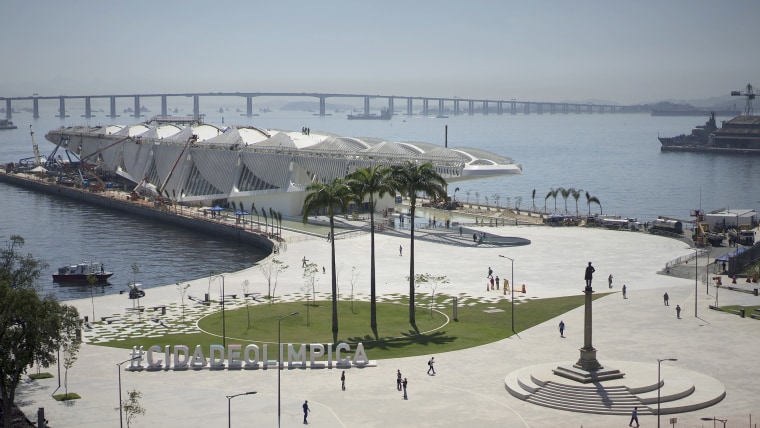 This restricted availability has, for the first time, prompted the games' local organizing committee to name San Francisco-based Airbnb as the event's official alternative accommodation services supplier. The home-rental services website is expected to offer some 20,000 listings for the games.
RELATED: Are you an annoying traveler? Study reveals the worst hotel guests
The move isn't the company's first big entry into the world's eighth largest economy. More than 100,000 international travelers used Airbnb for last year's World Cup, which took place across Brazil. Now, the company says it is already seeing incredible activity from travelers around the world getting ready to flock to the city to experience the festivities for themselves.
"We offer listings at all different kinds of price points, whether a private room or an entire apartment," Chip Conley, head of global hospitality and strategy at Airbnb, told TODAY.com. "We offer something for all kinds of travelers and all kinds of budgets."
According to Airbnb's research, there are currently reservations from more than 45 different countries. The bulk of the reservations are coming from these five countries: Brazil, the U.S., the U.K., Australia and Germany. Hosts in more than 35 neighborhoods throughout Rio are using Airbnb to house travelers.
RELATED: What are New York's top restaurants? Here are the latest Michelin rankings
The top five areas seeing an increase in travelers are Copacabana, Ipanema, Barra da Tijuca (home to the main Olympic Park), Leblon and Santa Teresa — each offering a different taste of the city.
"Renting an apartment or home has the added benefit of enabling you to live like a local," TripAdvisor travel advocate Wendy Perrin told TODAY. Vacation rentals also tend to offer more living space, private outdoor areas and home-like amenities, she said. "Just be sure the rental is close to public transport to the Olympic venues."
If you're interested in attending the 2016 Games, Perrin advises that you book all aspects of your trip as soon as possible, including hotel or vacation rental, train, plane and more.
RELATED: Airplane fail! Man allegedly mistakes emergency exit for toilet at 30,000 feet
You should also plan ahead in terms of logistics, and assume that you'll need to rely on public transportation. "Traffic in Rio is notoriously bad," said Perrin. "Leave lots of time to get from venue to venue." The Olympic venues are spread out over a very large area, she said. "Avoid having to cross the city several times in a single day."