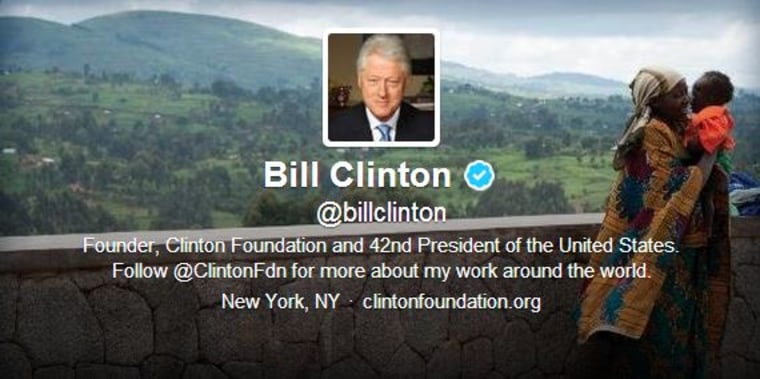 Famous people! They tweet just like us, except that way more folks actually care about what they have to say.

In 2013, celebrities dominated the conversation on Twitter. But which ones decided to join the conversation? Prepare to hit "Follow" on these 12 star-powered Twitter accounts.
Bill Clinton
In April, former President Bill Clinton tweeted his first message. Appropriately enough, it included a shout-out to another celebrity, Comedy Central's Stephen Colbert. 

Kobe Bryant
Five-time NBA champion Kobe Bryant picked up than 250,000 followers within four hours of sending his first tweet. Since then, he has given his fans plenty to talk about, including this footage of him jumping 40 feet off a diving board while recovering from surgery on his Achilles tendon.

Christina Ricci
Forget life tips, movie promotions and political opinions. What Americans want from their celebrities are selfies, lots of them. Learn from Christina Ricci, Hollywood, she knows what she is doing. 

Hillary Clinton
Not to be outdone by her husband, the former U.S. secretary of state (and possible 2016 presidential candidate) showed that she was in on the joke by referencing Texts from Hillary in her very first tweet. 

Pope Francis
Since being elected in March to lead the world's 1.6 billion Catholics, Pope Francis has become a traditional and social media star, earning TIME's Person of the Year honors along with more than 3 million Twitter followers. 

Madeleine Albright
Madeleine Albright made history in 1996 by becoming the first female U.S. secretary of state. Luckily for her 43,000 followers on Twitter, she doesn't always take herself too seriously. 

Stephen King
Stephen King is one of the most prolific writers alive today, releasing 64 books over the last 40 years. Hopefully you can forgive him for having trouble fitting his thoughts into 140 characters. 

Sarah Michelle Gellar
Both Sarah Michelle Gellar and Robin Williams joined Twitter after their new sitcom, "The Crazy Ones," premiered on CBS. Gellar, to the delight of her longtime fans, used her new account to greet old cast members from her '90s TV hit "Buffy the Vampire Slayer," including the actress who played her little sister, Michelle Trachtenberg.

Robin Williams
Speaking of Gellar's co-star, the 62-year-old Williams isn't afraid to show that he might be a little confused by technology. 

Amanda Seyfried
"I like most people," reads the Twitter bio for Amanda Seyfried, the actress made famous by roles in movies like "Les Miserables" and "Mean Girls." Apparently, most people like her, too, considering that she has nearly 250,000 followers. Also, somebody made her a cake. 

Sarah Jessica Parker
The "Sex and the City" star is taking over social media. First, she created a Twitter account, which now has nearly 500,000 followers. Then, she joined Instagram. It all came together in a lament for a damaged piece of furniture that Parker apparently found in the trash. 

George H.W. Bush
On Wednesday, the 41st president of the United States joined Twitter, using his first message to pay tribute to anti-apartheid icon Nelson Mandela. 

Of course, all of these notable names have a lot of work to do to catch up to Twitter's reigning celebs, Justin Bieber, who has more than 47 million followers, and Katy Perry, who recently topped him with more than 48 million.

Keith Wagstaff writes about technology for NBC News. He previously covered technology for TIME's Techland and wrote about politics as a staff writer at TheWeek.com. You can follow him on Twitter at @kwagstaff and reach him by email at: Keith.Wagstaff@nbcuni.com