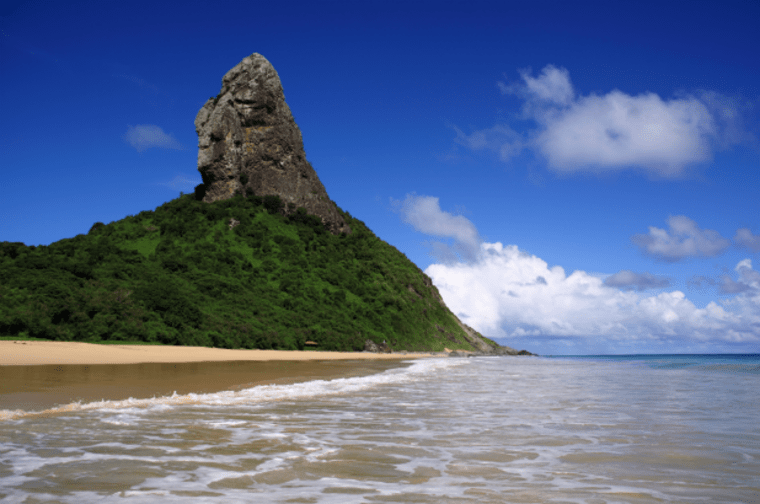 As February turns to March, the winter itch sets in and snow-sick travelers start browsing flights and booking their next getaways.

While Hawaii or Key West may be easy go-to's, we've come up with a few far-flung alternatives that offer more adventure and fewer crowds. This year, instead of sipping a Margarita and listening to Jimmy Buffet, why not snorkel with stingless jellyfish, hang out with the world's largest puffin colony or see a rare Dragon's Blood Tree while paragliding over an Indian Ocean archipelago?

Warning: These trips are not for the faint of heart. Trekking, bumpy roads, and an adventurous attitude are a must.

Morne Trois Pitons National Park, Dominica
Dominica boasts the second largest boiling lake in the world, situated at 2,500 feet above sea level in Morne Trois Pitons National Park. The only way to reach this Caribbean treasure is a day hike with a local guide. Expect to spend 6-7 hours total on the trip.

Fernando De Nohrona, Brazil
Off the northeast coast of Brazil, Fernando de Nohrona Island was declared a marine national park in 1988, restricting visitation to 420 tourists at a time. The volcanic landscape boasts rushing waterfalls, towering rock bluffs, and white sand beaches. Activities include swimming, diving, hiking, snorkeling and buggy tours. For an authentic experience, try Plana Sub—a sport in which divers are towed underwater by motorboat on an acryl board.

Eil Malk Island, Palau
Snorkel with millions of unique stingless jellyfish in Jellyfish Lake, a 14-acre basin where the Golden Jellyfish have evolved with no natural predators. This exquisite pool is on Eil Malk Island, within the Palau archipelago. The cascading waterfalls, plush tropical forests, expansive reefs, white sands and mysterious caves are pretty nice, too.

Westman Islands, Iceland
The volcanic Westman Islands are located just off the south coast of Iceland. These plush green islands have great hiking opportunities in the summer, when you can spy on the world's largest seasonal puffin colony. Take in the arresting landscapes or hop on of the daily whale spotting tours. During the dark winter months, there's an excellent chance of seeing the Northern Lights dance across the huge black canvas of the sky.

Kyushu Island, Japan
Located on the Japanese island of Kyushu, the nine 'Hells'—or hot springs—of Beppu each have a distinct color and character. It's a popular tourist attraction for Japanese travelers, but not as well-known abroad.

Socotra, Yemen
Our next selection is only for the most intrepid travelers. Unless meeting Somali pirates is on your bucket list, you'll want to be extremely careful. But even its dangerous location doesn't stop many travelers who want to visit this "jewel of biodiversity in the Arabian Sea." Socotra is home to a plethora of strange flora and fauna, including rare frankincense and myrrh trees, and the famous Dragon's Blood Tree—an umbrella-shaped plant that oozes a crimson sap. Socotra's endemic species are rivaled only by those of Hawaii and the Galapagos Islands, making it a truly unique destination. Activities include kite surfing, trekking, free diving, windsurfing and paragliding.

Koekohe Beach, New Zealand
New Zealand's Koekohe Beach is famous for its Moeraki Boulders. The large, spherical rocks that pepper the shore are up to 3 meters in diameter and have been rubbed smooth by the sea. While you're in the area, go kiwi spotting at the Orokonui Ecosanctuary and enjoy fresh seafood from the boats in Moeraki's fishing village.

Ifaty–Mangily, Madagascar
In this, Madagascar's southwest coastal region, you can expect white sands, friendly villagers and—thanks to its bone-jarringly bumpy roads, which help keep the crush of tourists away—plenty of peace and quiet. The village of Ambotsibotsike is well known for its biologically diverse mangrove, which can be reached by horseback, mountain bike or dugout canoe. Also, the Reniala Private Reserve--located one kilometer from the Mozambique Channel near the village of Ifaty-Mangily—protects baobab and the spiny forest (pictured), where visitors can observe rare birds and reptiles such as the blue vanga or spider tortoise. Looking for a little more excitement? Thrill-seekers can check out this this kite-surfing haven farther north.

Koh Yao Noi, Thailand
This tiny island in southern Thailand is located in Phang Nga Bay, a scenic kayaking destination between Krabi and Phuket. Adventurous travelers can also rent dirt bikes and explore the knotted forests surrounding Koh Yao Noi. Green-minded travelers will love this hotspot: Koh Yao Noi's eco-friendly homestay program won the island the World Legacy Award for Destination Stewardship from Conservation International and National Geographic Traveler in 2002.

Jaco Island, East Timor
Jaco Island lies at the easternmost tip of East Timor in Indonesia. The sacred site is uninhabited, though daily visits are allowed. On the opposite shore, guesthouses are available for rent, or with the owner's permission, you can camp on the beach. Make the trip across the water by dugout canoe with local fishermen and coconut vendors. Be sure to bring plenty of food and water for the day.

MorefromActiveTravel: