The most wonderful time of the year is in full swing! There's no doubt that tablets and smartphones are big-ticket items on wish lists everywhere. But let's not forget the little gadgets and accessories! There's a veritable sleigh full of other fun, wacky and even practical gifts to consider—at a price tag you can swing for that Secret Santa in the neighboring cube. Here are some top picks that cost less than $50.

Shake 'n Take Smoothie Maker, $24.98, skymall.com
Personally speaking, this is one of my favorite gadgets. With the Shake 'n Take Smoothie Maker, you can save an alarming amount of money on smoothies ($8 a pop at my gym!)—plus, control the ingredients when you make your own! Jumpstart the new-year-new-you campaign as you blend that smoothie and then drink it from the same bottle (fewer dishes, double win!).

Heat Changing Mugs, starting at $3.99, Thinkgeek.com
Remember how mood rings and mood shirts changed colors throughout the day when your body temperature changed? That's what happens with these heat-changing mugs when you pour a hot liquid in 'em. Watch 8 Bit Rise & Shine go from grumpy to bright and happy when you add coffee. (I can relate!) Other options include Tetris, constellation, Space Invaders and more.

Anyglove, $14.95, Anyglove.com
One of my favorite inventions in recent years, Anyglove is the newest answer to using your mobile device when it's cold outside. Used to be, you'd buy a pair of gloves with touch-screen compatible fingers. Now, apply a few drops of this special formula, and you can make any glove touchscreen compatible! Two formulas are available, one for fabric/knit/synthetic leather gloves and another for leather.

Violife Travel Safe UV Toothbrush Sanitizer, $29.99, Violife.com
No one ever said, "Yay, a toothbrush holder!" until now. Freaked out by all the nasty germs your travel toothbrush carries? I know I was, until I got Violife. This travel UV sanitizer kills 99.9 percent of germs in just six minutes! I admit, a toothbrush holder might sound like a joke of a gift, but trust me on this one. The traveler in your life will appreciate it. Bonus: Auto shut-off, so you don't have to worry that it's on all night.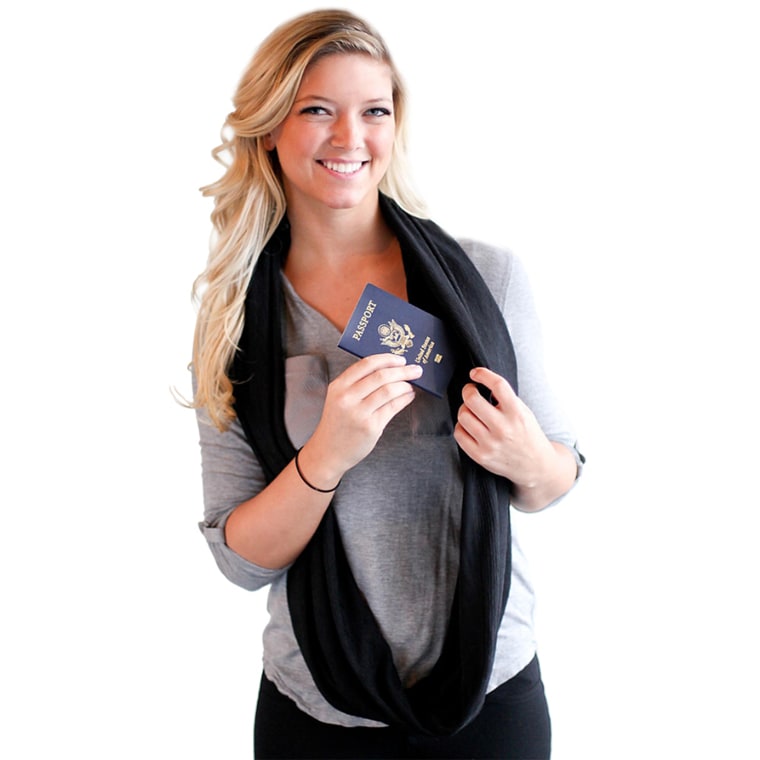 SHOLDIT Infinity Neckwrap, $29.99, Bedbathandbeyond.com
It's like origami for your neck. SHOLDIT can act as a utilitarian infinity scarf—with hidden zippers for your wallet, passport and gadgets—or you can fold it into a clutch. Another great gift for your favorite traveler!

American Tailgate Magnetic Coozies,four for $19.95, Americantailgater.com
Finally, someone has solved the age-old question of where to put my drink when I'm tailgating. With these magnetic coozies, you can just stick your beer to the nearest car and have both hands free for chicken wings. Pass the hot sauce, wings and go Bills!

AR Jingle Balls Wireless Ornament Bluetooth Speakers,$19.97, Lowes.com
It just doesn't get any cuter than these Jingle Balls. The wireless Bluetooth speakers —which look like ornaments—will make any room festive (or, of course, you can hang 'em on the tree). With the touch of a button, you can set the Christmas carol soundtrack and get the party started! They in red, silver and gold, charge by USB, and hold enough power for four hours.

Catalyst Waterproof Sleeves, starting at $39.99, Catalystlifestyle.com
I spend so much time in the elements, whether I'm running from one studio to the next in the rain or scuba diving in Bermuda, I don't know what I would do without my waterproof gear. These slim Catalyst waterproof bags are for tablets and laptops ranging in size from 7 inches to 15 inches. Use it as a sleeve or clip on the attachable handles to carry like a backpack. Welded and waterproof, each sleeve has a double-lock closure that ensures dryness!

Star Wars Holiday Lights, $19.99, Thinkgeek.com
As much as I love the red, green and white holiday lights, I've got to say, they don't hold a candle to these Yoda and R2-D2 lights. Each 11.5-foot strand comes with 10 molded plastic figurines. This is one way of setting your awesome decorations a galaxy far, far away … from your neighbor's!

Holiday Plug Hugger, $7.99, Thinkgeek.com
One important area of your life that gets overlooked every single holiday season? Your USB cords. Not this year! Plug your cords into this Santa and snowman plug hugger, which plug into an outlet, and you can charge your devices with power—and merriment. Yes, please, for St. Nick's Day! 

Follow technology expert Katie Linendoll on Twitter and Facebook.