It's nice to get where you're going, but sometimes, it's even better to be delayed. Whether offering movie theaters, nature trails, golf courses or world-class art museums, today's airports are making it, dare I say, desirable, to be stuck at the airport.
"I have been stuck on many long layovers, especially heading to East and Southeast Asia," said Annie Wang, a strategy analyst for TravelNerd. "Now I specifically look for certain airports to layover since some airports have gone above and beyond to offer special amenities to their passengers."
Here are 10 airports where you won't mind having to wait to board your next flight:
Singapore Changi Airport
Singapore's Changi Airport is the hands-down favorite among stranded travelers, even travelers who just want to spend a few hours exploring the world's first in-airport butterfly garden or navigating the nature trails. Take a free two-hour guided tour of Singapore, enjoy the 4D Cinema, play video games, explore the aviation gallery or slide down a four-story slide while you wait for your flight.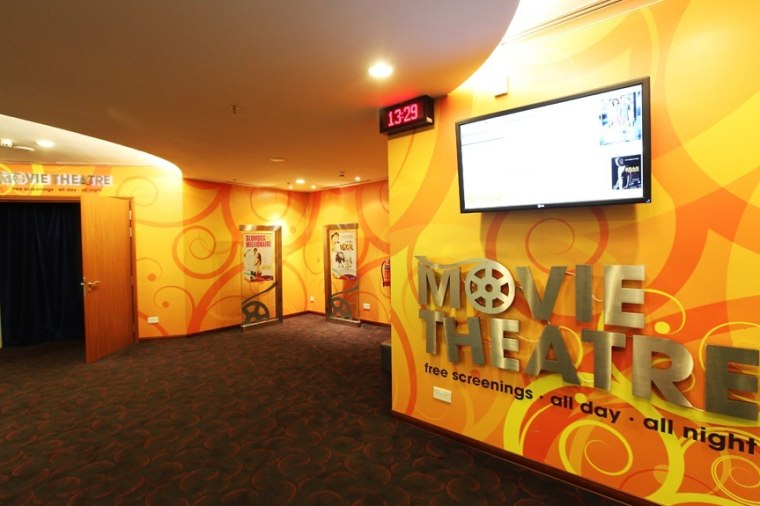 "Singapore is a fun place to be delayed or stranded," says Robert Reid, U.S. travel editor for Lonely Planet. "The terminal is fun on its own: free movie theater, a hotel, tons of sitting areas with comfortable seats, showers. Every hub airport should have showers available for people coming off overnighters and bound for connections."
Amsterdam Schiphol Airport
It's easy to see why passengers love Amsterdam's Schiphol Airport, particularly art lovers. The Rijksmuseum, an annex of the famed in-town museum of the same name, is open daily and is home to a permanent exhibition of 10 works from Dutch masters. Just crossed the Atlantic on an overnight flight? Visit Back to Life for a massage and an oxygen treatment to recharge. Or book a shower cabin at Yotel.

Munich Airport
Visiting Munich Airport? Stop by Airbräu, a Bavarian-style tavern with an indoor beer garden and an on-site brewery -- the only in-airport brewery in Europe. Have an extra 30 minutes? Let the brew master show you first-hand how the beers are brewed. For children, "kinderterminals" provide an interactive look at how the airport works. At Air Berlin Kinderland, kids can make arts and crafts, watch movies and play with building blocks. And, don't forget the miniature golf course.
London Heathrow Airport
London's Heathrow Airport offers a luxury experience ideal for traveling fashionistas with shops like Burberry, Cartier, Gucci and an 11,000-square-foot Harrods. Families should look out for three soft play areas in Terminals 4 and 5 to exercise and entertain young children, then head to any information desk for free coloring books and crayons. For shut-eye between flights, book a personal cabin with free Wi-Fi and hot drinks at Yotel for a quick four-hour stay.

San Francisco International Airport
Enjoy the flavors of the city even if you're only spending a few hours at San Francisco International Airport. Nearly all of the airport eateries are outposts of popular in-town restaurants, including Ebisu and Lark Creek Grill. After a quick bite, relax and de-stress in the yoga room. For families, hit the SFO Kids' Spot, an interactive exploration area featuring weather-related exhibits.

Austin-Bergstrom International Airport
At Austin-Bergstrom International Airport, live music greets visitors at six venues across the concourses that showcase the best from the live music capital of the world. Nearly 20 concerts take place each week, offering Latin Jazz to Western Swing. Hungry? Stop at Salt Lick BBQ. Texas barbecue doesn't get much better than this.

Phoenix Sky Harbor International Airport
If you're connecting through Phoenix Sky Harbor Airport, then the Phoenix Airport Museum is a must. One of the largest airport museums in the nation, more than 600 items are on display, including over 20 hand-crafted animal sculptures that pay tribute to the 50th anniversary of the Phoenix Zoo.

Vancouver International Airport
At Vancouver International Airport passengers are treated to a 30,000-gallon aquarium that houses5,000 sea creatures. Upstairs, a smaller cylindrical tank holds 100 moon jellyfish. Look for comfy lounge chairs and padded benches throughout the airport that let weary travelers stretch out and relax. No wonder YVR was voted the best place to catch a nap while waiting for a flight.

Hong Kong International Airport
Long layover in Hong Kong? Catch a movie in the IMAX theatre or visit the Aviation Discovery Center for aviation-themed exhibits, including a cockpit simulator. I-Sports offers a variety of sports simulators or go for a real hole-in-one on the SkyCity Nine Eagles Golf Course. Exhibitions on tea through the ages, Chinese medicine and Cantonese opera also dot the airport.

Dallas-Fort Worth International Airport
For little ones, head to the Aquafina Junior Flyer's Club or McDonald's Play Areas at Dallas-Fort Worth International Airport for kid-friendly playscapes, like soft-foam cars. In Terminal D you'll find media chairs and 10 screens featuring three different video feeds: CNN, TBS and Turner Classic Movies. You'll also find a yoga studio and a walking path to release all your flight delay-induced tensions.