A London restaurant has created the world's most expensive burger which contains bits of gold leaf and caviar, according to a company that tracks record setting.
Honky Tonk, an American diner-style restaurant, unveiled the £1,100 ($1,770) "Glamburger", which was verified by Record Setter as a world record.
Chef Chris Large made the burger with Kobe Wagyu beef and New Zealand venison to create a 280 gram patty seasoned with smoked Himalayan salt. In the middle is black truffle brie which melts when cooked. 

Lobster poached in Iranian saffron and maple syrup coated streaky bacon also feature in the bun alongside Beluga caviar and hickory smoked duck egg covered in gold leaf. The bun is also coated in gold leaf and seasoned with Japanese matcha and cream mayonnaise.
As if the burger couldn't get any richer, Large added a mango and champagne jus and grated white truffle. 
"After sourcing the best possible ingredients to create this masterpiece, the winner will certainly have a dinner to remember," Large said in a press release.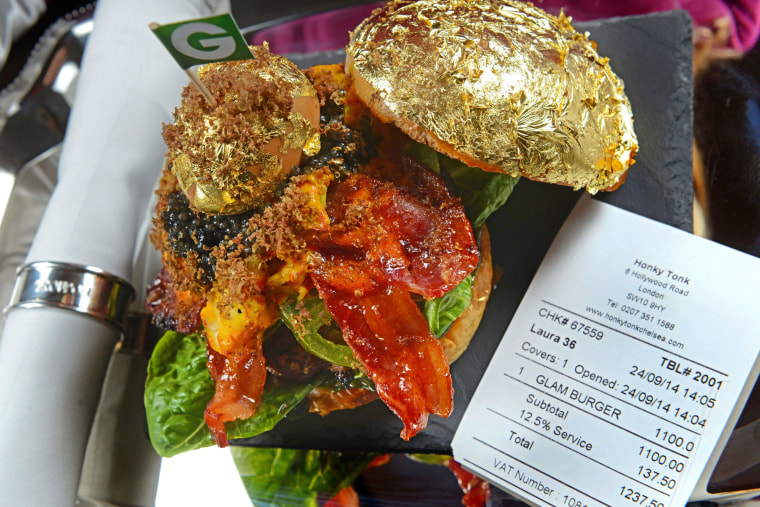 Honky Tonk partnered with Groupon to create the Glamburger in celebration of the coupon site selling its five millionth food and drink voucher. One person will be able to try the burger for free.
While this is the most expensive burger by Record Setters' accounts, Guinness World Records has an entry that trumps it. In 2000, Oregon-based Juicys Food set the most expensive burger world record with a $5,000 offering that weighs 352.44 kilograms.
Other food categories have also been on the record hunt. Last month Seattle's Tokyo Dog food truck earned a Guinness World Record for a $169 Juuni Ban hot dog.